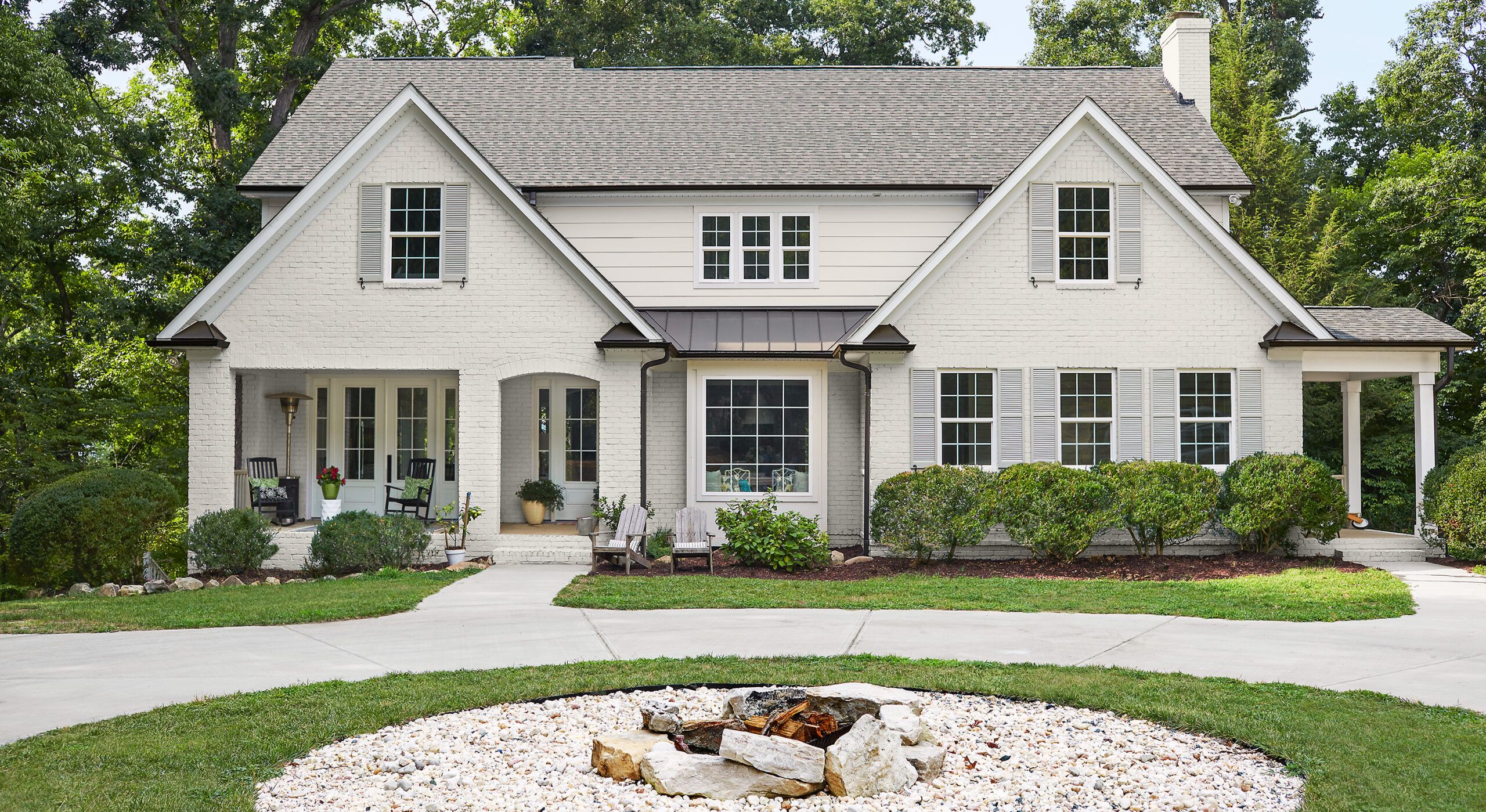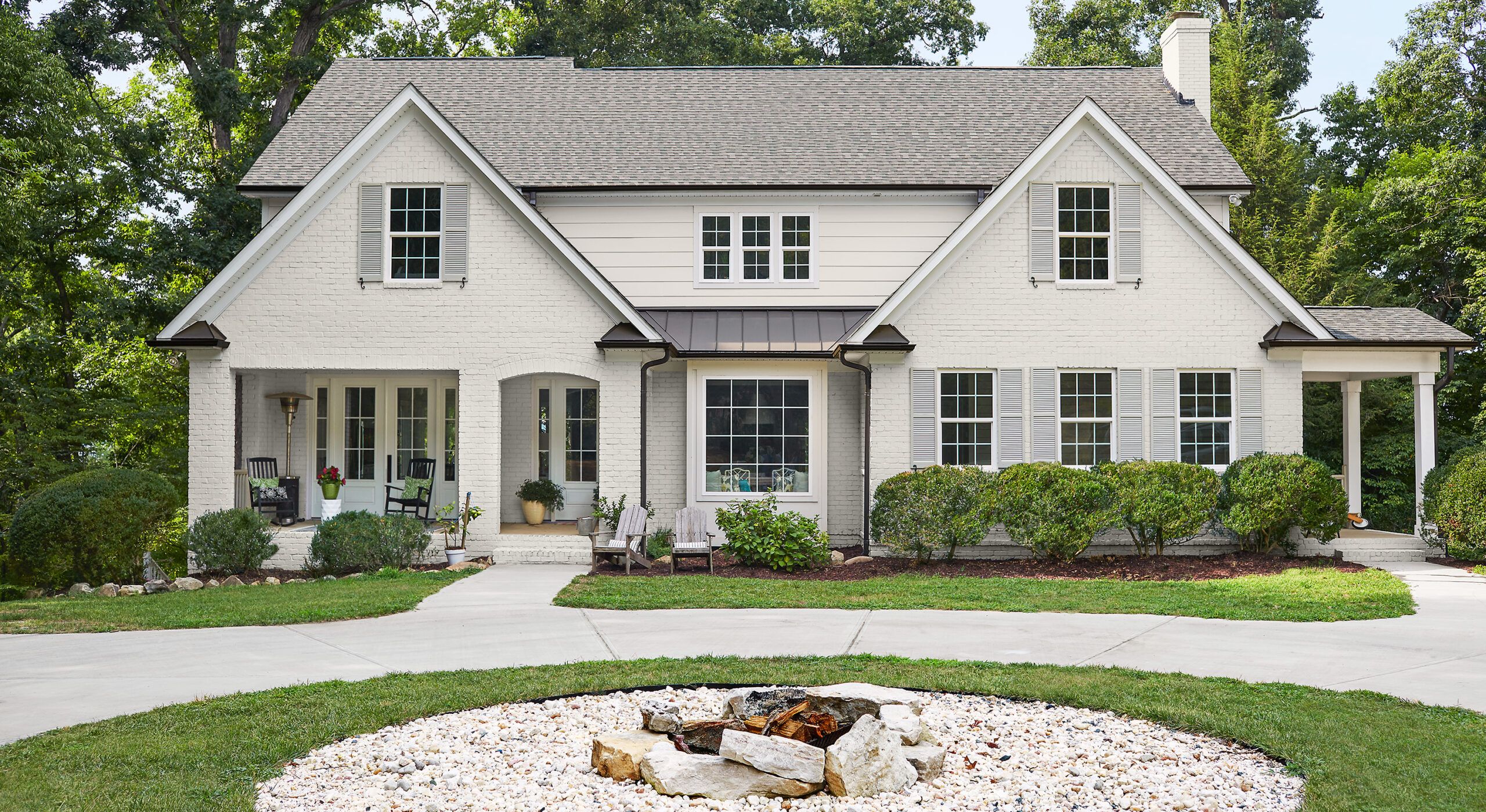 They say history repeats itself. So maybe it's no surprise that it took a series of remodels for Emily and Michael Knotts to turn their ranch house on North Carolina's Lake Wylie into their ideal family home. After all, its original owners—Michael's great-aunt and her husband—had themselves nurtured the little house along through the end of the 20th century, one remodel at a time.
Shown: When it became clear the existing house would have to be rebuilt, the homeowners seized the chance to create their dream home, complete with storybook rooflines.
Designer/builder: Michael Knotts, Knotts Builders
Exterior paint: Benjamin Moore's Classic Gray (brick siding)
Windows: Ply Gem
Roofing: Architectural Shingles in Virginia Slate; Tamko
Shutters: Mathews Building Supply Store
Window Seat Storage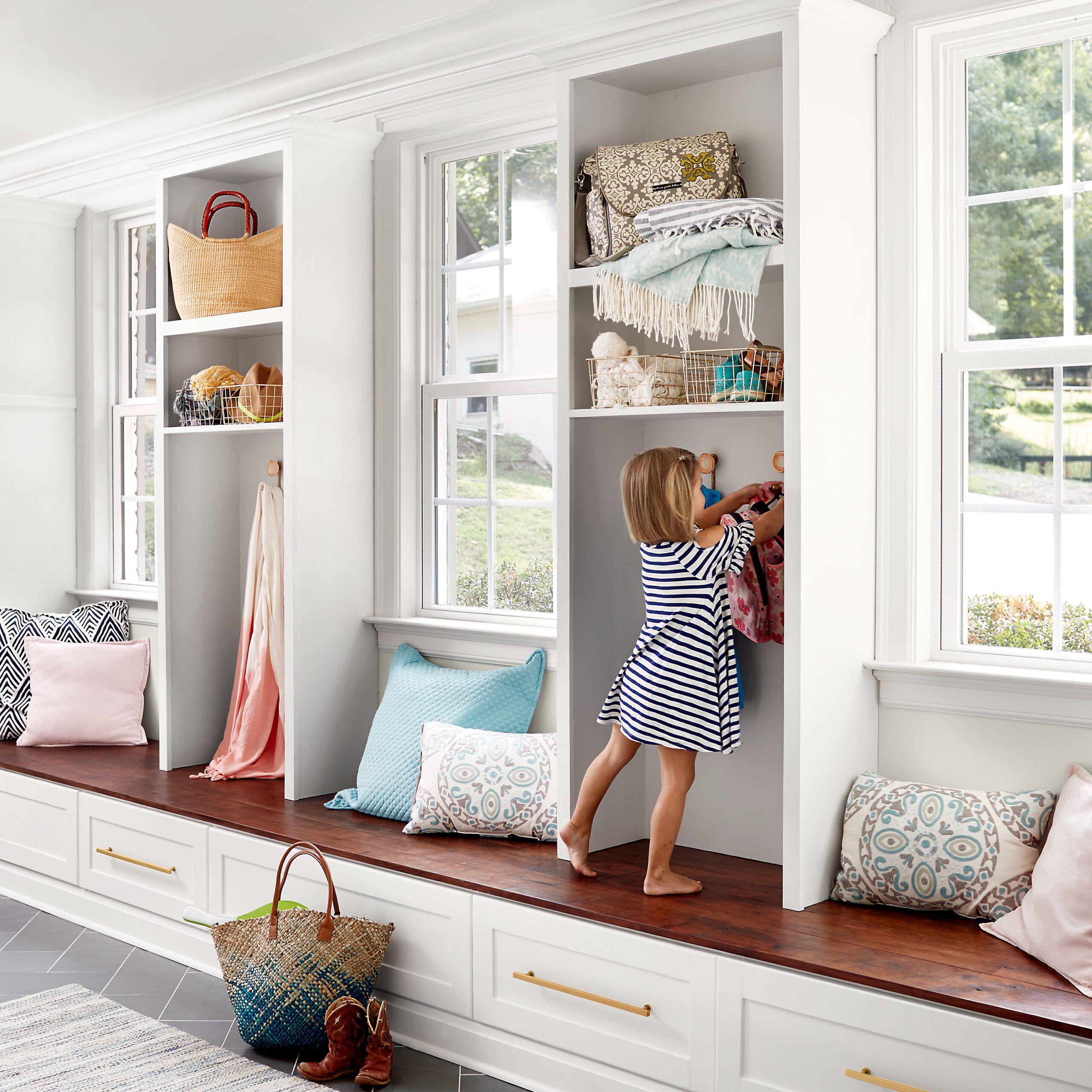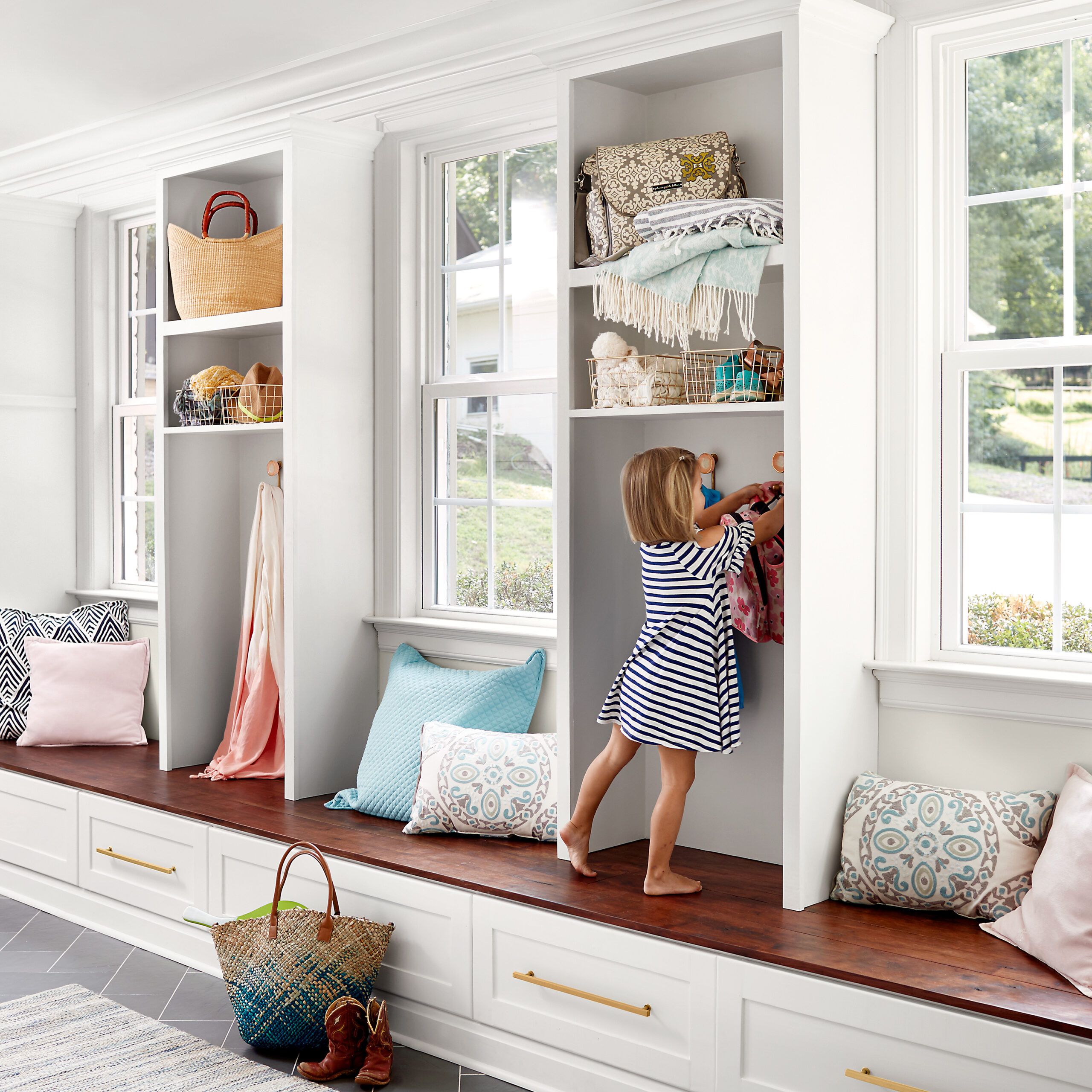 The family's connection to the lake goes back 100 years, when Michael's great-grandfather was hired to enlarge a dam on the Catawba River after floods swamped the area in 1916. He found the lake so appealing that he decided to live there, eventually sharing some of his property with his daughters: Michael's grandmother and his great-aunt Betty, who with her husband began building the small house on her parcel in the early 1960s.
Shown: Five-year-old Elle tidies up the new mudroom's custom storage built-ins. The floor tile is basic 12-by-12-inch slate cut in half and laid in a herringbone. Opposite the windows is a shiplap wall clad with vintage heart-pine boards salvaged from an earlier remodel.
Slate tile: Home Depot
Pulls: Etsy
Pendant lights: Strick's Shop
Entryway Console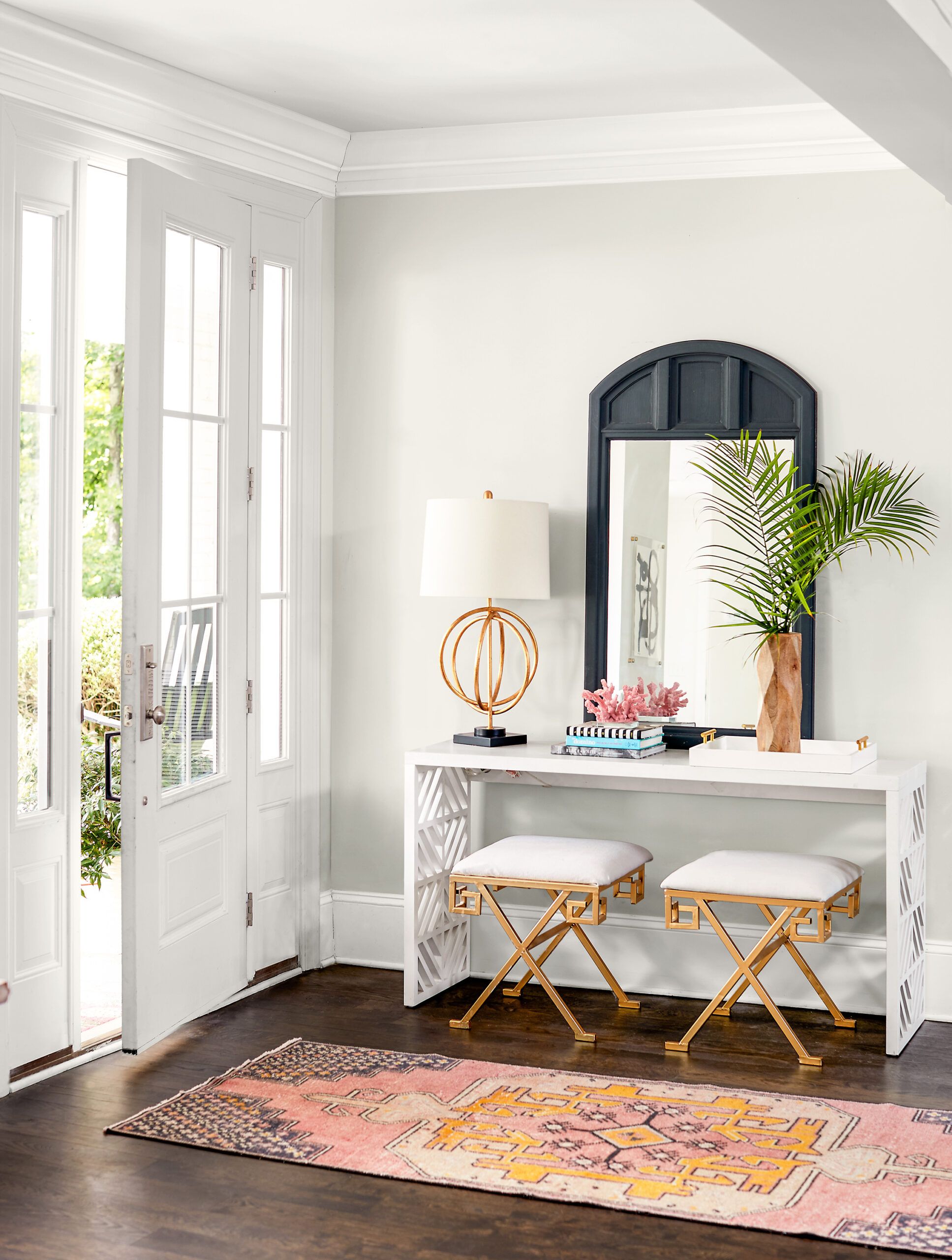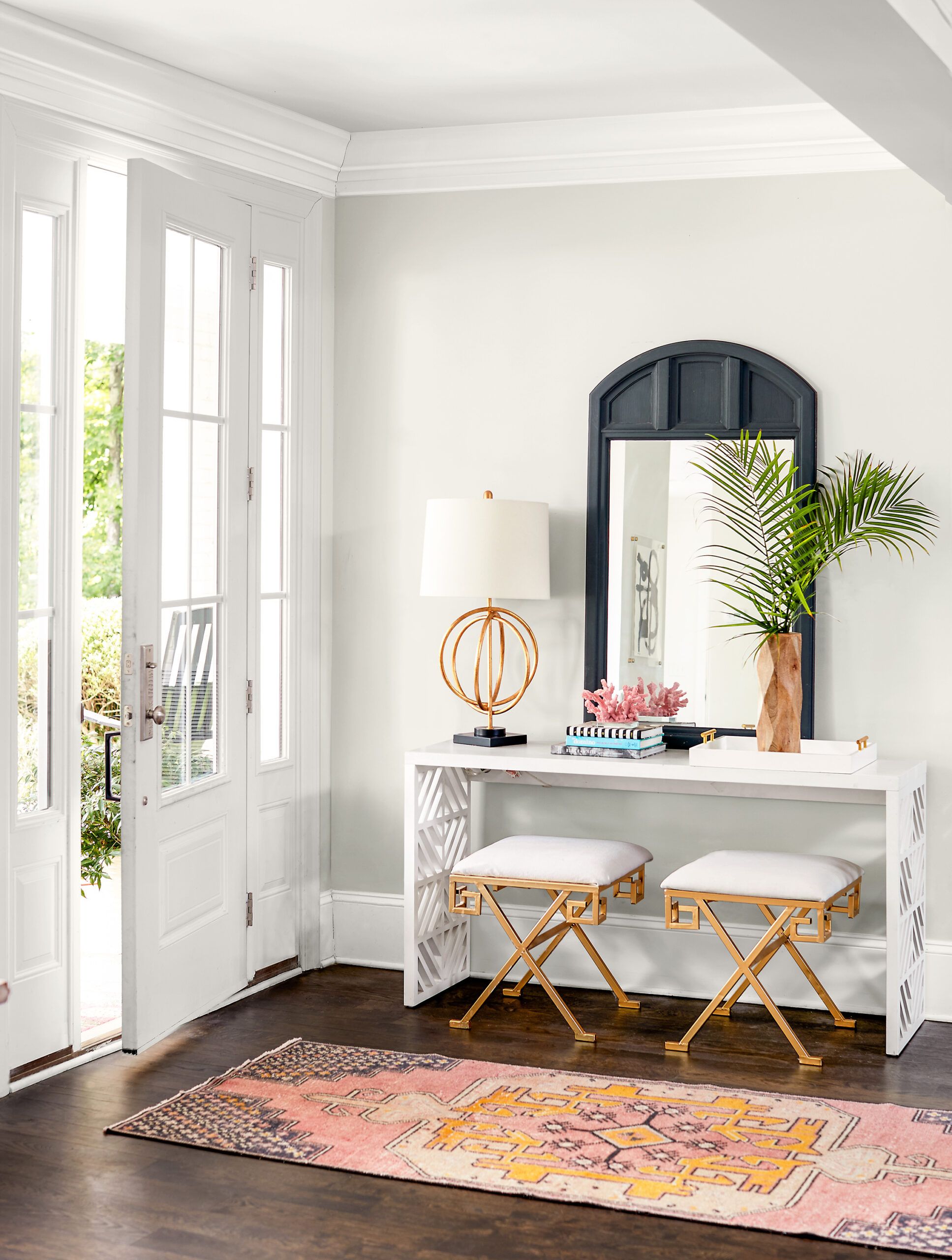 At first, the house was little more than a basement built into a slope facing the water; it took several years to add a full story above it. In 1974, Michael's great-aunt and her husband renovated again. "They had to do it in phases," he explains. "They didn't have the money to do it all at once."
Shown: In the entry, discount-store stools covered with drop-cloth canvas share space with a $20 mirror, and a console table nabbed at a sample sale. The Anatolian Oushak rug is an example of the Turkish carpets Emily imports as part of her design business.
Entry door: Masonite
Island in White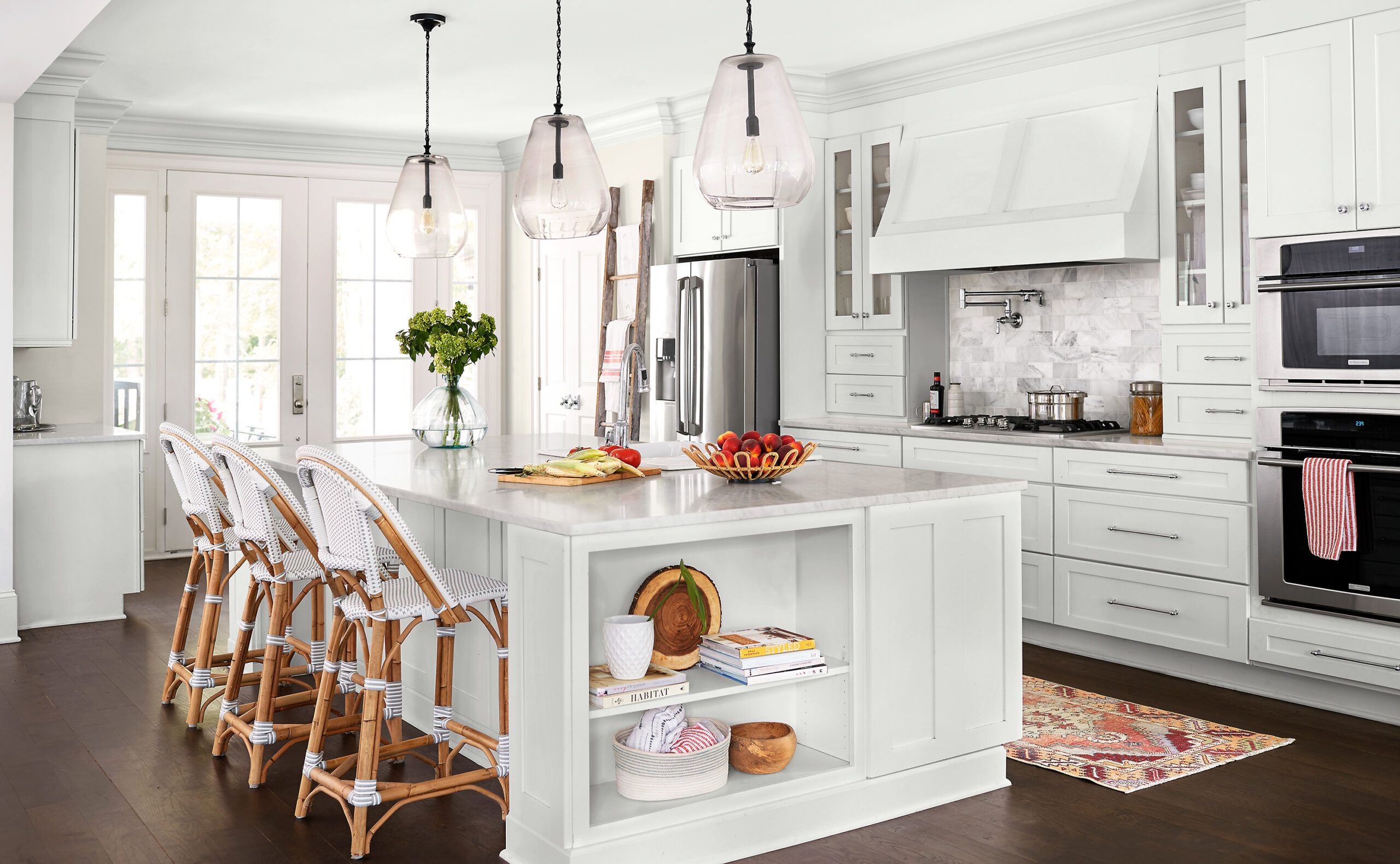 Michael, whose parents built on his grandmother's property, remembers visiting his great-aunt's house growing up. After finishing college in 2003, he bought the little house and moved in with his sister and some friends. It was, he remembers, a typical postcollege crash pad: mirrors emblazoned with beer slogans, neon signs, and other vestiges of the 1970s. "Everything was either pink or light green," Michael says. "It was great."
Shown: The oversize kitchen island hosts many a pizza night and ice cream party. Its marble top has taken a beating, "but I just remind myself that all the little etches are stories," says Emily.
Cabinets: Legacy Cabinets Inc.
Island farmhouse sink: IKEA
Beverage Center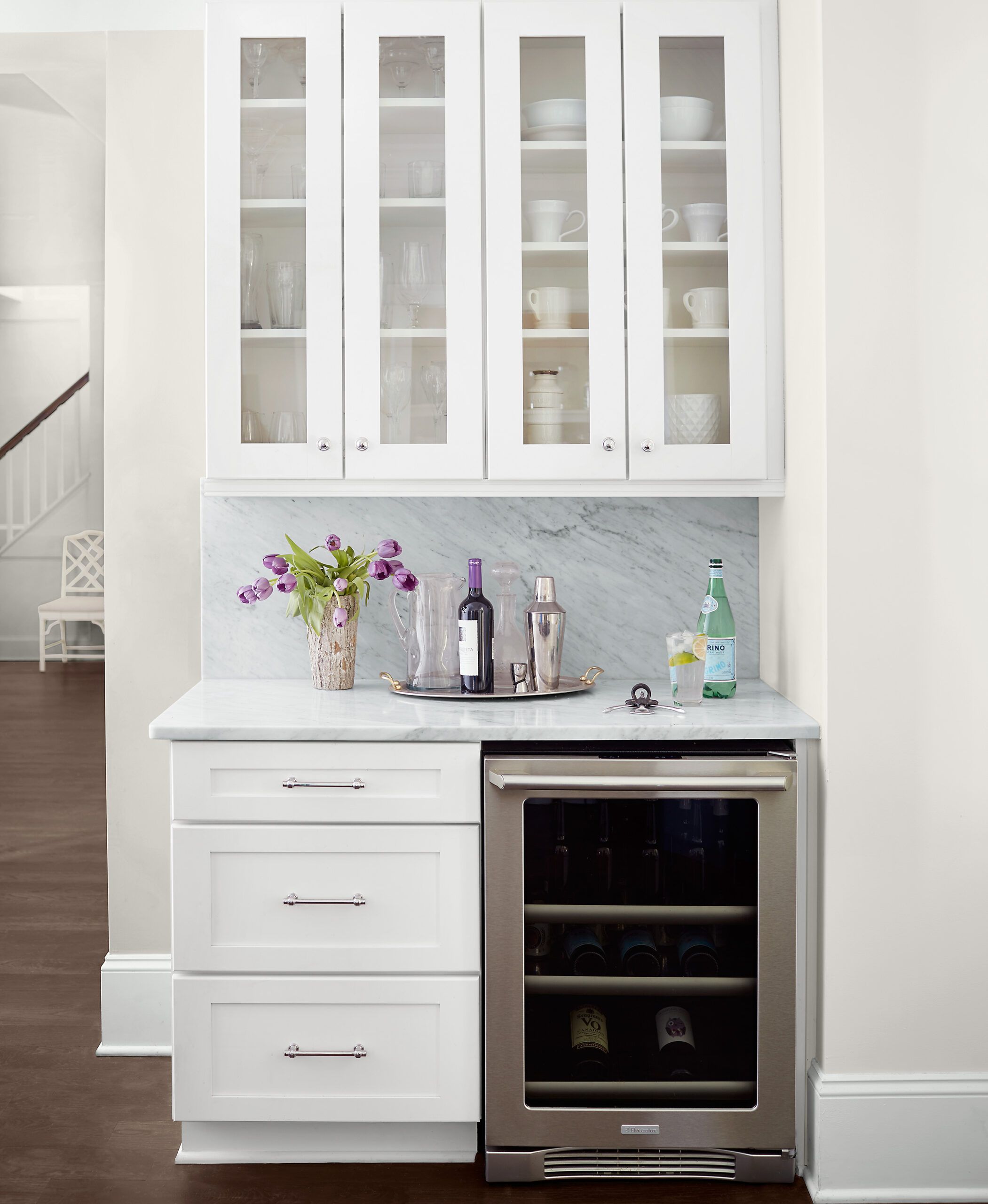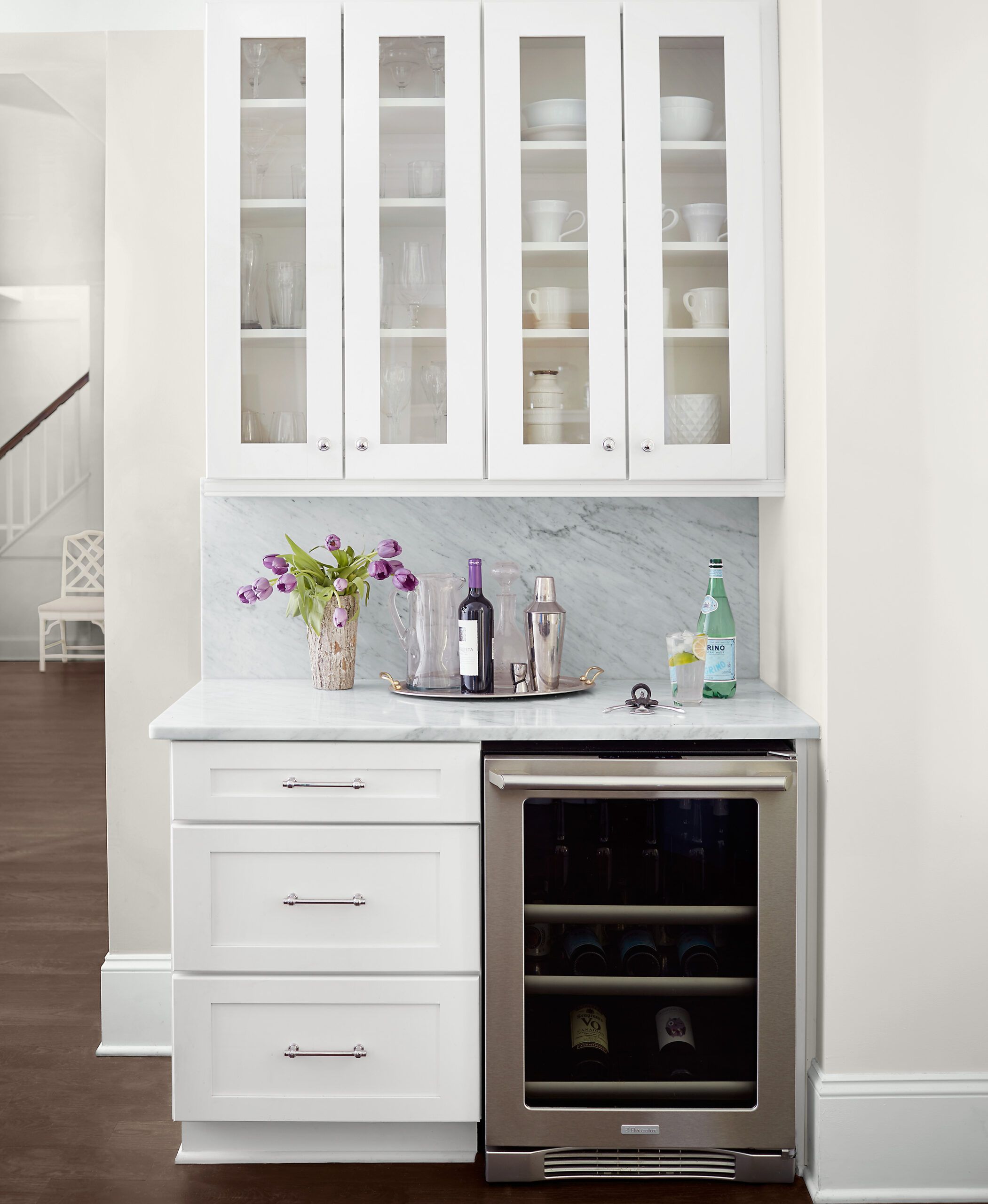 After he and Emily got married in 2010, it was clearly time for a makeover—and the first phase of their journey to transform the old house into their home. "The day we married, there was goldenrod shag carpet on the floor," Michael recalls. "The day after we were married, I came home from work and all my goldenrod shag carpet was out on the front porch." Michael welcomed his new wife's efforts, but Emily was crushed to find nothing but plywood under the carpet. "It was very naïve of me," she admits. They responded the way any young couple on a tight budget would: They pulled out their paint rollers. The white-painted plywood floors were not only attractive, but matched their easygoing lifestyle. "We had a couple of big parties and instead of washing the floors afterward, I just repainted them," Emily says.
Shown: This marble-topped beverage center serves as both a coffee station and a wine bar for entertaining.
Breakfast View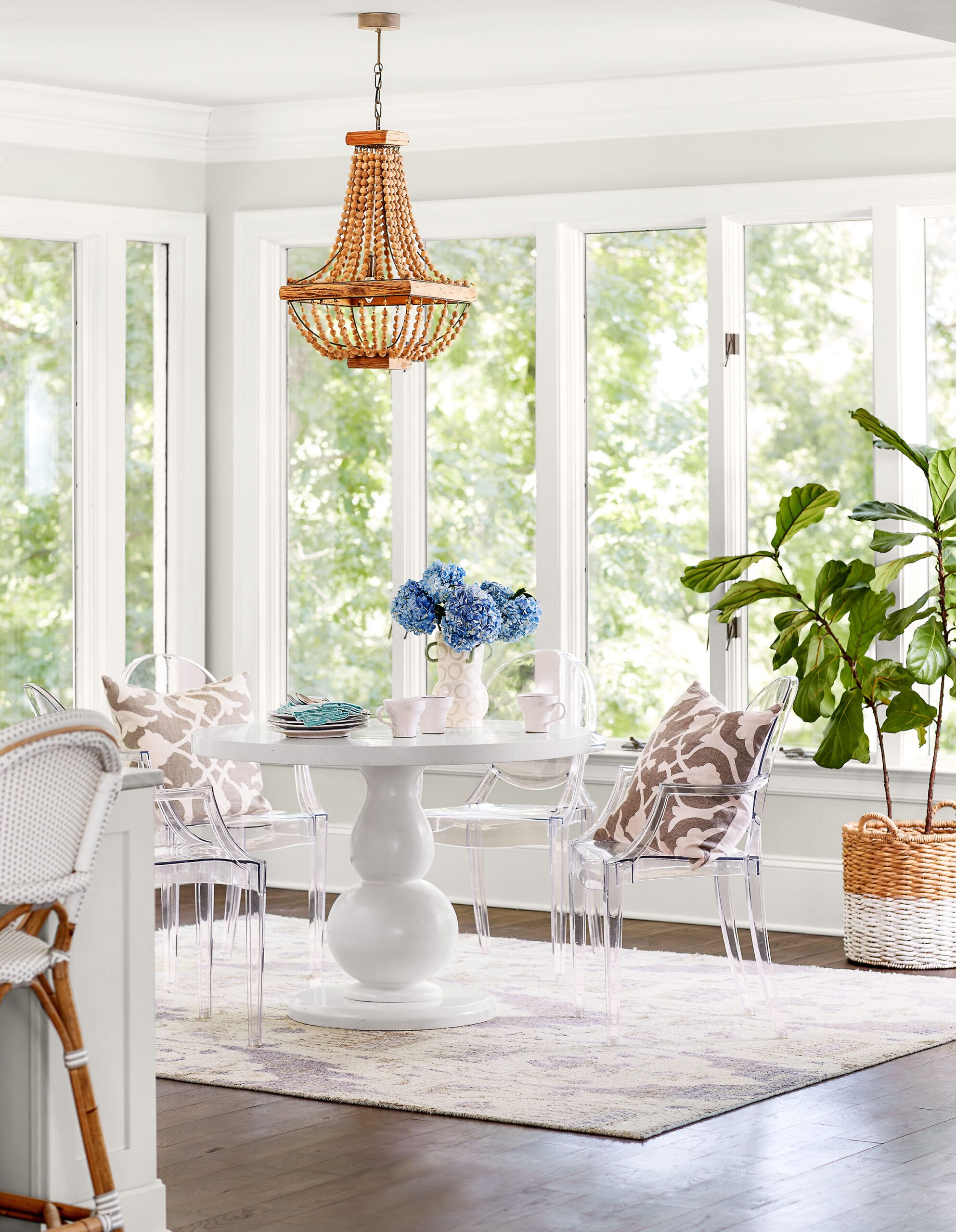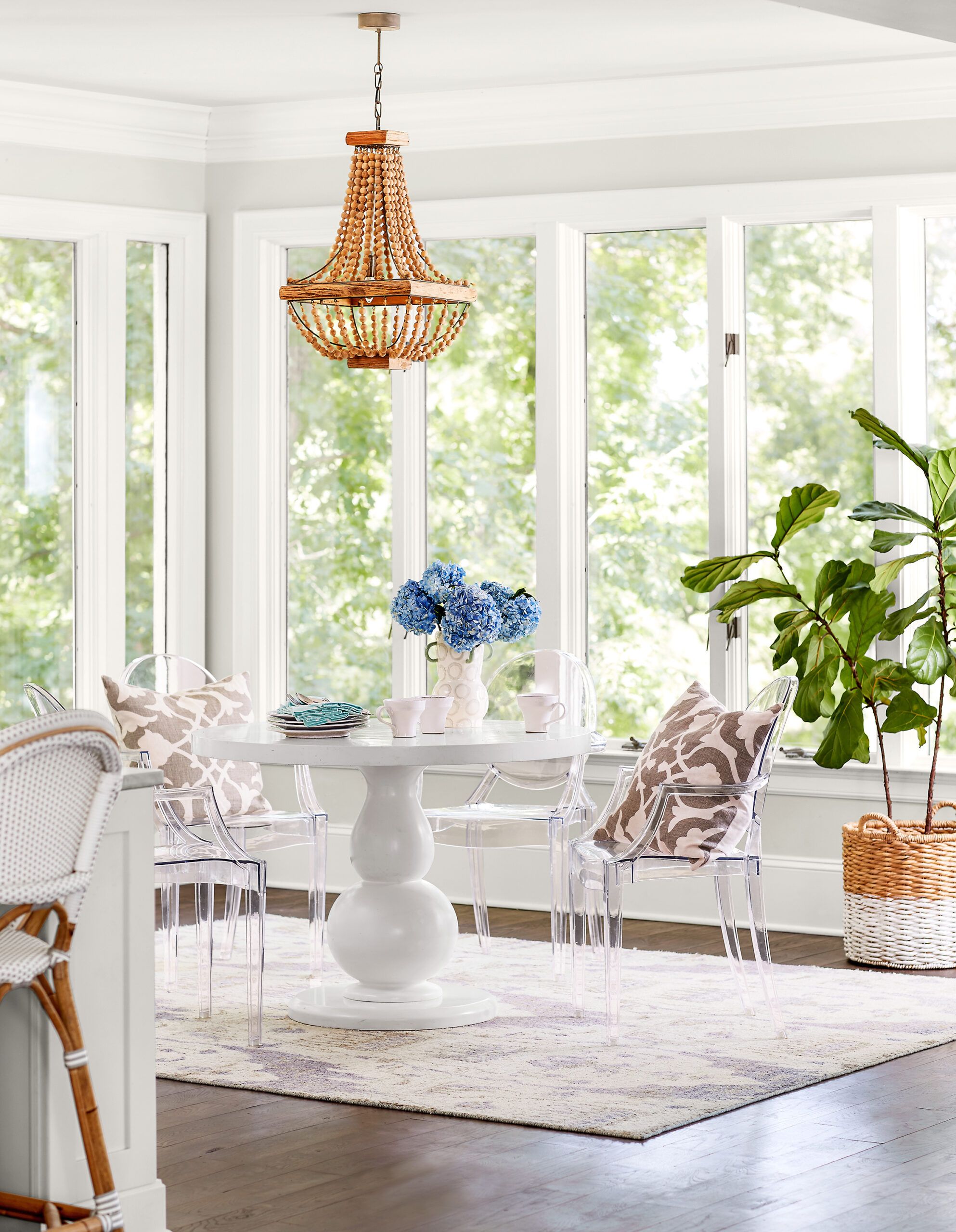 Within a few years, their work shifted from cleaning and painting to more lasting improvements. They swapped most of the home's 1974 casement windows for larger double-hungs and replaced old patio sliders with French doors to enhance the view of the lake. They painted the exterior white, added black shutters, and installed a vintage front door they found at an antiques mall. They updated the kitchen by painting the cabinets and replacing their worn laminate countertops with concrete slabs they poured themselves.
Shown: The tall windows lining the breakfast area are existing casements from a 1974 renovation.
Chandelier: Shades of Light
Chairs: Amazon
Table: Schnadig Home Collection
Crafted Living Room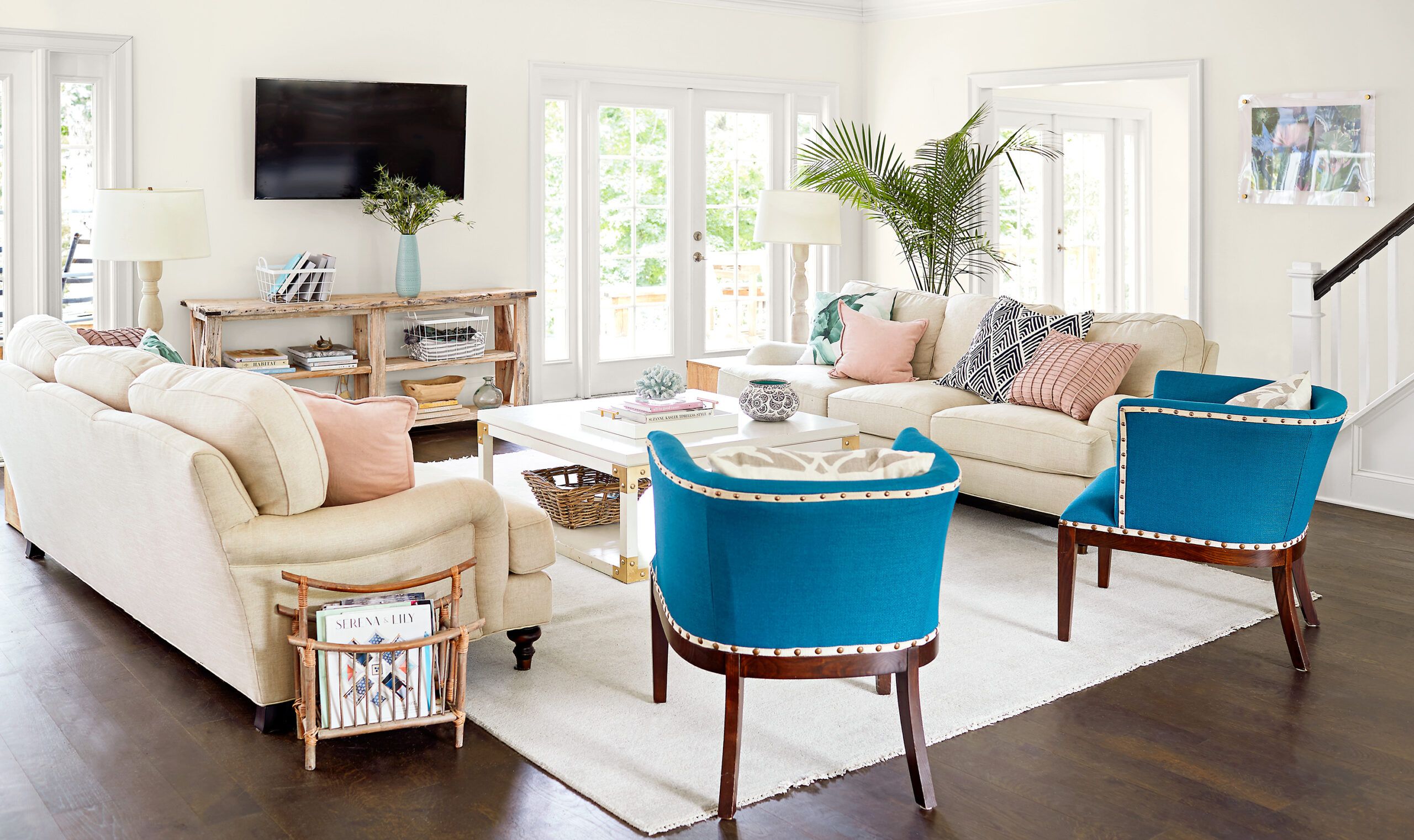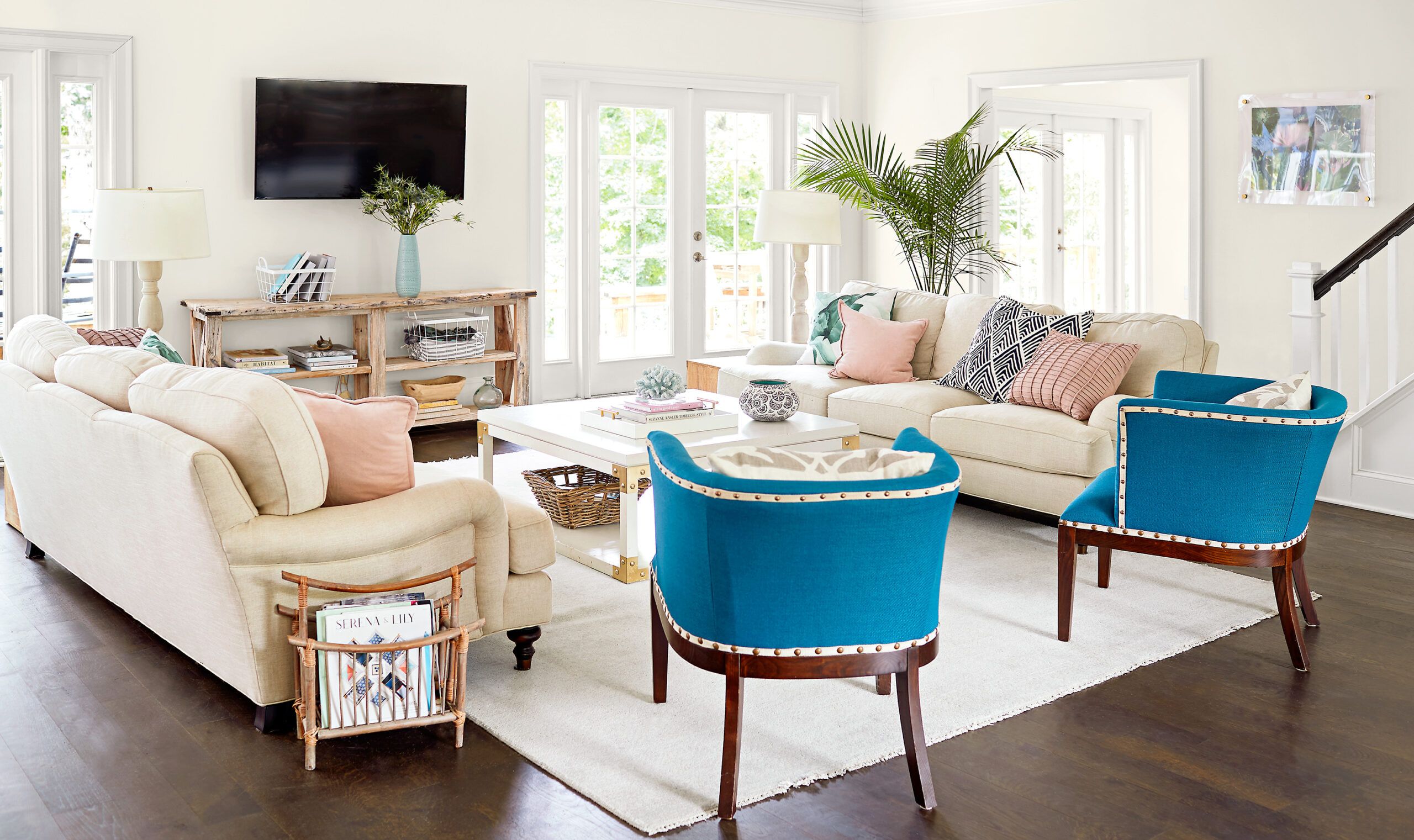 Their most ambitious project would be to clad their beloved painted-plywood floors with another, more sophisticated layer of character. When Michael saw that an aging textile mill nearby had been torn down, he gathered up the remnants of the structure's ceiling, denailed the boards by hand, and had them milled into 5-inch-wide tongue-and-groove planks. He laid the reclaimed lumber as flooring throughout the home's main floor, and in the basement, now recast as an in-law suite for Emily's visiting parents. "They were seventy-year-old heart pine, and they were gorgeous," he says.
Shown: French doors in the living room and adjacent playroom look out onto the lake. Evidence of the couple's DIY talent includes the console table Michael made from pieces of an old dock; lamps fashioned from wood candlesticks; and a frame Emily crafted from two sheets of acrylic she bought at Lowe's.
Interior designer: Emily Knotts, Crisp Interiors
Family at Play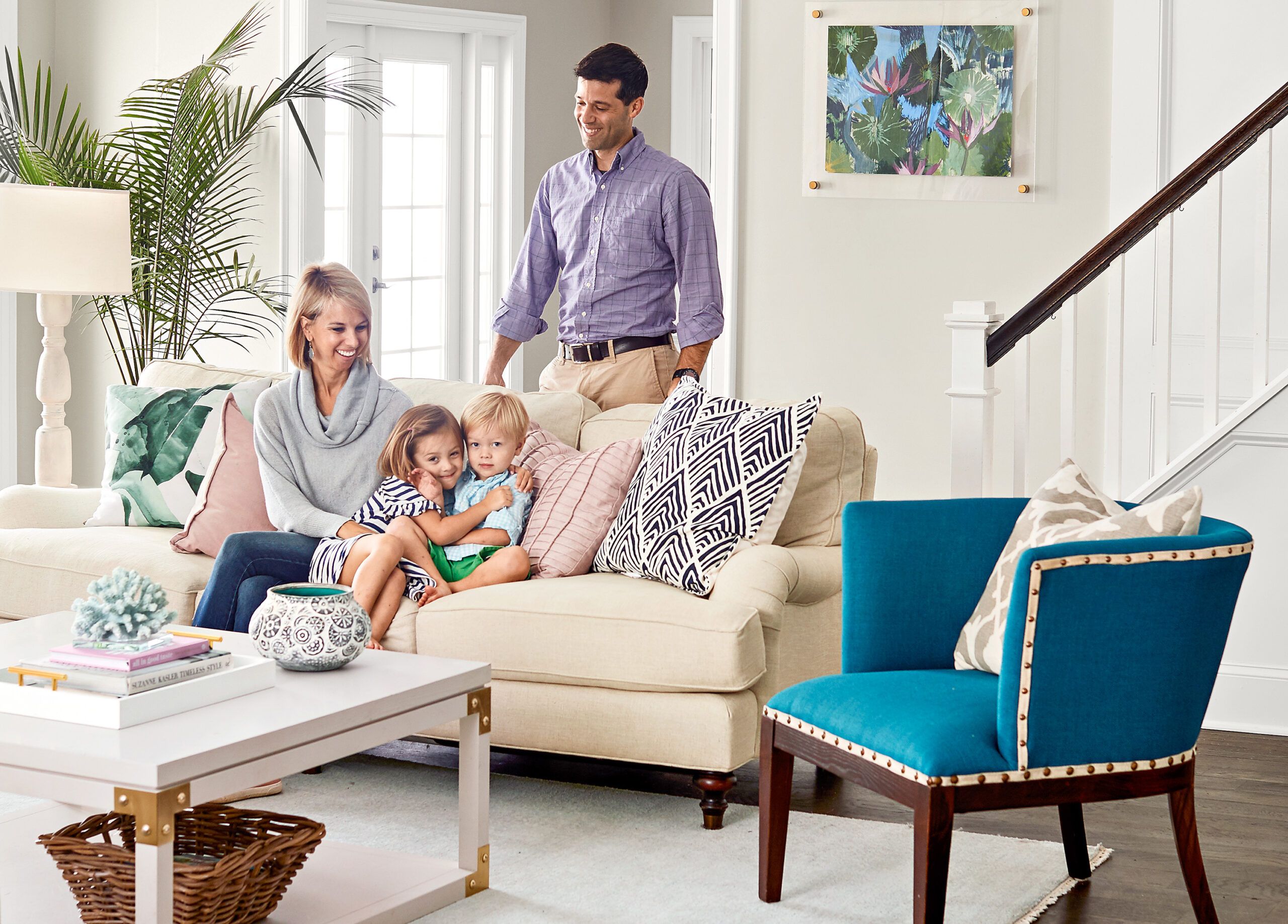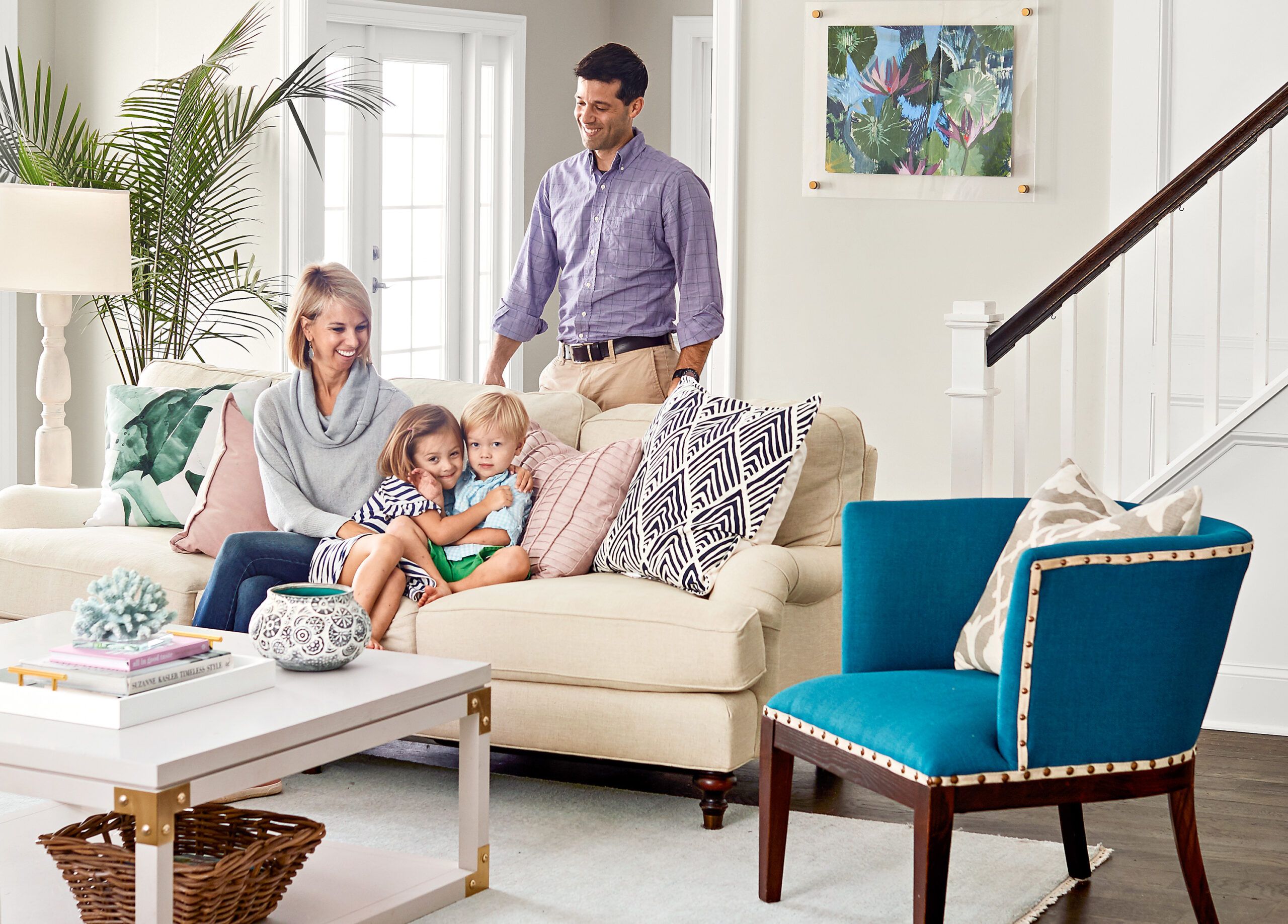 As the couple worked on the house, they assumed complementary roles that would see them through not just this round of projects, but the bigger changes to come. "I'm the ideas girl, and he's the make-it-happen guy," Emily explains. Back in 2010, she began sharing those ideas on a blog whose followers were soon asking Emily for advice on remodeling their own homes.
But just a few years later, with a second child on the way and the only open bedroom in the basement, they knew it was time to remodel again. The solution seemed obvious: Just add another story above the one they'd already poured so much heart and soul into.
Shown: Emily loves the house's open layout, which enables her to cook dinner while keeping an eye on Elle, now 5, and Beckham, now 3. She and Michael welcomed their third child, Luke, in October.
Timber Table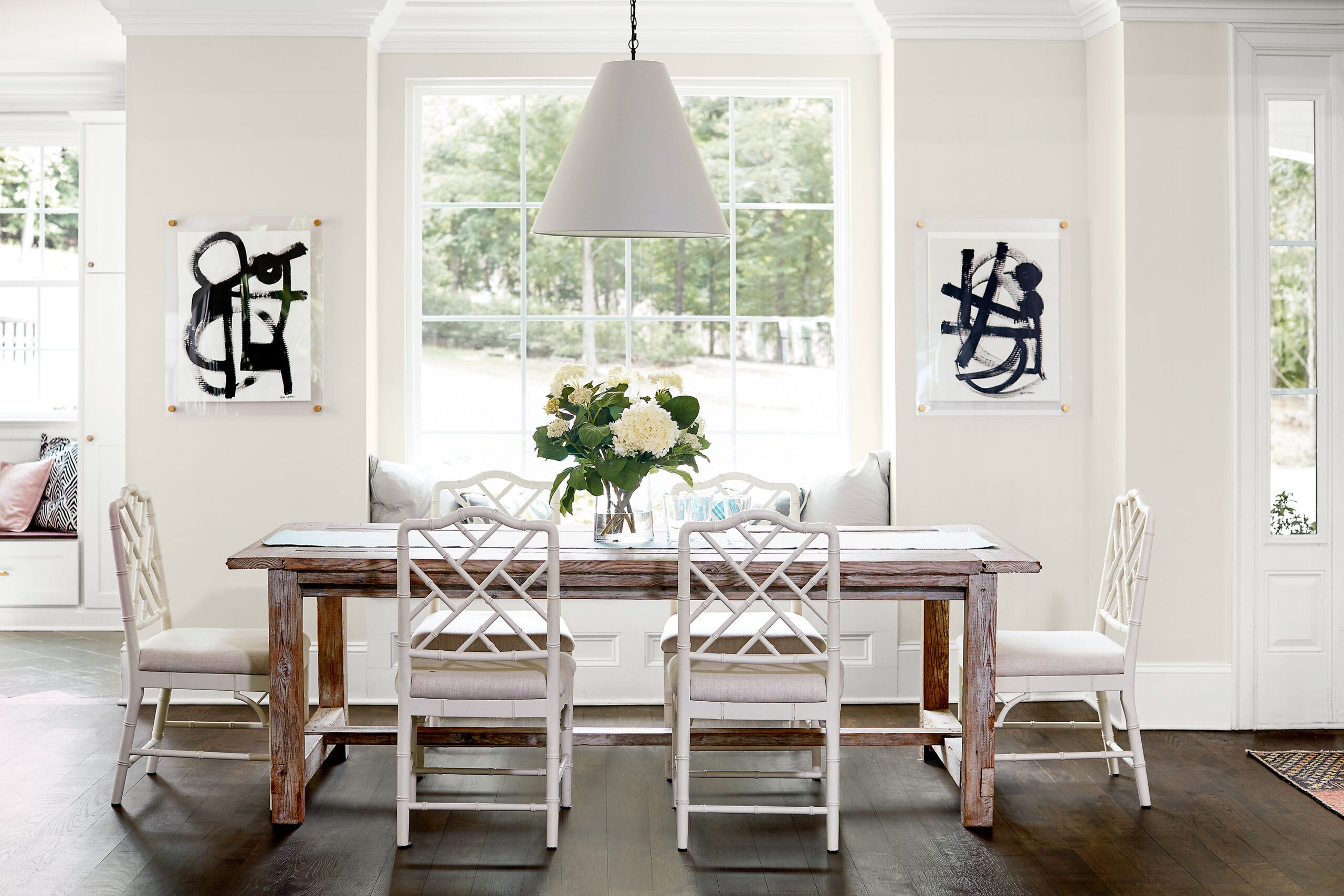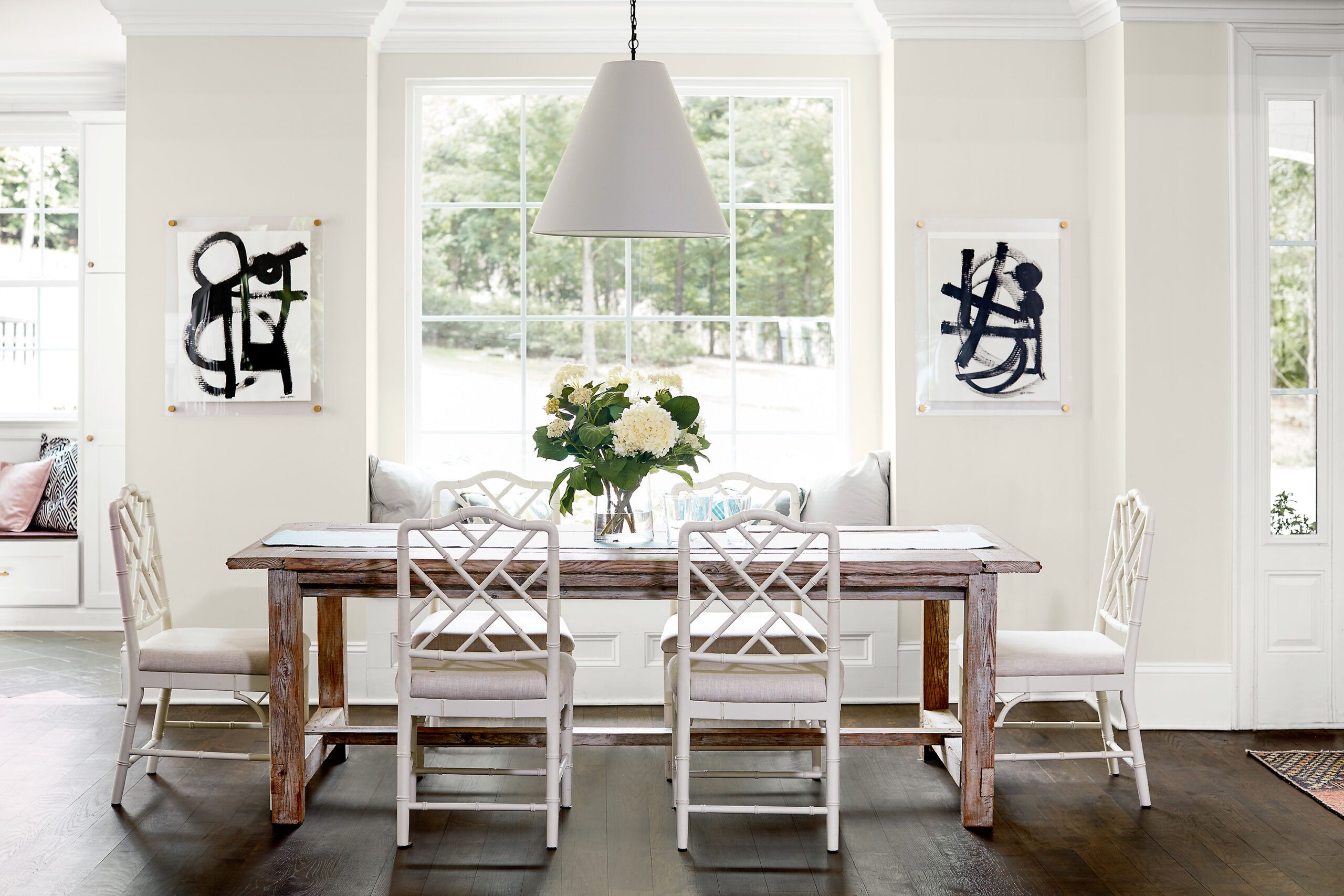 "You always think it's going to be simpler than it is," Emily says. Indeed, it quickly became clear that the home's underbuilt structure would not support another story, and that an addition would overtax its electrical and plumbing systems. Going up, they learned, would necessitate a near-total rebuild. But it also meant the couple could create a home uniquely suited to the needs of their growing family. And it seemed that their stars had aligned: Emily's blog had blossomed into her own design business, Crisp Interiors, and Michael had joined his father in expanding the family's real estate development company to include home construction.
Shown: Michael made the family's dining table for Emily as a gift for their first anniversary. Like several other pieces in the house, it is built with timbers salvaged from an old dock on the lake that the couple visited on their first date, and where they later took their engagement photograph. The paintings are by artist friend Erika Eckerson; Emily fashioned the Lucite frames herself.
Pendant: Shades of Light
Chairs: Ballard Designs
Paint: Benjamin Moore's Classic Gray (walls) and Super White (trim)
Kid's Bedroom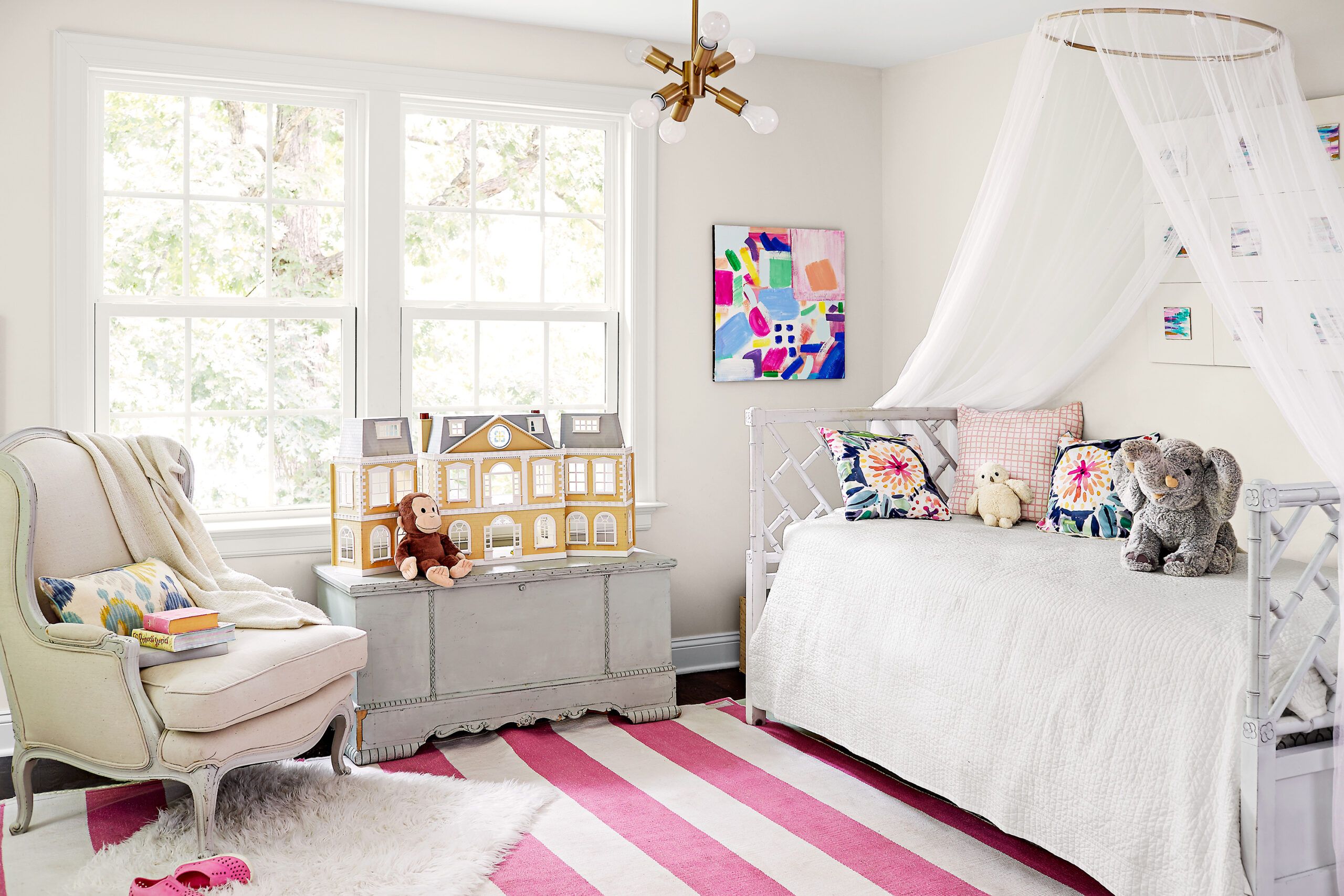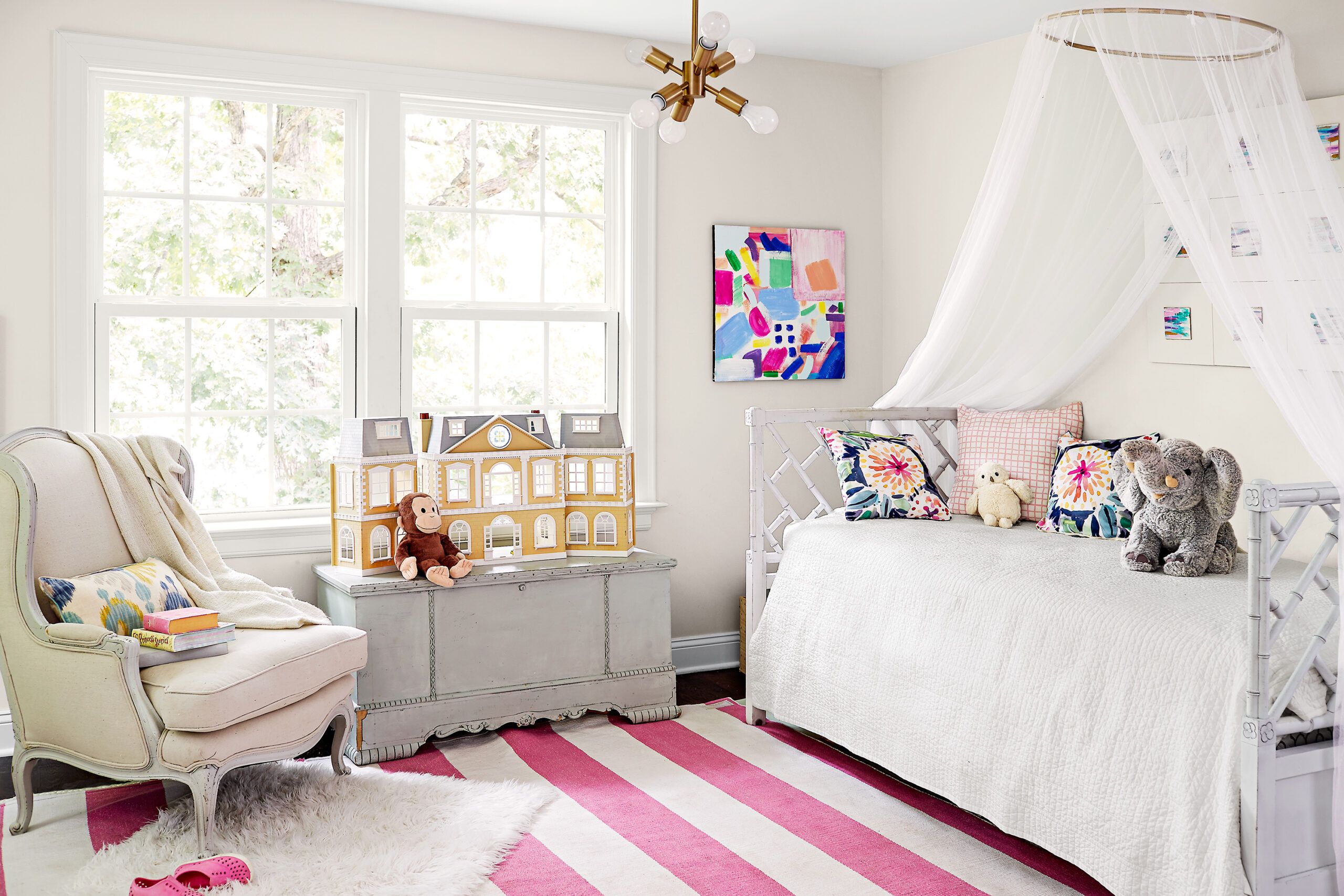 They started sketching on a napkin at dinner, beginning with a rectangle representing the existing home's roughly 35-by-55 foundation footprint. "We were just kind of dreaming," Emily recalls. They added two bumpouts to the front, and eventually, a small entry porch on the side. Michael spread vellum over the 1974 blueprints and sketched some more before turning the work over to an architect, who finalized the drawings in CAD.
Shown: Michael paired up two twin bamboo headboards and added a canopy to create a delightful daybed in Elle's bedroom. A chest belonging to Emily's grandmother serves as a toy chest, and a comfy chair is upholstered in drop-cloth canvas for a durable linen-like look.
Striped pink rug: Dash and Albert indoor/outdoor
Light fixture: Shades of Light
Jack-and-Jill Bath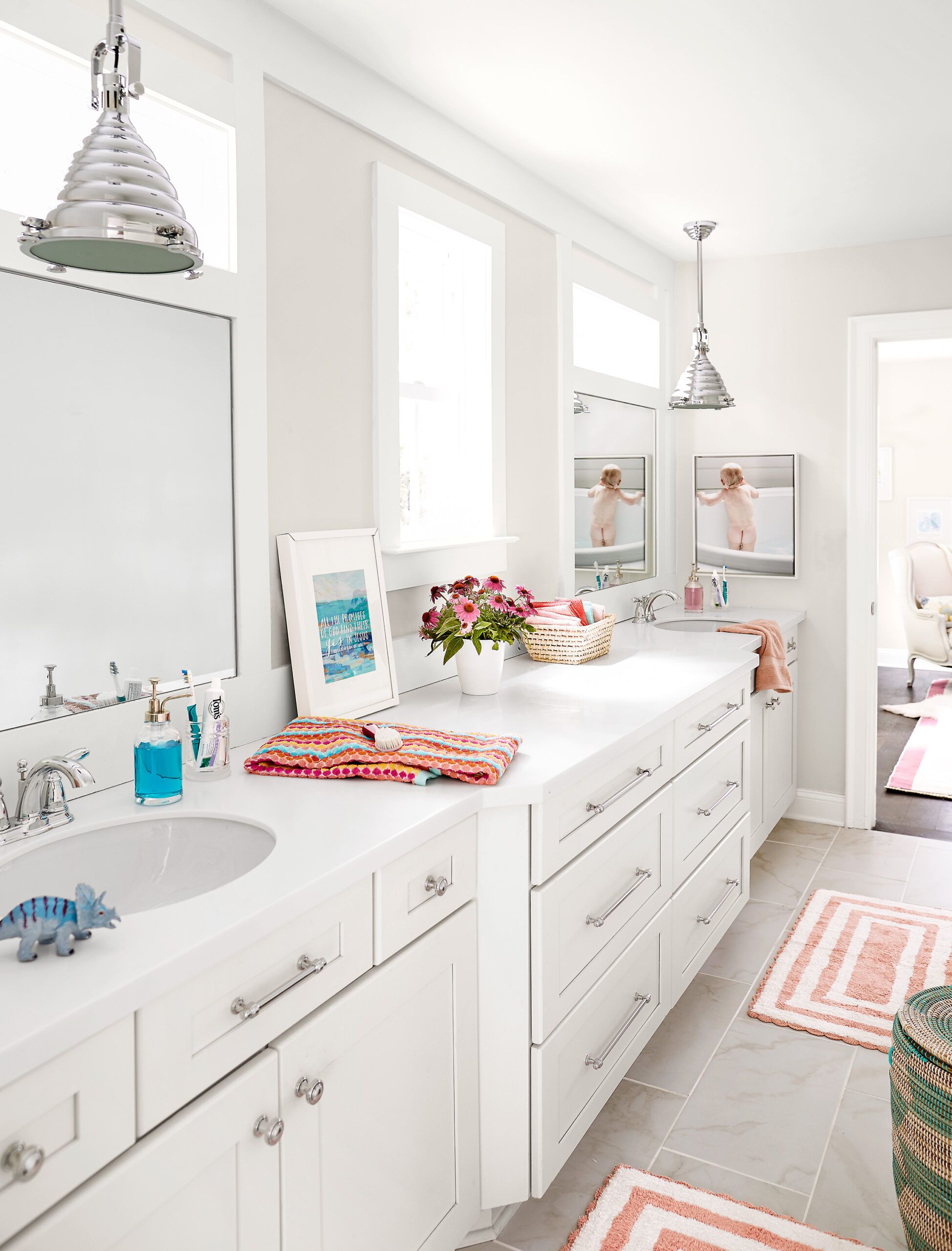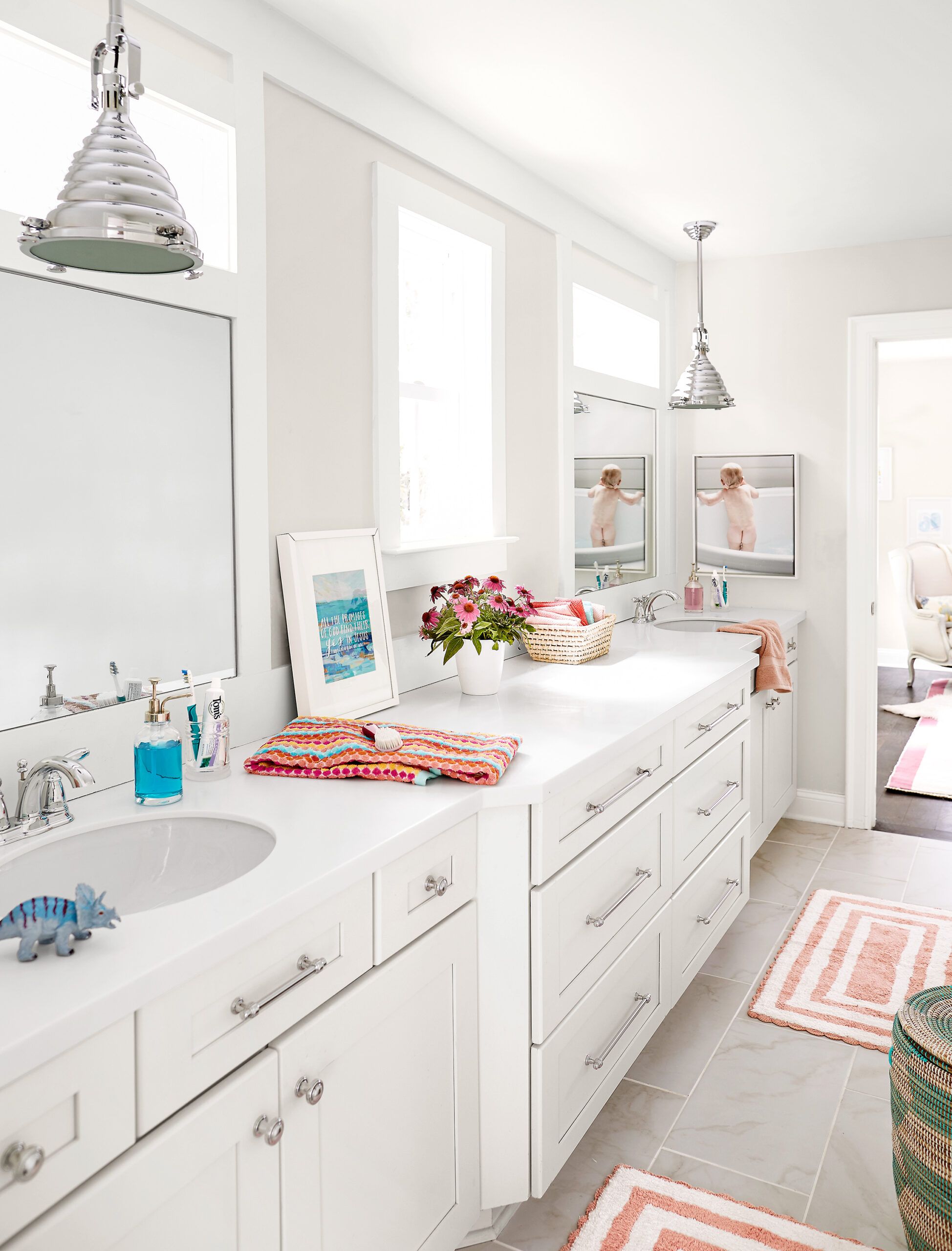 Two weeks after they moved into a temporary apartment, the couple's second child was born, and work on the house began. While Michael's firm handled most of the construction, he put in his share of sweat equity. "My routine for the next six to seven months was to come home from work, have dinner, kiss the kids, and go to work on the house from about eight until midnight," he says.
Shown: A Jack-and-Jill bath joins the two older children's bedrooms. The clerestory windows were added after the house had been framed and the couple realized the space lacked sufficient natural light. "It always helps to see things at framing and make adjustments as needed," Emily says.
Pendant: Shades of Light
Drawer pulls: Home Depot
Light and Airy Bedroom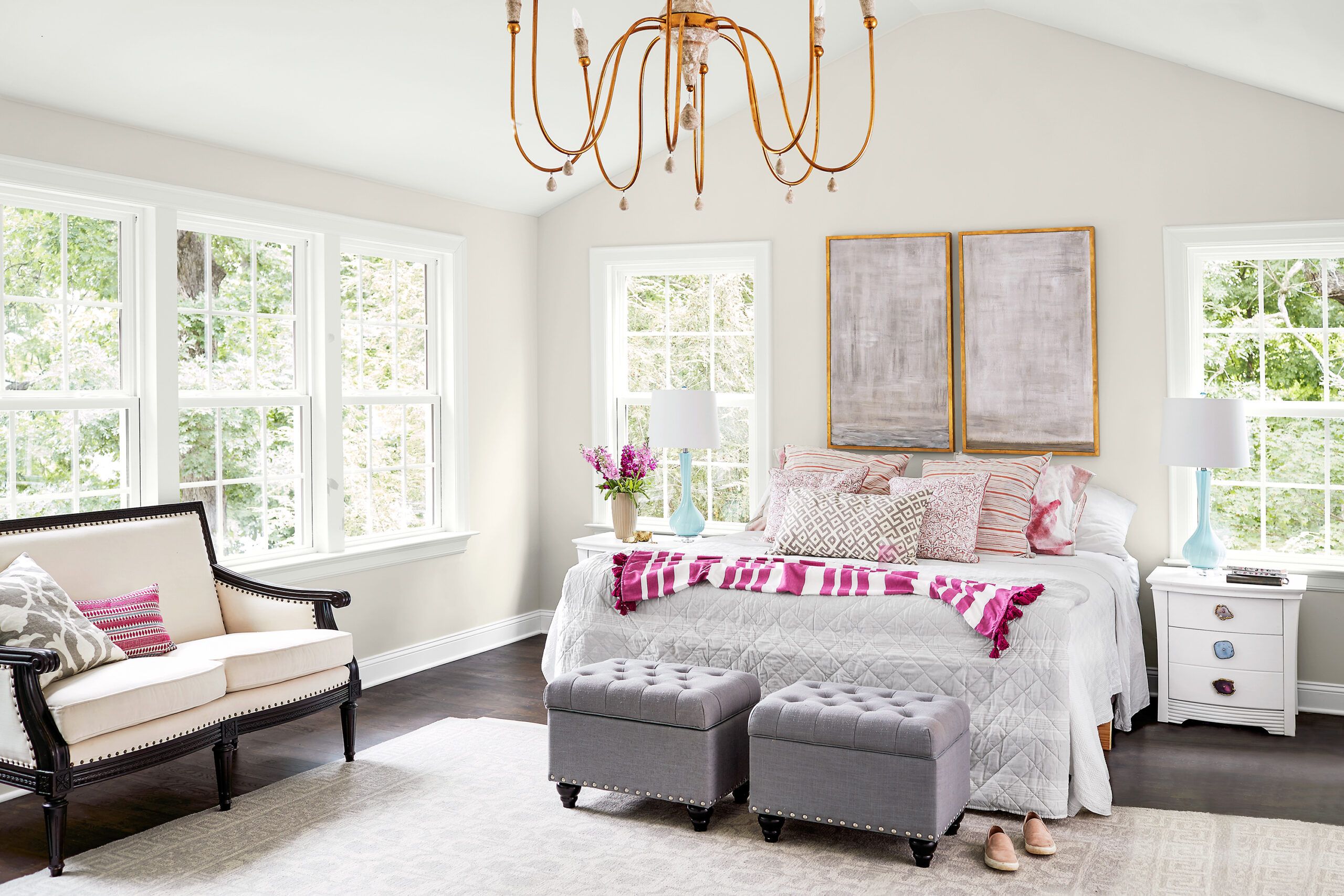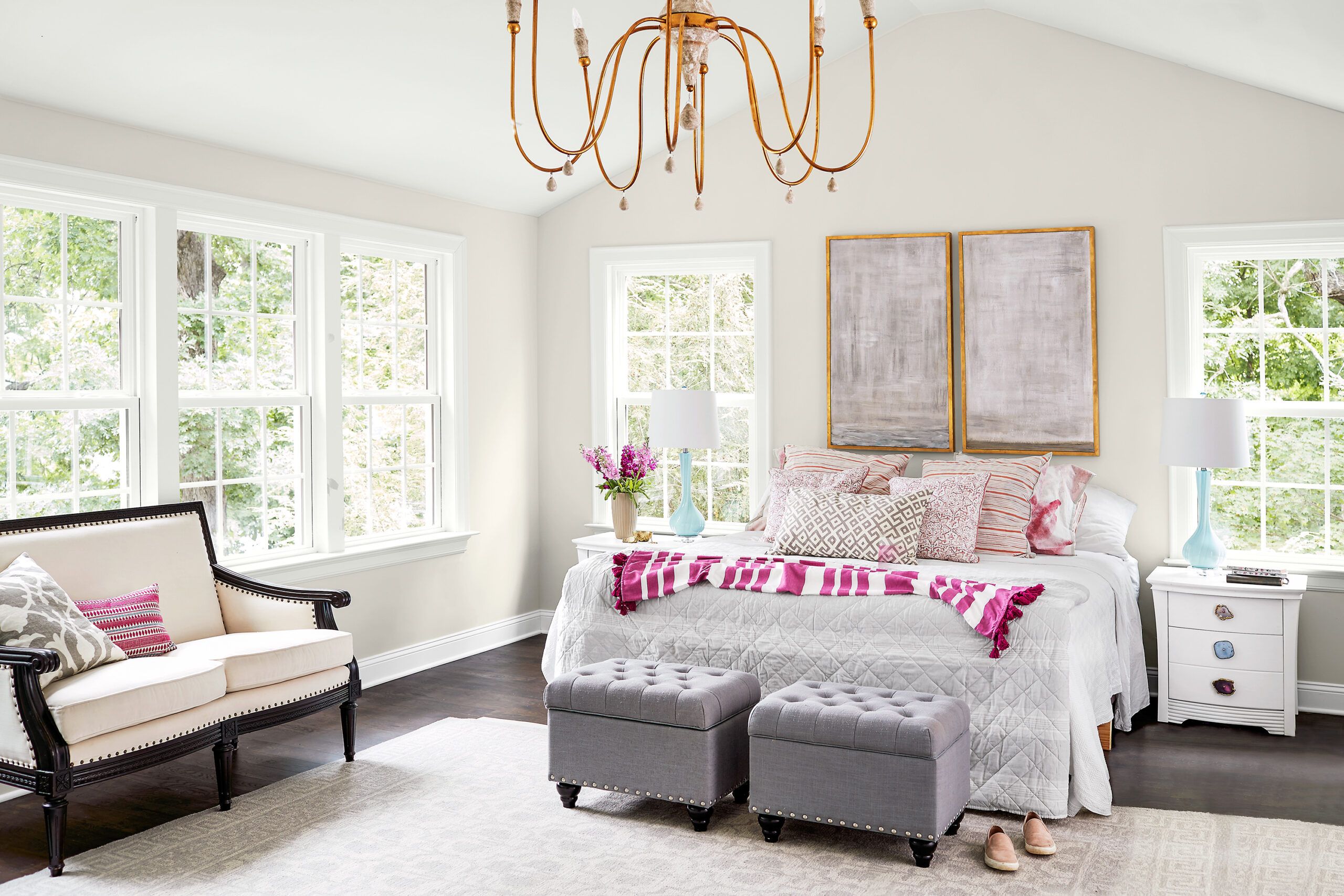 The result is a made-to-measure home conveniently laid out for family life, with bedrooms all on one floor—the first, all-important goal of the remodel. Capped with gabled roofs, the twin bumpouts give the rebuilt house a fresh, welcoming facade. Inside, a mostly open plan keeps the lake always in view. In addition to the contiguous kitchen, breakfast nook, and dining and living rooms, the new first floor holds a playroom, an office/guest room, a full bath, and a mudroom. Upstairs, two children's bedrooms along with a large bonus room—now a nursery for Baby No. 3, born in October—combine with the master suite to keep the whole family nestled together. For Michael, the best part is the lake view from their bedroom; the previous master overlooked the driveway.
Shown: The new master bedroom is flooded with natural light and sited to take in the lake view. Side tables are hand-me-downs from Emily's parents, with new paint and pulls "to make them more modern and fun."
Paint (walls): Benjamin Moore's Classic Gray
Chandelier: Gabby
Rug: Pottery Barn
Super Soaker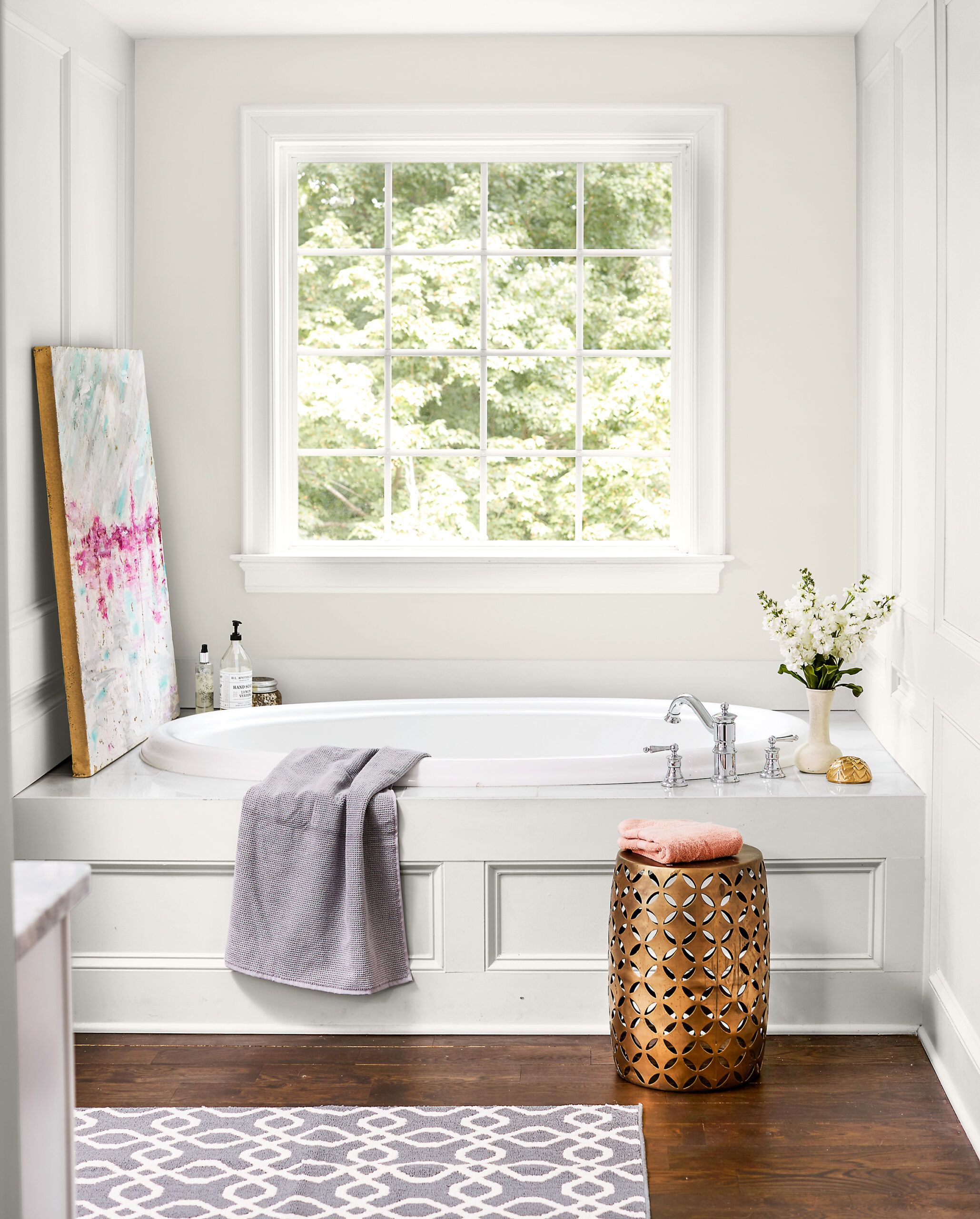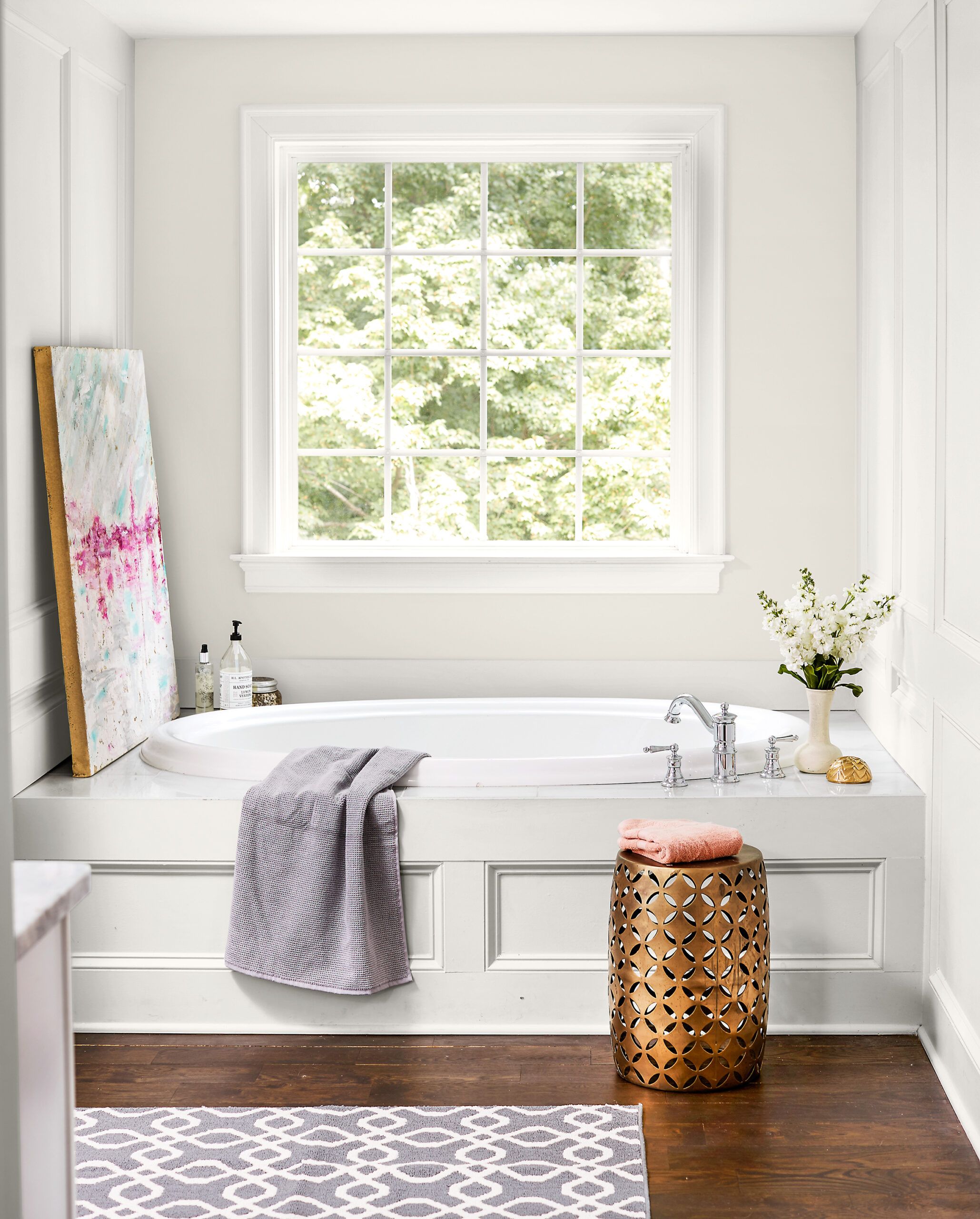 Another silver lining is the new home's energy efficiency. Michael planned for upcoming building-code requirements, using spray-foam insulation on the roof deck and personally sealing every joint in the walls and floors. It paid off: In the end, they added 2,000 square feet to the house while reducing their $360 monthly utility bill by $60.
Shown: "When we designed the house, I wasn't sure how much use this tub would get," Emily says of the master bath's soaker. "Now our kids are in it all the time." Plush rugs and a hard-wearing clear finish protect the wood floor.
Tub: Bathcraft
Faucet: Moen
Floor finish: Rubio Monocoat
Paint (walls): Benjamin Moore's Horizon
Efficiency Zone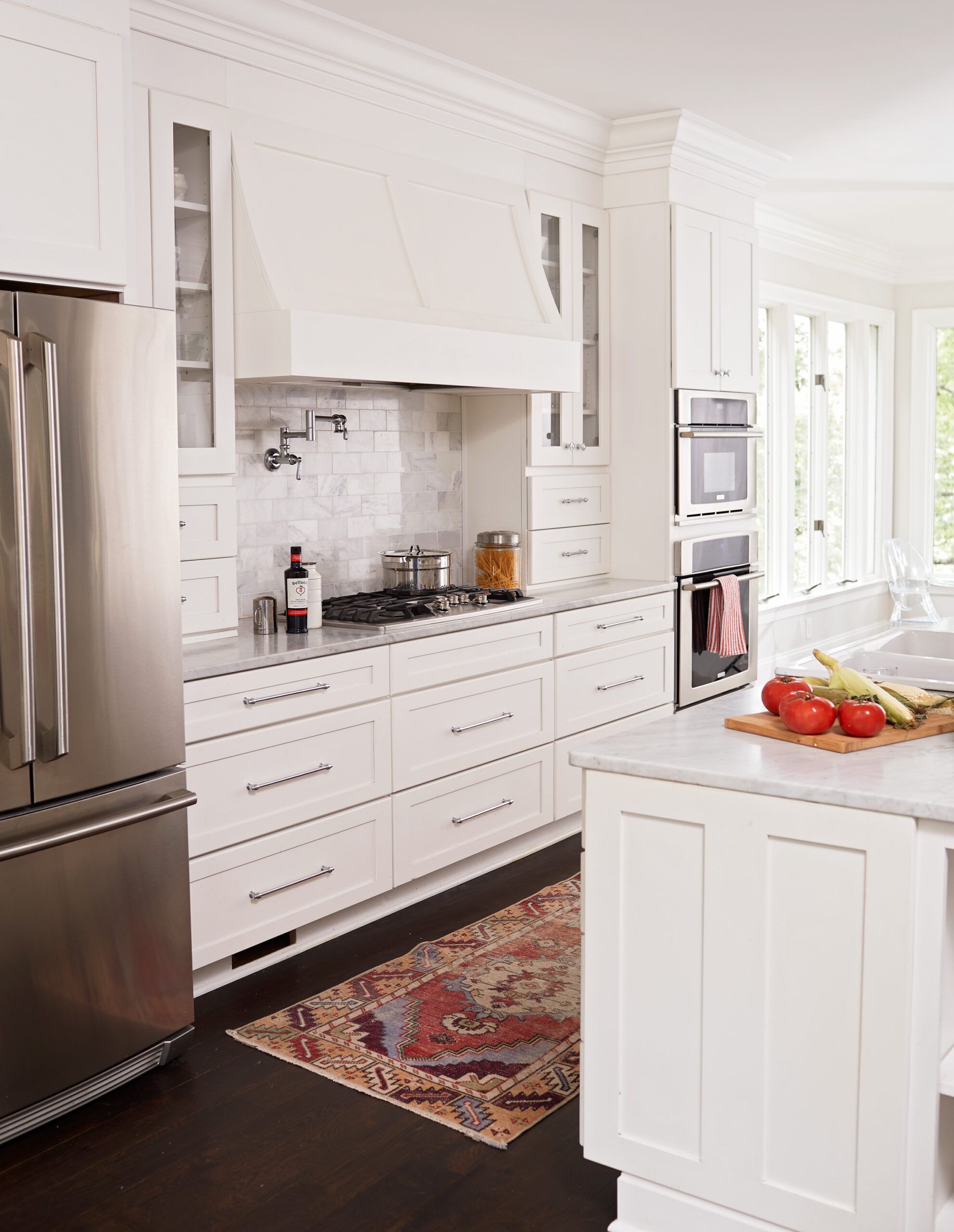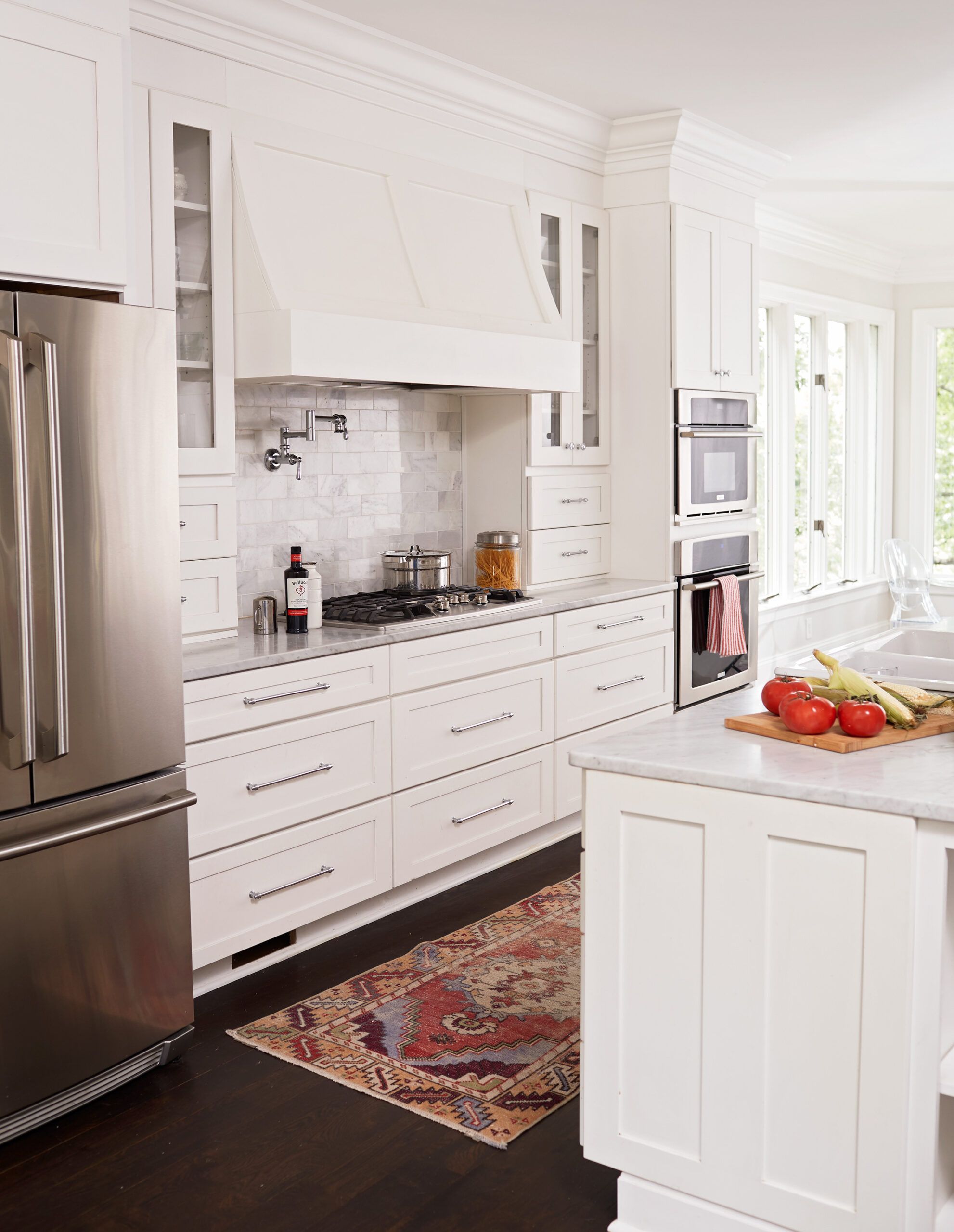 There's no goldenrod shag carpet on the rebuilt house's new wood floors; instead, they are scattered with some of the hand-knotted Turkish rugs that Emily imports for her design business. But there are other mementos: some existing casement windows in the breakfast nook, where they bathe the space with light, and the old front door, which has a new home on the garage. And Michael was able to save enough of their salvaged mill flooring to panel the walls in the first-floor bath and mudroom. They've also held on to furniture that ties them to the lake, including the dining table that Michael made for Emily as a first-anniversary gift. It's built from the remnants of an old dock he and Emily visited on their first date and where they later posed for their engagement photo.
Shown: Outlining the planned island in tape on the floor helped Emily arrive at the best size for the space. While the island was designed for gathering, the area behind it forms an efficient cooking zone, with refrigerator, cooktop, and ovens in a neat row.
Cooktop, refrigerator, wall ovens: Electrolux
Faucet: Moen
Copper Hangers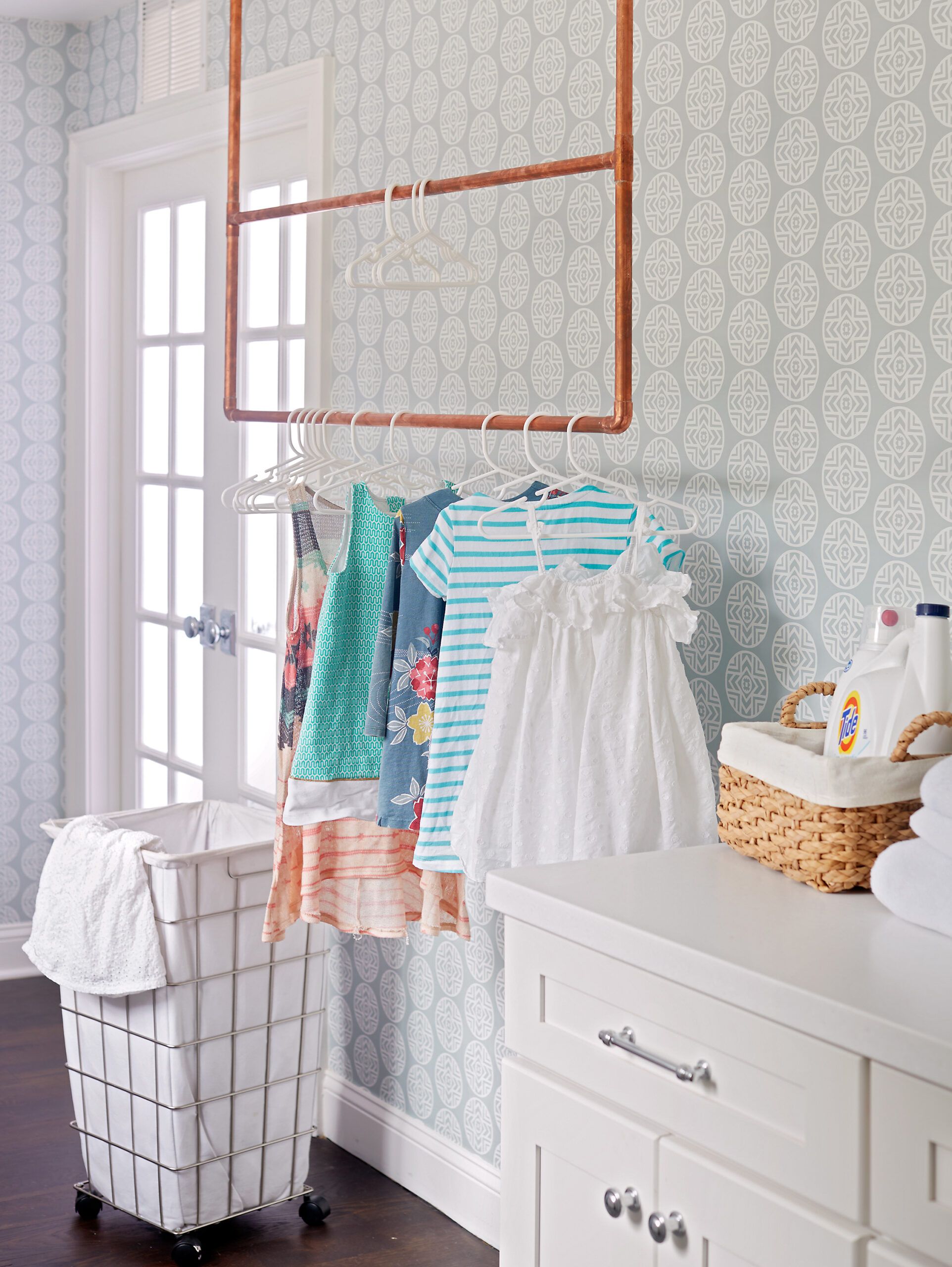 And what of Michael's great-aunt Betty, to whom they owe their home's beginnings? She's now a spry 92-year-old who loves to stop by for a visit. "She oohs and aahs every time she comes over," Emily says. "I think it brings her joy to see her sweet house still being loved and lived in."
Shown: French doors in the laundry room help light move through the second floor. Michael assembled copper pipes to make the clothes hanger. "It's so helpful when sorting all the kids' clothes," Emily says.
Custom Office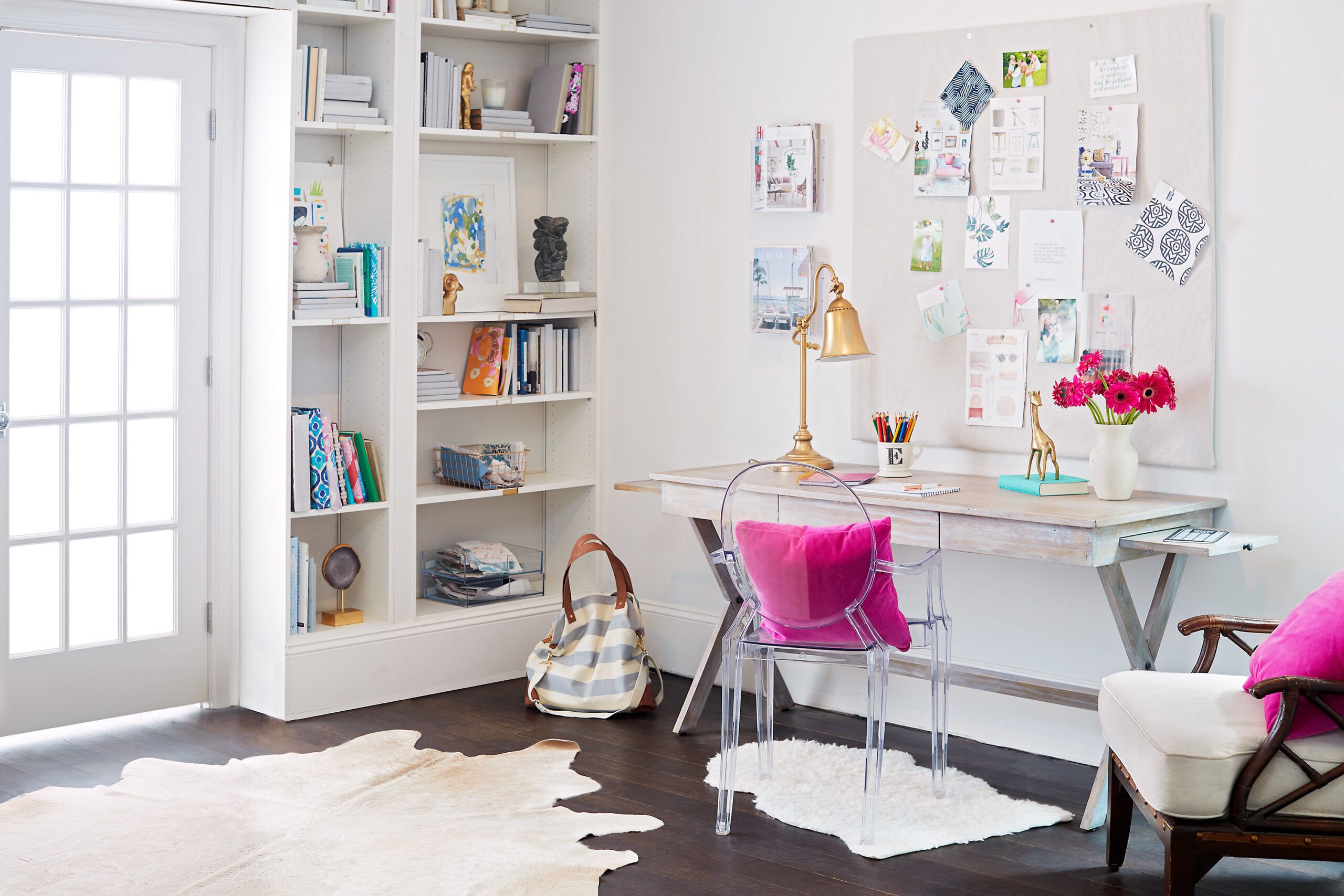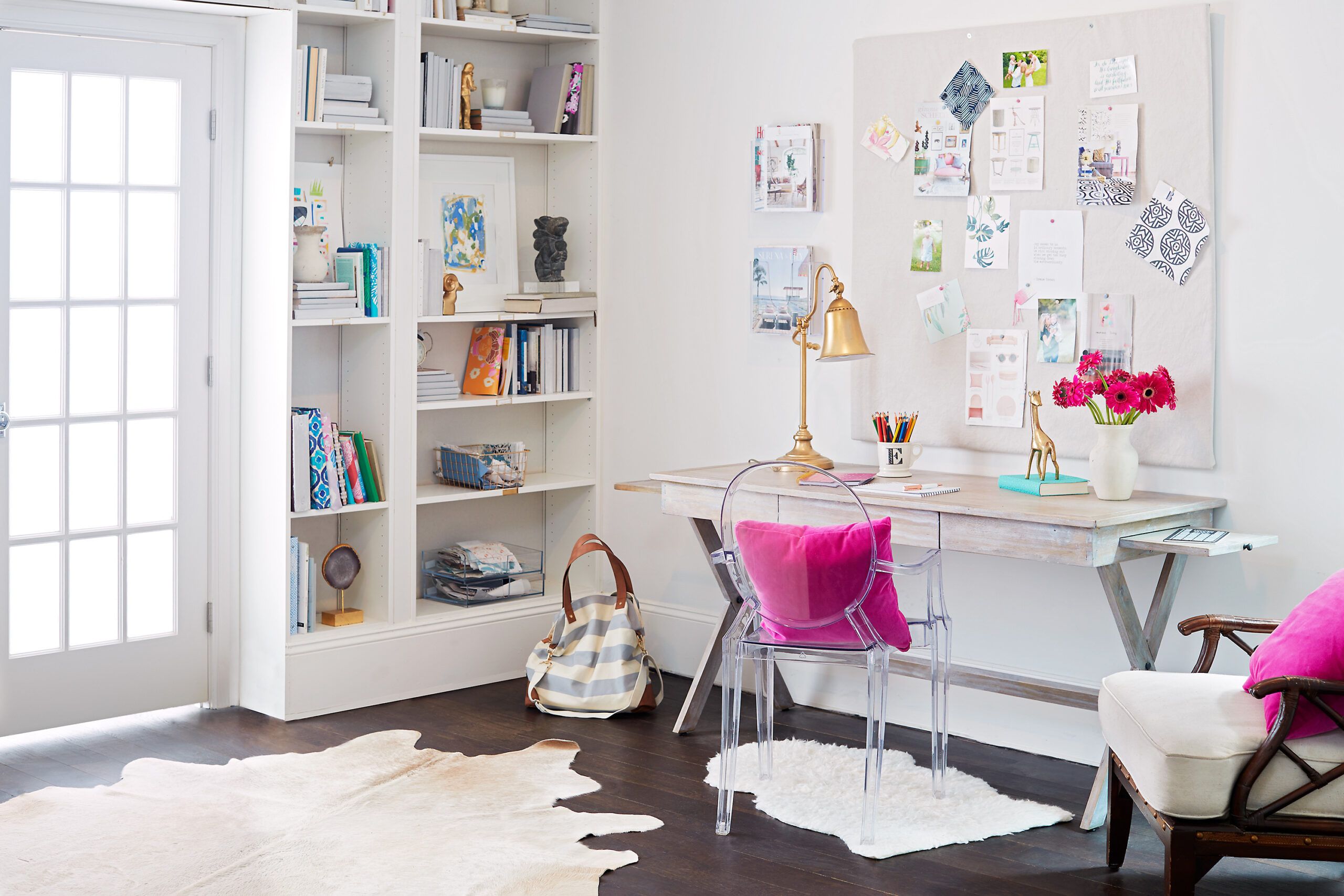 Custom bookcases built using IKEA parts and flanking French doors separate the couple's first-floor office from the playroom. A bathroom connects it to the mudroom.
Laundry Room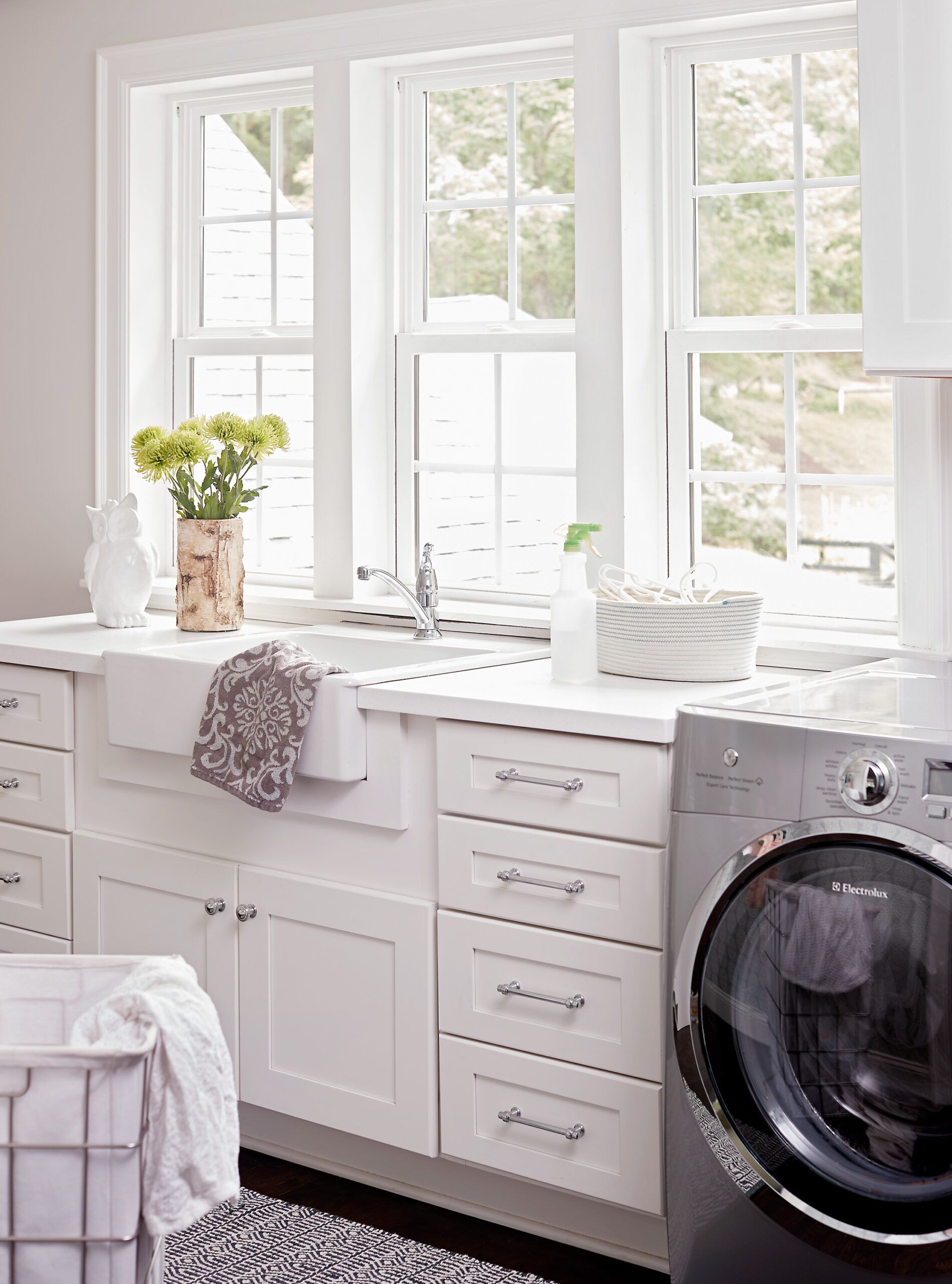 The second-floor laundry is out of the way but in the middle of the action, with a view of the front yard and easy access to the bedrooms.
Floor Plans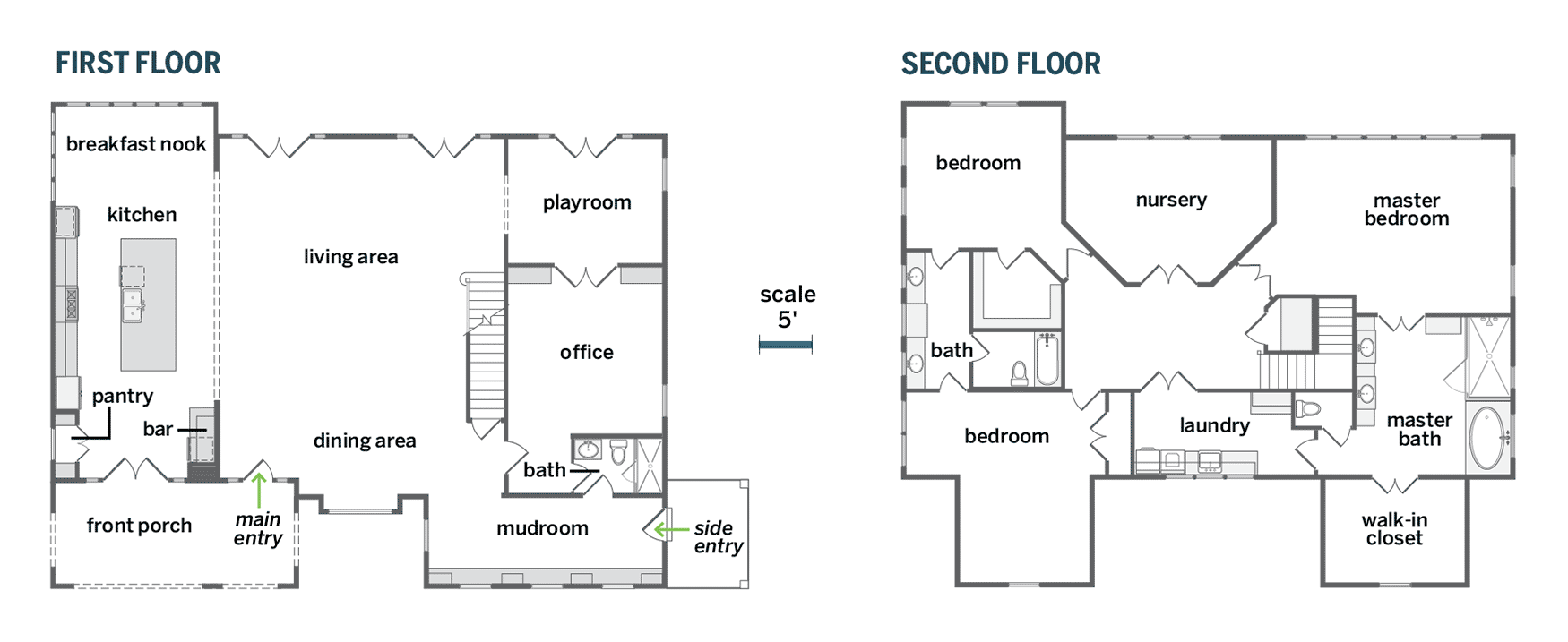 At 3,932 square feet, the main floors sit mostly in the house's original footprint, with bumpouts for a porch and a mudroom. Open-plan living offers space for active kids; upstairs are three bedrooms, a laundry, and a master suite. The basement (not shown) holds an existing in-law suite with a kitchenette, living area, and screened porch.