First, consider the size of the room you'll be updating. If it's a large space, then choosing an oversized lighting fixture makes sense and the dramatic impact you know you love. In the kitchen, it's always a good option to switch out the lighting over your island since that's the congregating spot for most everyone who enters your home. The entryway is another top choice for the quick update of a lighting fixture. Whether it's overhead or sitting on a table, you can include some soft glowing ambiance to greet each guest that enters your humble abode.
Another area of consideration is upcycling. Look around your home and garage for any items that haven't been used in over a decade. Maybe it's time to repurpose them into a truly original and useful lighting fixture. Not only will your home benefit from this easy update, but you'll free up some storage space too! Check out this incredible listing of 25 featured cool and retro lighting idea concepts that are a win-win for your next quick interior update.
1. Boho Chic Vintage Lace Lampshade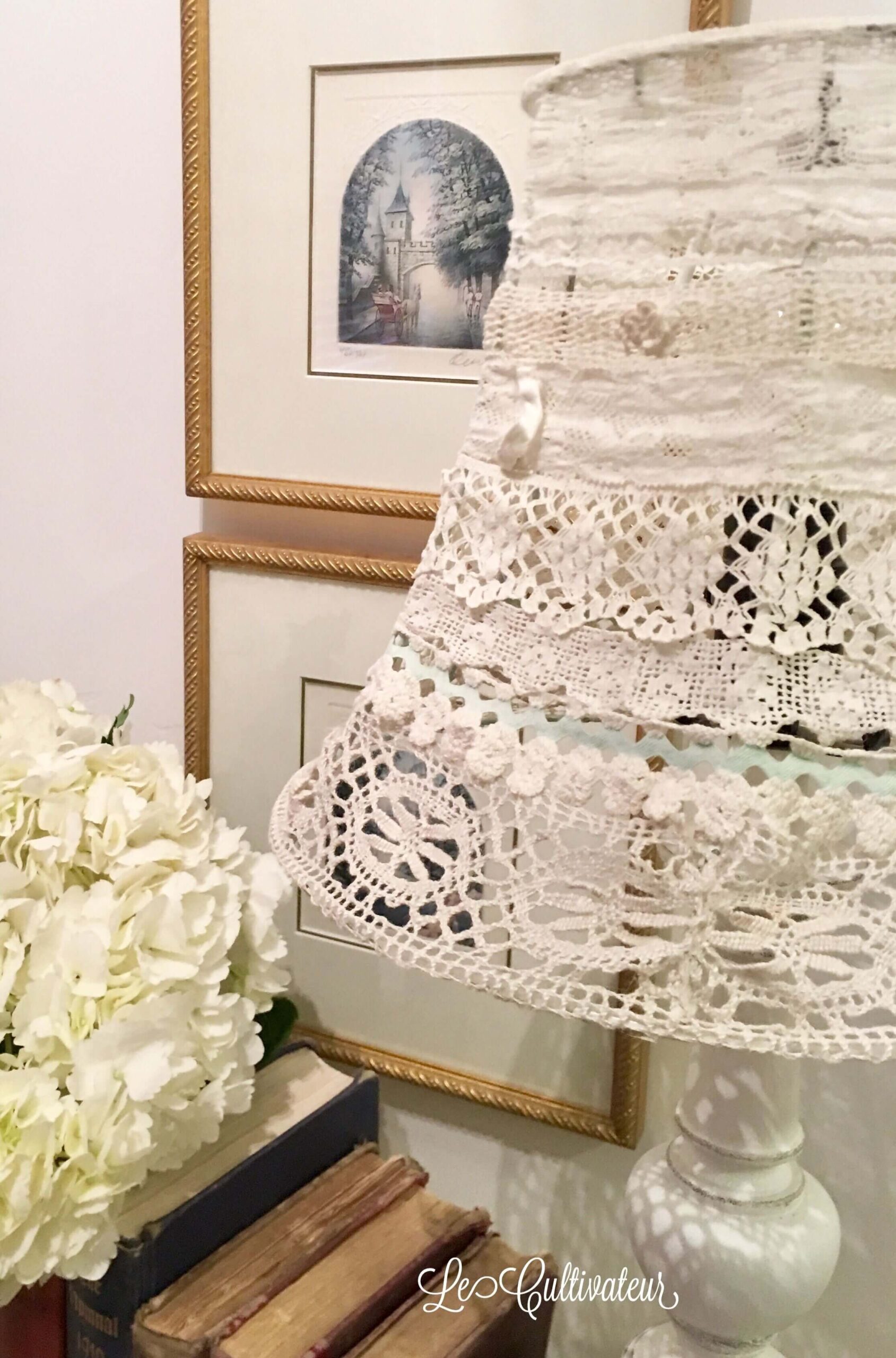 Source: lecultivateur.com
Nothing screams boho-chic like vintage lace. And while it can be used in practically any part of your decor, including it as a lampshade is always a good idea. Nestled on the nightstand of your guest bedroom, your friends will enjoy the cozy cottage feel as they retire for the night. Coordinate your lace lampshade with some pillowcases and window valances for a unified charming look. This lovely lampshade would be a feminine accent to a newborn girl's nursery as well. Add a small teacup and saucer below for extra shabby chic charm to create the intimate and inviting space you crave.
2. Reimagined DIY Tripod Floor Lamp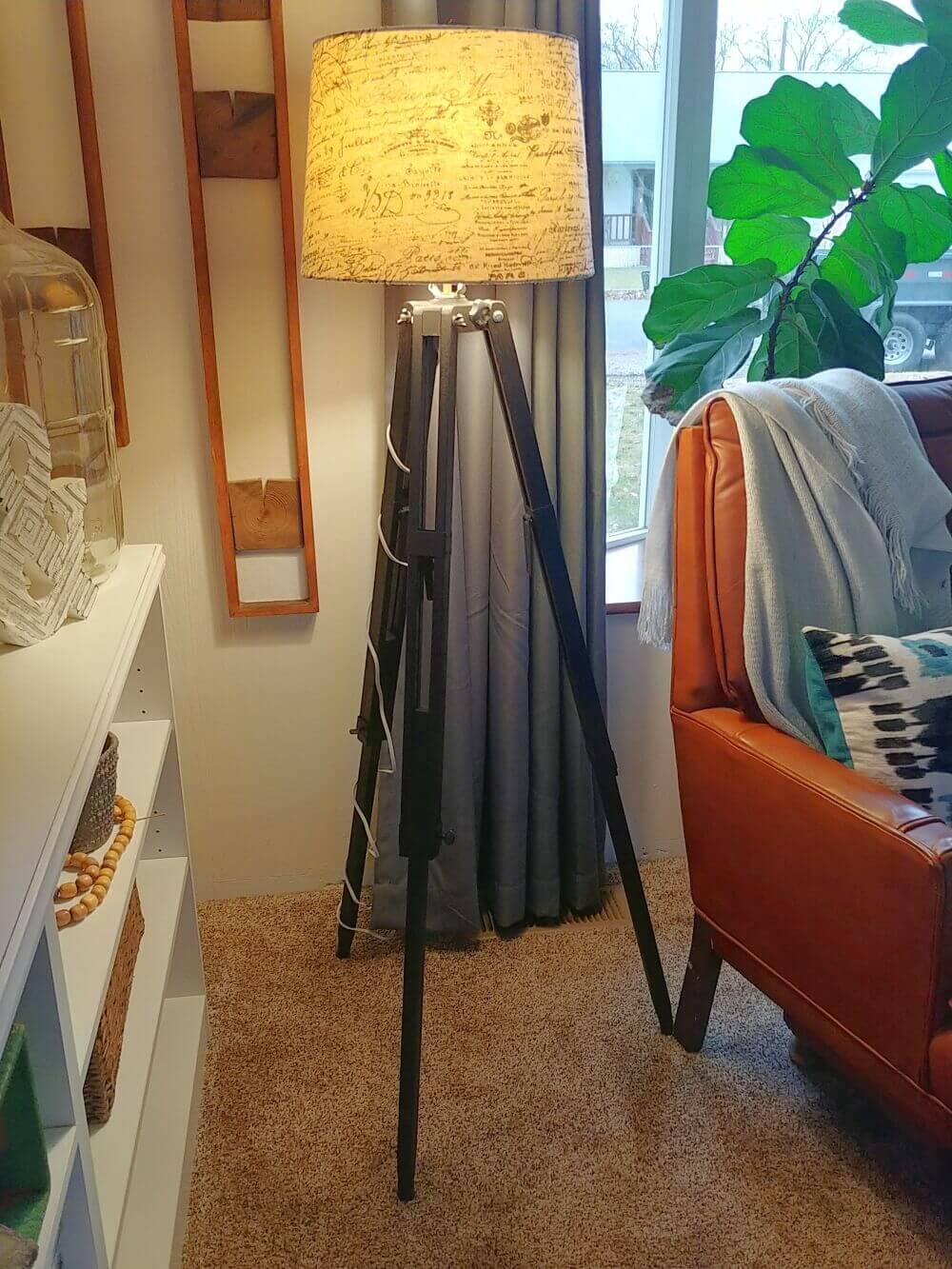 Source: littlevintagecottage.com
Add some light to your home with an original floor lamp design. Check out how easy it is to transform a forgotten tripod stand into a magnificent floor lamp. The three legs provide the perfect base for a functional floor lamp that can be placed in any nook or cranny of your home. Top it off with your favorite lampshade or create one to finish off the look. This creation is a fun touch for an old-world-styled room, specifically a den or personal library. It could be painted to make an awesome lighting feature in a nursery too as part of a quaint rocking nook in the corner.
3. Terrific Teacup Vintage Pendant Lighting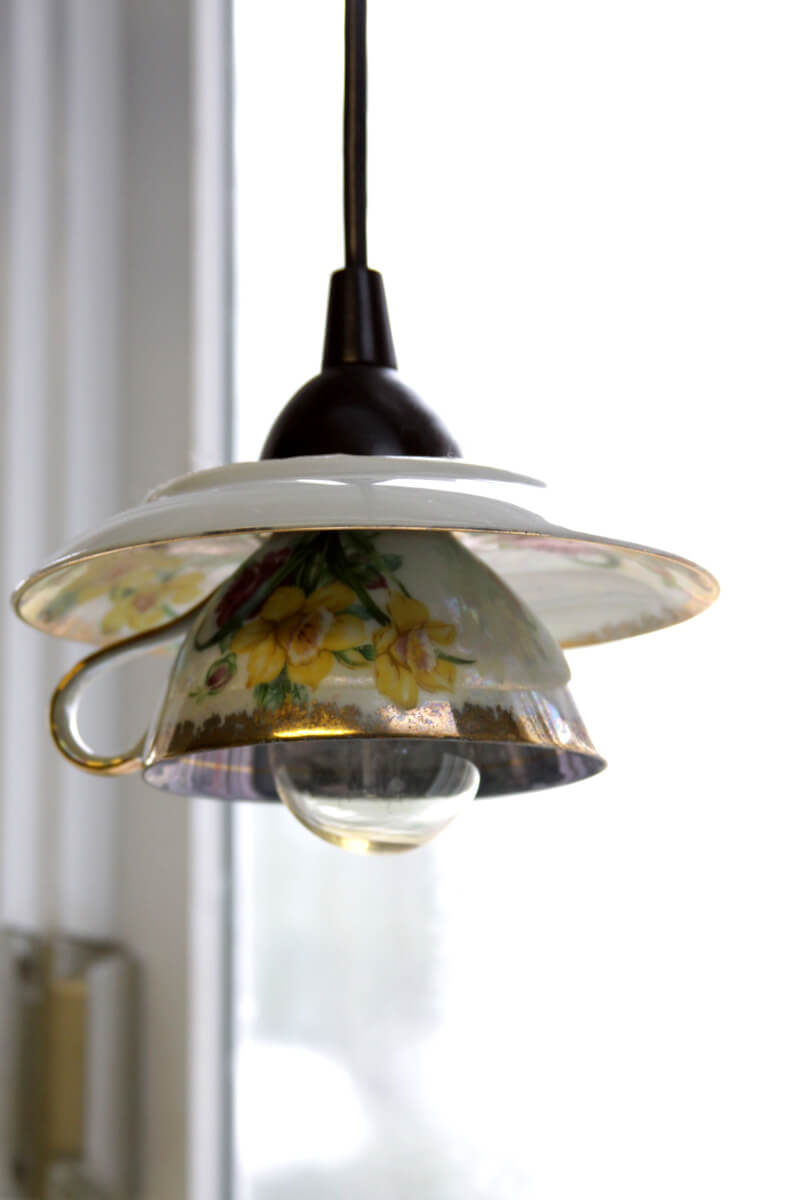 Source: flamingotoes.com
Tea for two is served up in style with this gorgeous and feminine teacup pendant light fixture. One of the best vintage lighting ideas is the ability to repurpose a favorite or cherished vintage piece by turning it into a functional lighting fixture. The result is this lovely teacup pendant. Suspended over your kitchen island, the setting naturally comes together for a spread of cucumber sandwiches and scones as you host your girl gang for a special tea time this summer. This idea is a fabulous way to celebrate an upcoming wedding, baby, or retirement.
4. Dark Bronze Metal and Wood Bead Chandelier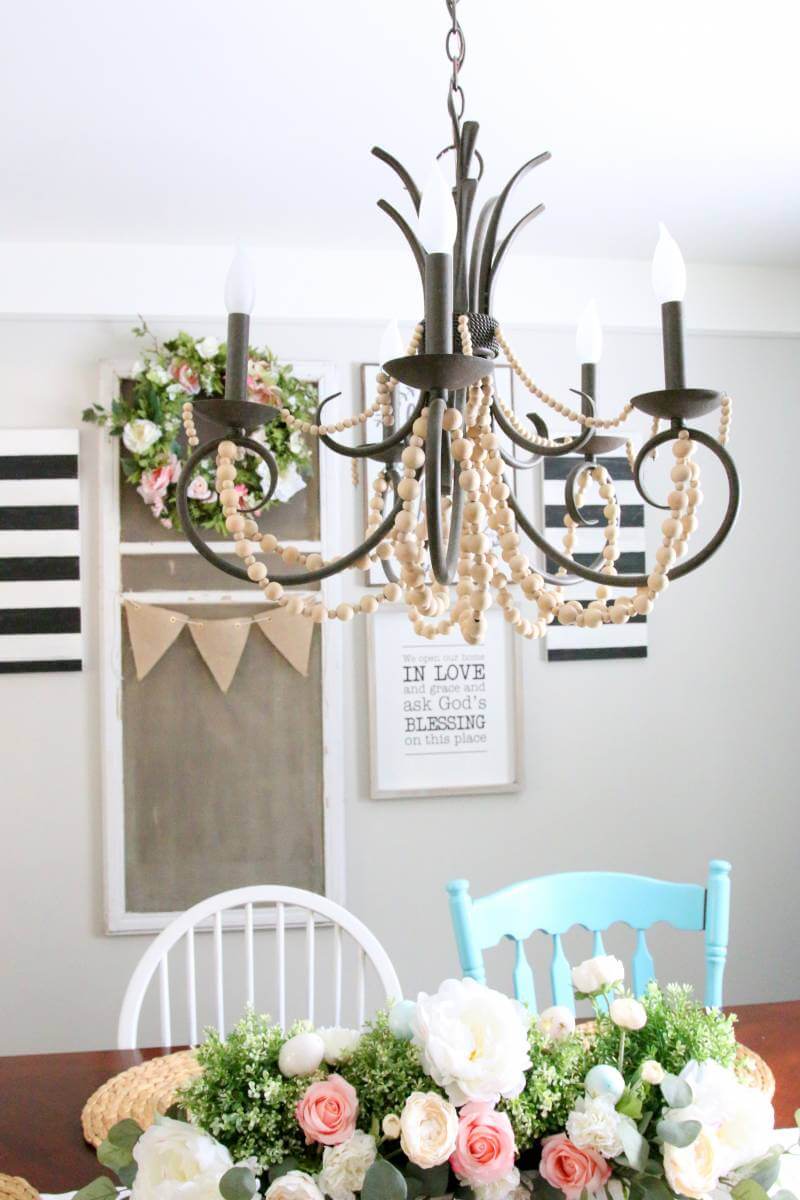 Source: allthingswithpurpose.com
Isn't it remarkable what a little bit of beading can do to an ordinary lighting fixture? This traditional metal chandelier is taken to a whole new level when a few strands of wooden beads are woven through it. The combination of the dark bronze metal with natural light wood is a powerful duo. Hang this over your dining room table, kitchen island, or breakfast nook for a stylish lighting fixture design.
5. Natural Wooden Bead DIY Light Fixture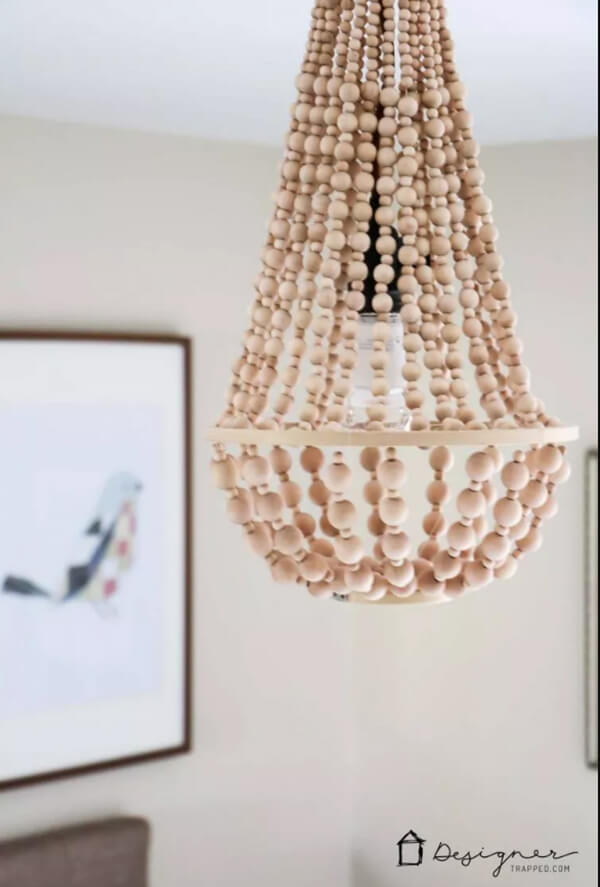 Source: designertrapped.com
Incorporating a variety of textures into your home may just be the best way to add lots of style without over-decorating your space. Don't forget your lighting fixtures as some of the main focal points in the room that provide a great platform for highlighting some of your favorite textures. In this specific chandelier, wooden beads transform a traditional chandelier silhouette into a creative and unique lighting fixture. Not only would this wooden beauty look incredible over your dining table, but it would also be a great addition to a small foyer or entryway to welcome guests into your home.
6. Vintage Seedy Glass Globes Light Fixture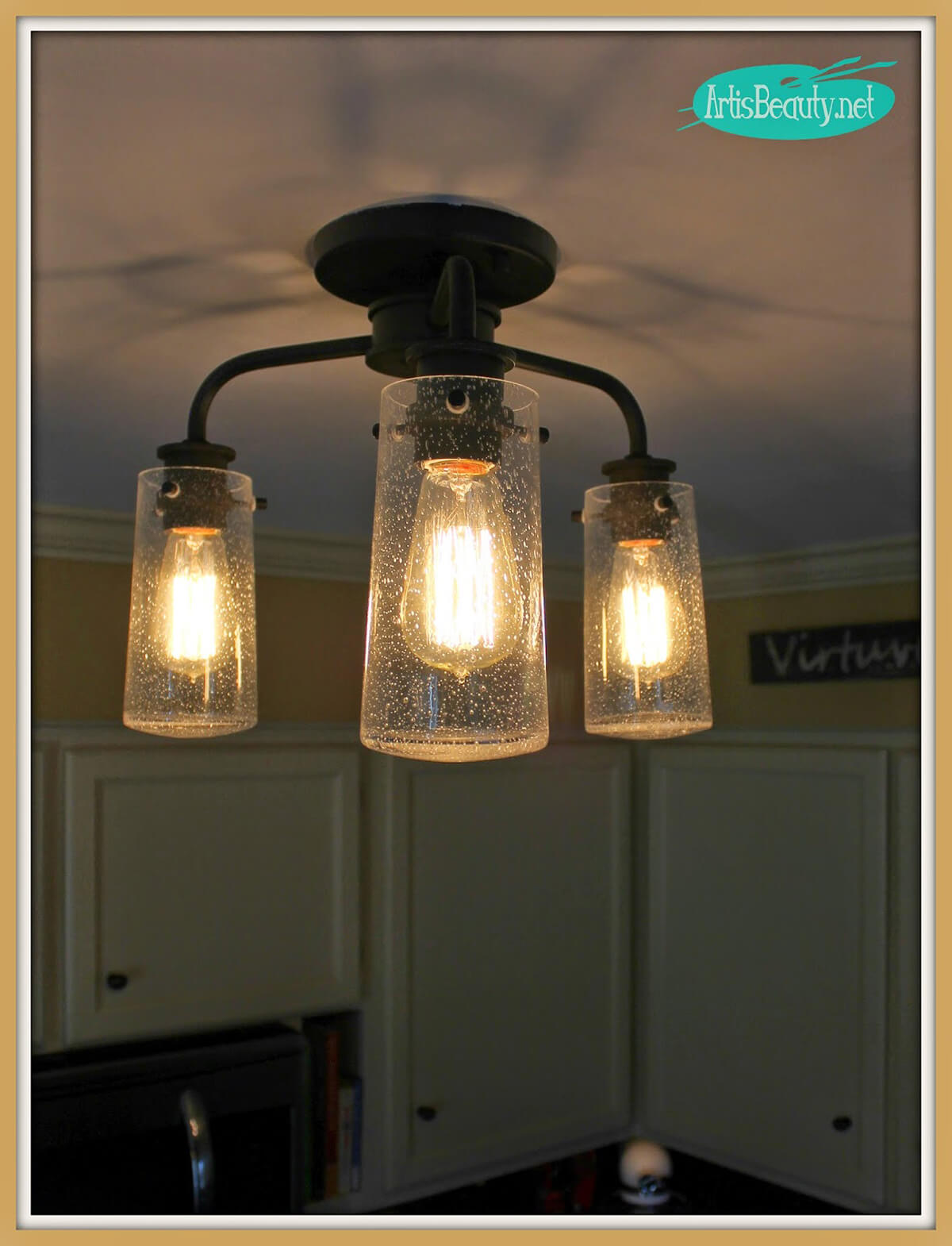 Source: artisbeauty.net
Bring back a blast from the past, namely the 19th century, with the fantastic clear seeded glass globes featured in this vintage lighting fixture. No matter if you require a pendant or flush mount style, both are available to meet your needs. The addition of an Edison-style bulb further adds to the retro charm of this classic light. Clearly, the detail of the seeded glass is a conversation piece in and of itself. Enjoy the warm glow in your kitchen with the inclusion of some decorative design when you include this vintage seedy glass fixture in your home.
7. Cream of the Crop Boho Fringe Light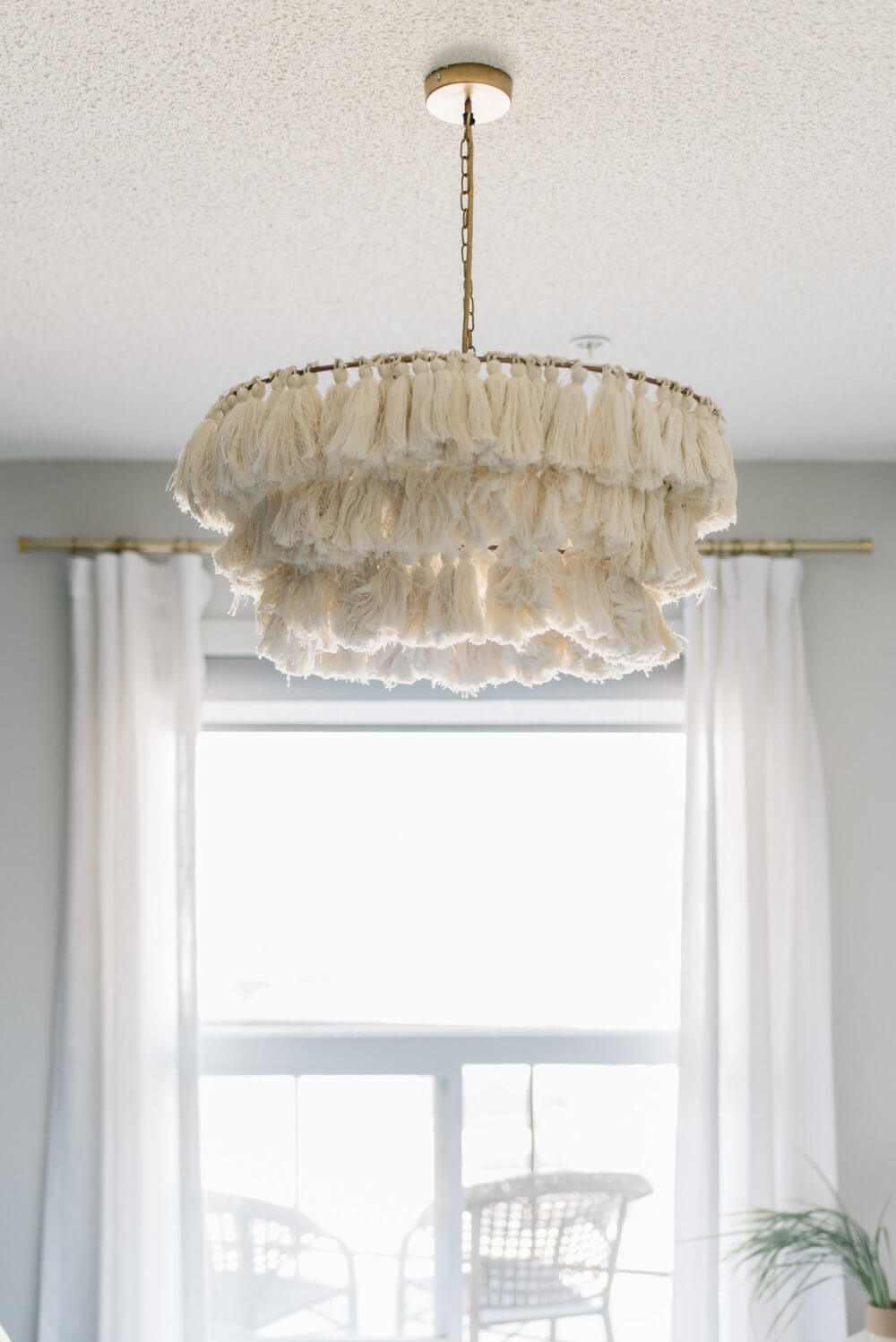 Source: 204park.com
Let this boho-loving light fill your bedroom with a soft and creamy glow. The trio of fringe layers adds so much style and depth to the overhead space of your room. Featuring a creamy neutral color enhances the modern feel of this DIY lighting fixture. You'll notice a vintage vibe with its layered look and you'll adore the lovely fringes as they cascade down from one level to the next. This would be a fabulous idea for sprucing up a small entryway or a tiny half bath where you might be small on space, but big on style.
8. DIY Painted Glass Bedside Lamps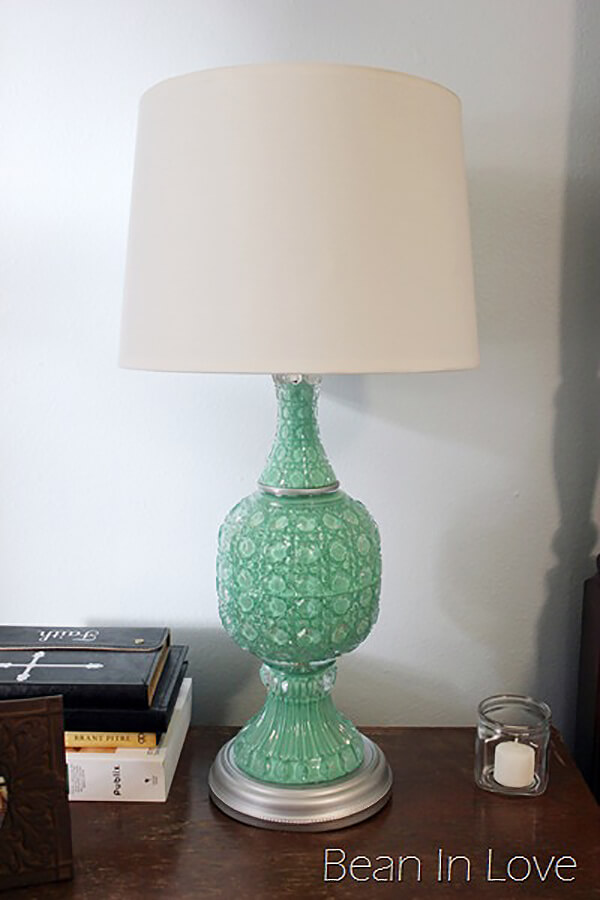 Source: beaninloveblog.com
As time passes, so do many beloved styles. Keeping up with trends can become overwhelming, which is why it's important to invest in some decorating pieces that seem timeless. Old glass lamps can become this for you with a few swirls of paint. Simply paint these clear glass beauties from the inside and you'll be amazed at the way they come to life and earn their place in your home's design. A vintage shade of green provides the perfect pallet for making these dated lamps a classic and functional nightstand accessory.
9. Vintage Lamp Ideas Photo Prop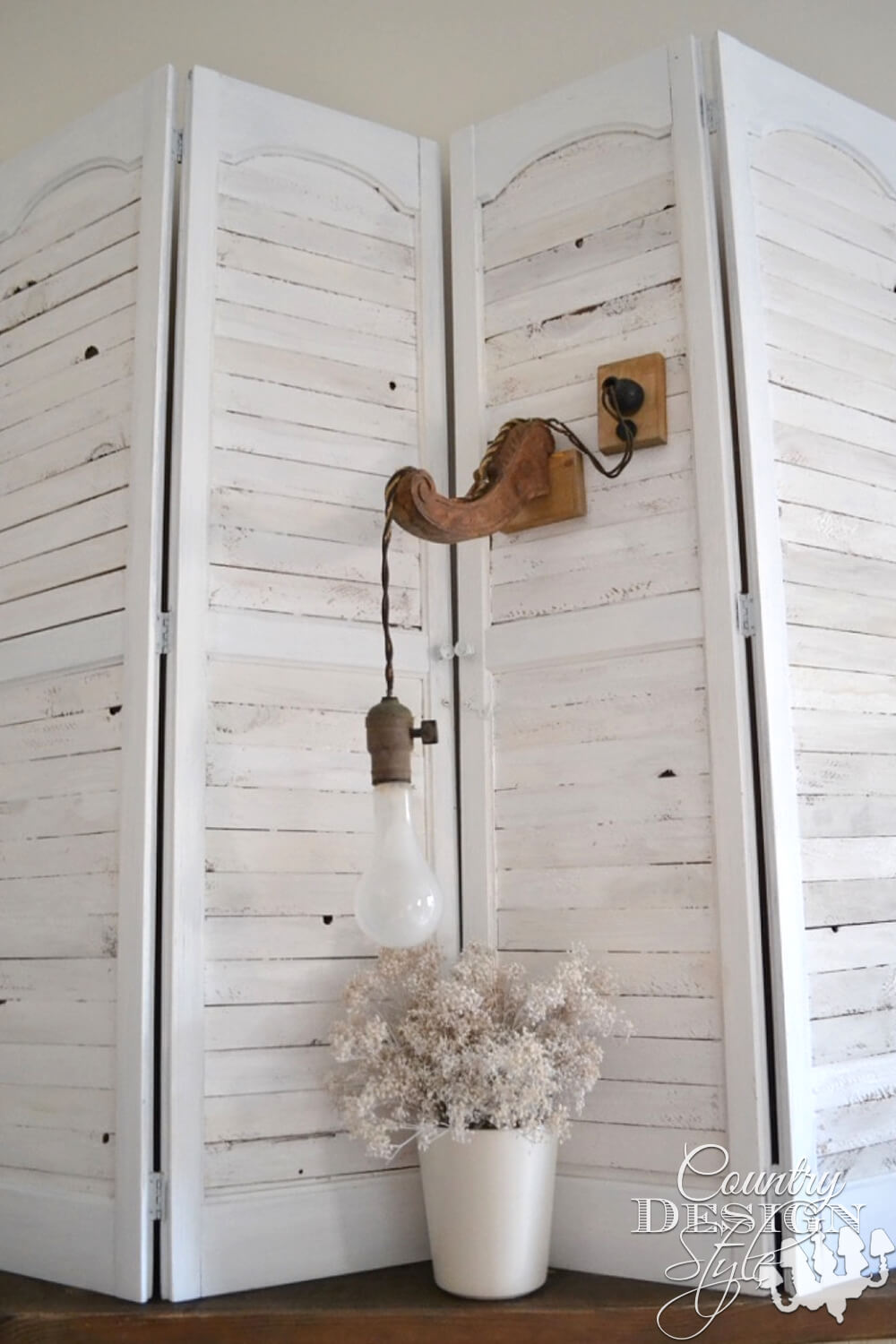 Source: countrydesignstyle.com
Choosing a unique background for some spectacular vintage photos is easier when you have a fabulous and one-of-a-kind photo prop. The vintage
aesthetic is nearly timeless, making it a go-to when designing props for your photography endeavor. For those deemed most photogenic, this retro lighting idea offers an original concept for your next photo shoot. The charming creamy white shutters form the perfect foundation for this interesting antique light feature. From a fresh newborn session to a graduating senior, this background works well with almost any photography concept and theme. It would be a wonderful setting for a special wedding anniversary announcement as well with its classic farmhouse and neutral style.
10. Aged Vintage Stucco Decorative Lamp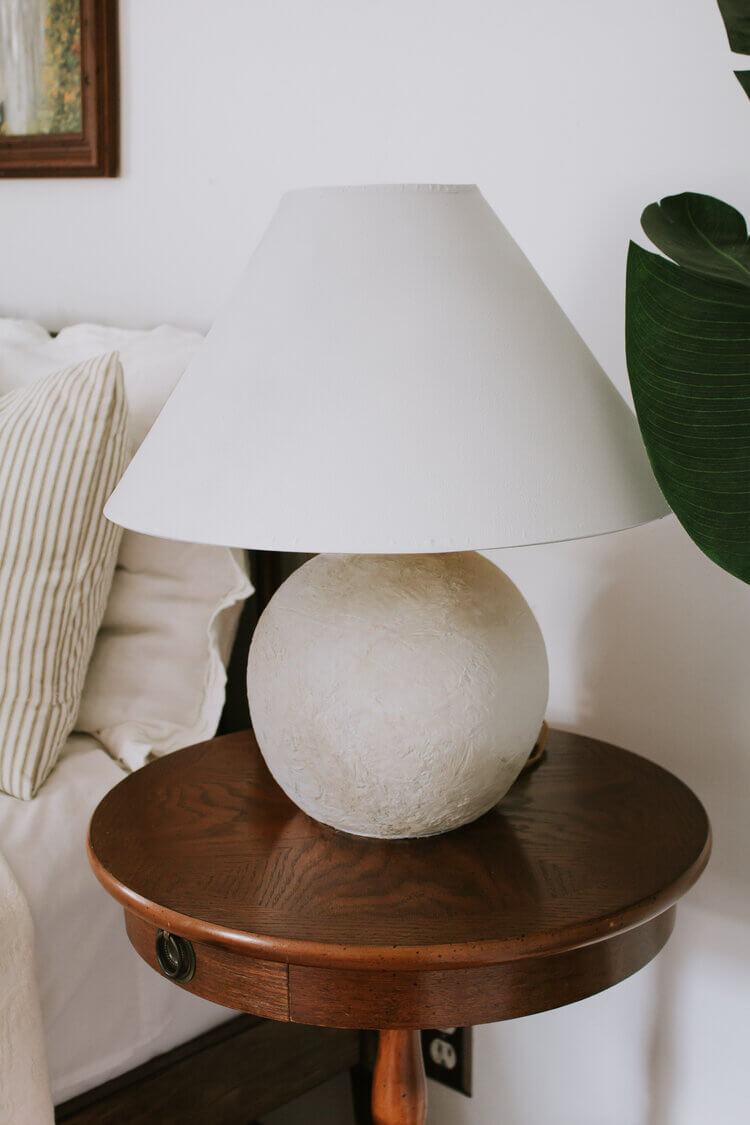 Source: nadinestay.com
Bring an eye-catching addition to your home that serves a great purpose on your bedside table. This aged stucco ball-shaped lamp gives a unique look to your decor. Sticking with a neutral hue, this vintage-loving lamp works well in almost any room. From nautical beach decorations for a coastal cottage to a laid-back old-world-styled home, this stucco sphere lamp works to meet your needs for both a little additional light and a lot of styles.
11. Barn Light Bed Sconces and Door Headboard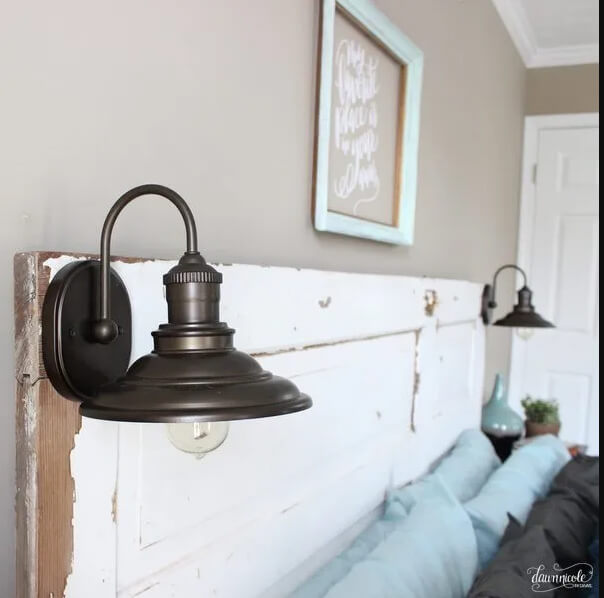 Source: bydawnnicole.com
Stay at a cozy bed and breakfast 7 nights a week in the comfort of your own home with this repurposed vintage door and barn light headboard. Using lighting as part of your headboard is one of the best vintage lighting ideas out there. Not only do you create a cozy and night owl-worthy book nook in your bed, but you add so much cottage charm to your cherished nighttime retreat. With his and her barn lights, both sides of the bed can be enjoyed by both husband and wife. Add some lovely DIY decor to your home with this incredible door headboard creation.
12. Repurposed and Restyled Colander Farmhouse Light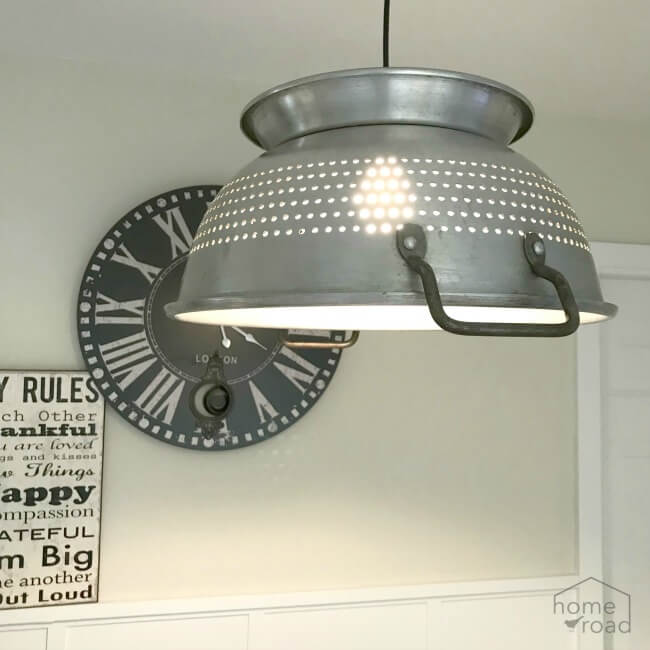 Source: homeroad.net
One man's trash is another man's treasure and this seems to be true of kitchen supplies in this case. From a culinary staple, a metal colander becomes a unique and crafty kitchen light fixture to add some interest and appeal to your farmhouse style. A set of two or three would be amazing as overhead lighting for your kitchen island. Another good choice would be as a focal point in an over-the-sink light. Including the element of metal and using a kitchen gadget as part of your decor is a fun and fantastic way to personalize a kitchen space.
13. Galvanized Metal and Pipe Pendant Kitchen Lights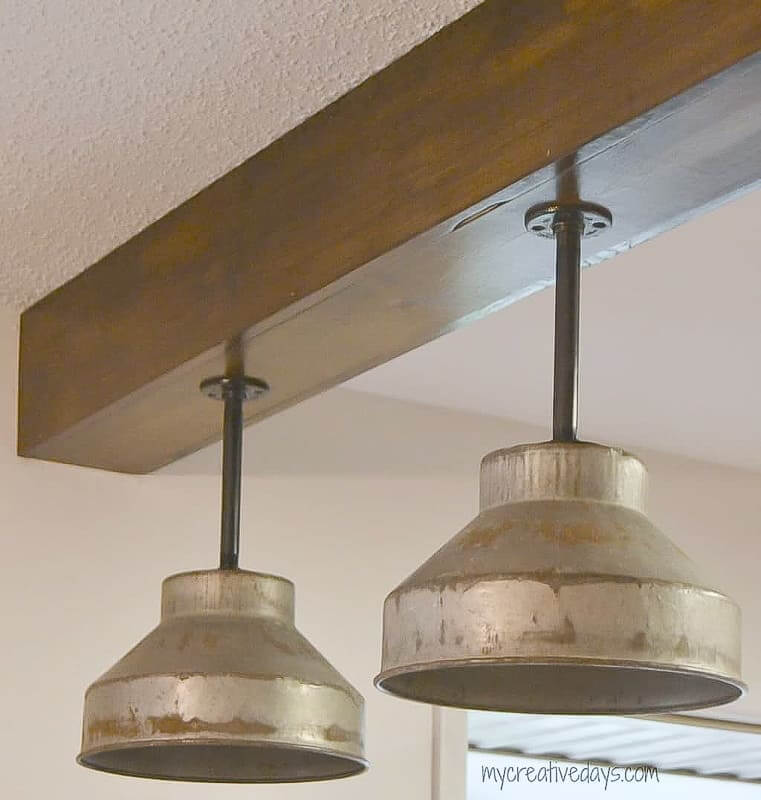 Source: mycreativedays.com
Give your modern farmhouse a personality of its own by adding some custom lighting fixtures. The kitchen is a great place to start! These galvanized metal pieces provide the ideal foundation for getting the ball rolling on the creative DIY train. Suspending them from a wooden beam with the use of industrial pipes and flanges continues to enhance their unique beauty. Not only would these look awesome in a modern farmhouse kitchen, but they could also be included in an industrial loft-style space as well.
14. Antique Brass Lantern Vintage Light Fixture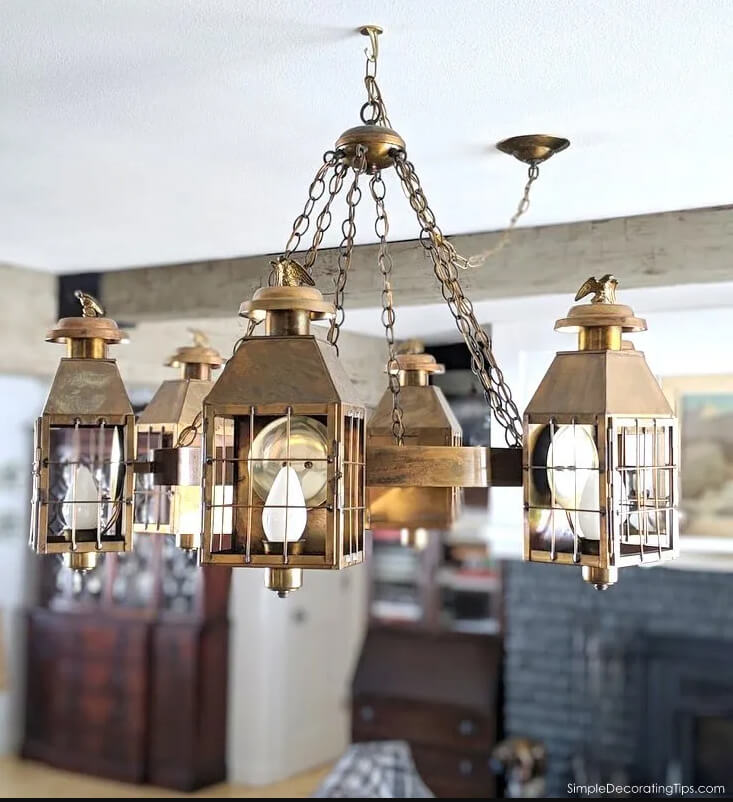 Source: simpledecoratingtips.com
Make the central lighting fixture of your home a true focal point with some antique flair. This carefully curated antique brass lantern design shows off the nostalgic lantern design along with a decorative eagle perched on top. The sheen of the brass finish alone provides immense style and grace for your colonial home. A collection of multiple lanterns grouped together like this is what provides the wow factor enabling this fixture to become a true focal point in your home.
15. Two-Layer Fringe Vintage Chandelier Light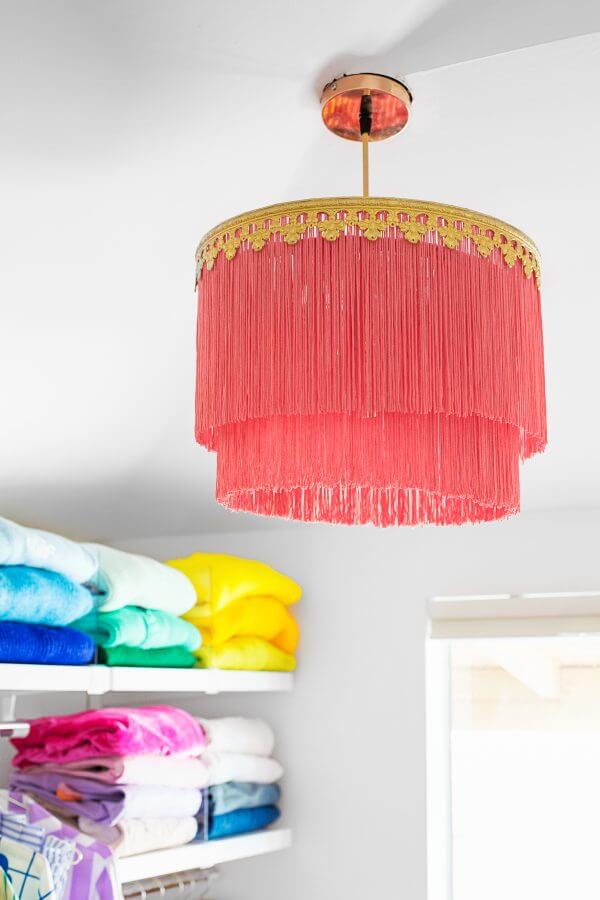 Source: studiodiy.com
Give your home a boost of style and charm with a hint of vintage appeal with this retro and unique fringe chandelier. Featured in cool coral color with a golden accent, this DIY chandelier might be the next project you add to your list. Not only is this going to save you a ton of cash compared to its store-bought counterparts, but its beauty will make an instant impact on your interior design. Some good ways to display such an interesting piece include a lovely walk-in closet, a small powder room, or the bedroom of a tween or teenage girl.
16. Black Metal Garden Basket Orb Light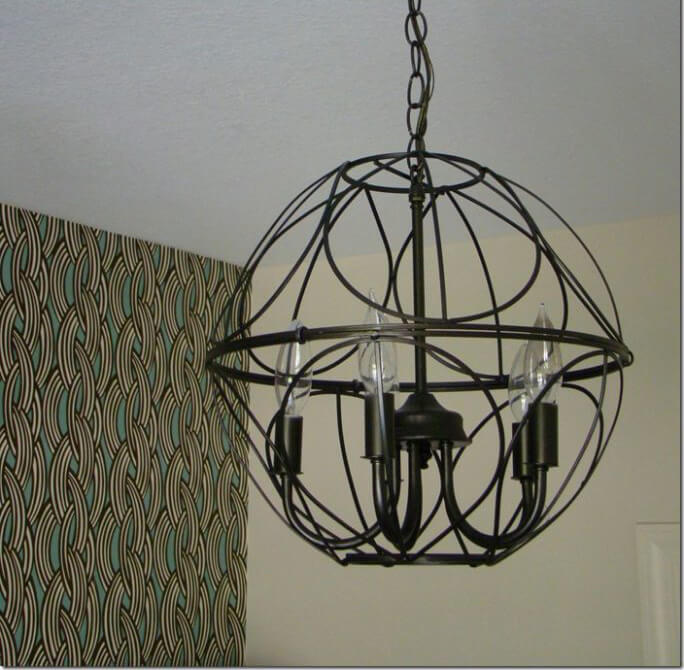 Source: southernhospitalityblog.com
Think outside the box and consider an orb light in your dining space. Featuring a sphere as your lighting fixture adds a unique element to the room's overall design. Upcycling two garden baskets to create this interesting light is just the icing on the cake. With all of the intricate details, adding some decorative beading would be a fun way to personalize this piece. You can make this as elaborate or simple as you prefer. And if solid matte black isn't your favorite finish, mix it up with some random abstract painting for completely custom creation.
17. Geometric Goddess Thrift Find Reimagined Pendant Light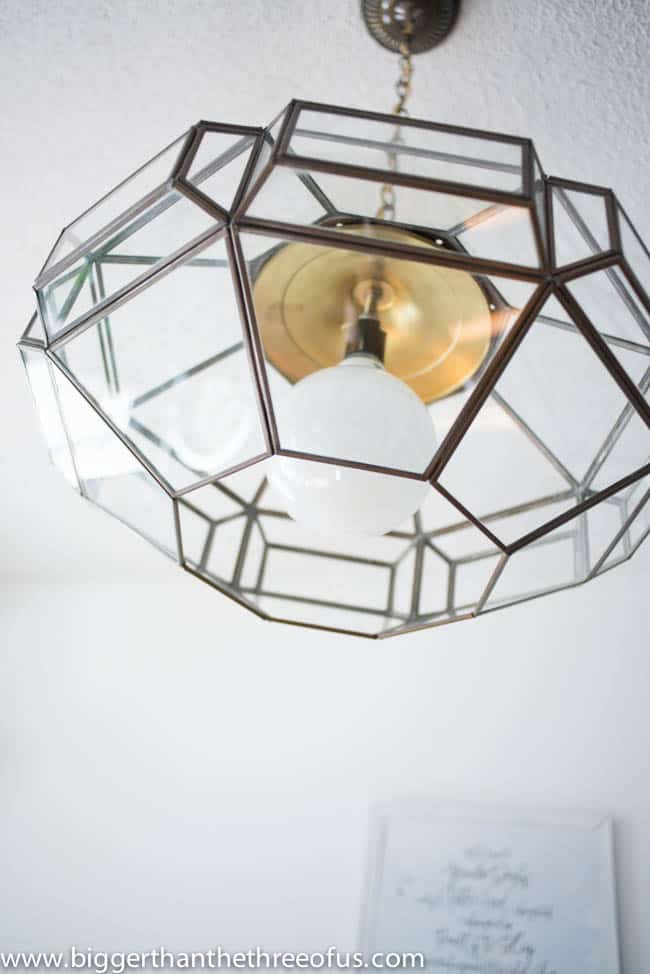 Source: biggerthanthethreeofus.com
It's honestly incredible what a little bit of creativity can do! Take this thrift store find and subtract a few of its components and voila! You've just created a new and vintage-loving light fixture. The gorgeous geometric details really come alive with the focus on the central portion of this glass and metal masterpiece. Hang it in the dining room, kitchen, hallway, or bathroom for a fresh new look.
18. Industrial Light with Barn Pulley and Shade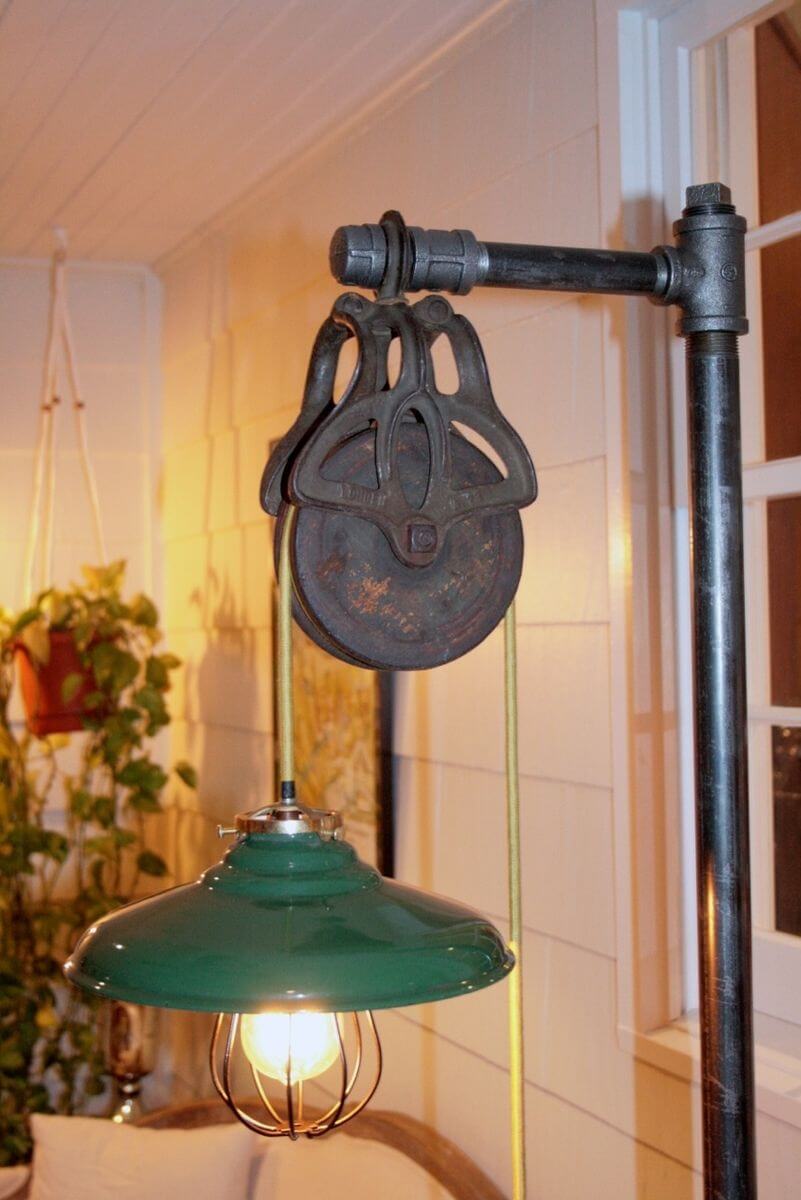 Source: custommade.com
Your home will be the talk of the town when you include this barn pulley light that's saturated with vintage appeal! From the pulley to the shade, this industrial lighting fixture shows off the love of farm life in a modest and barn-inspired way. This would be a fun way to welcome guests in your main entrance space to light their way as they enter your home. It would also be a practical and positively charming light to accompany your favorite recliner for some perusing of the paper or nonchalant reading.
19. Crystal Cloche Birdcage Overhead Light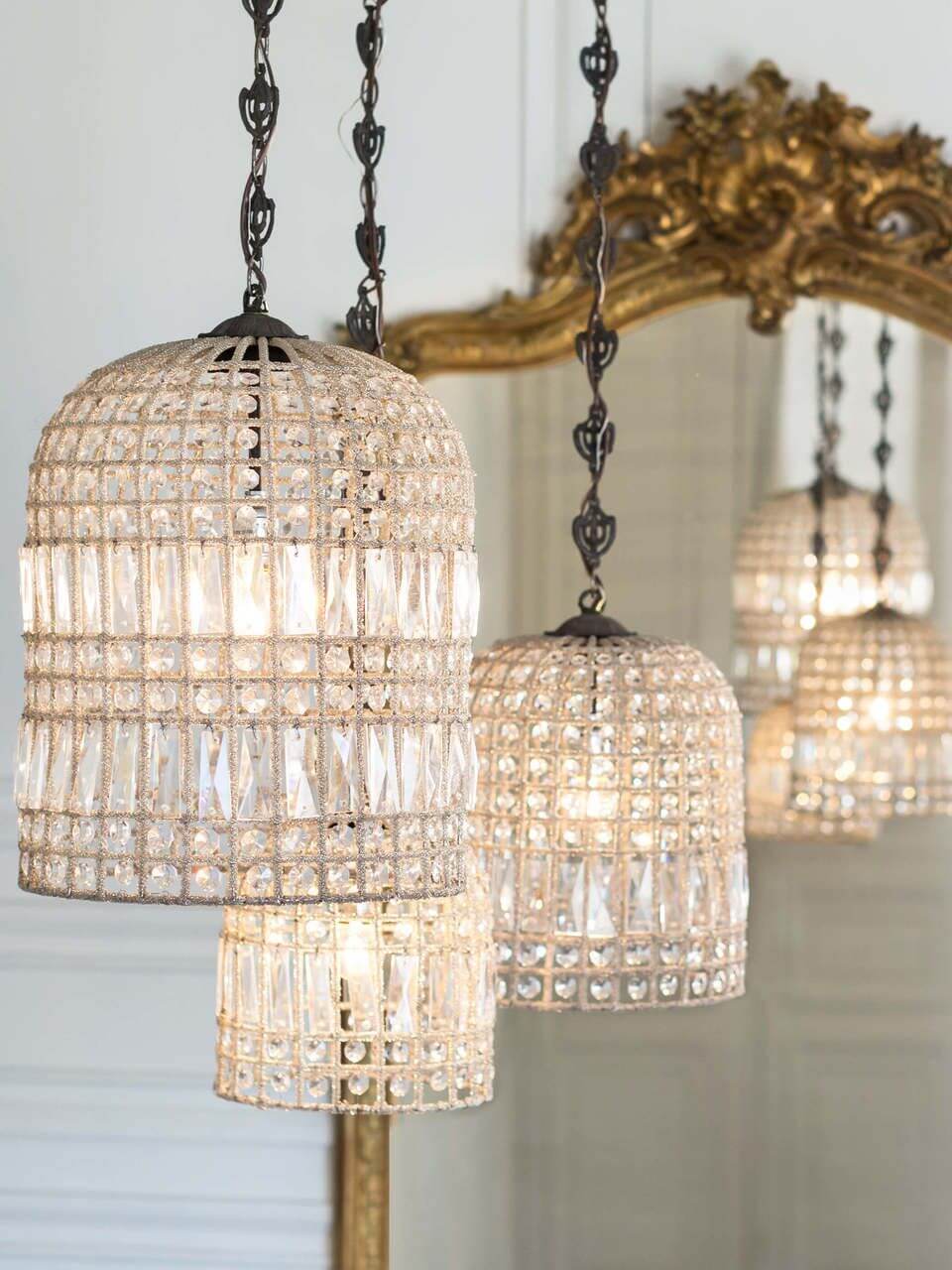 Source: eloquence.com
Create a wow factor in your home with a featured lighting fixture. Loads of sparkles are a classic way to go, so utilize those glass crystals just lying around your craft room. Showing them off in a birdcage style that closely resembles a cloche not only adds more visual interest but makes a functional shade fixture for your DIY light. Your vintage dining or living space will be instantly gussied up with a quick switch of your old lights. These new classic cloche enclosures are a sure conversation starter and spark more than just curiosity. Be sure to incorporate some other crystal pieces throughout the room to intensify the wow factor of these incredible overhead lighting fixtures.
20. Old Fashioned Theatre Stage Light Floor Lamp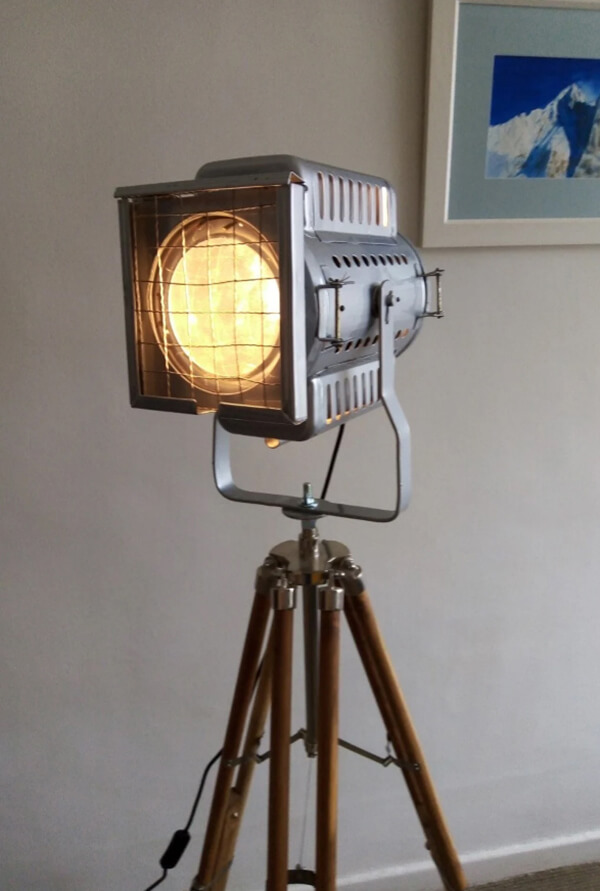 For all the theatre lovers out there, this floor lamp deserves an encore! Crafted from a stage light, this tripod-styled base creates a retro floor lamp that works in nearly any style of home decor as well as a professional workspace. Stick this stage light in the corner of your home theatre or corner reading nook in the living room. Any student of film would be thrilled to include this style of lighting fixture into his/her bedroom decor. Use it as a special thank you gift for your favorite director as a way of giving them a personal gift they'll cherish for years to come.
21. Gold Metal Antique Pendant Light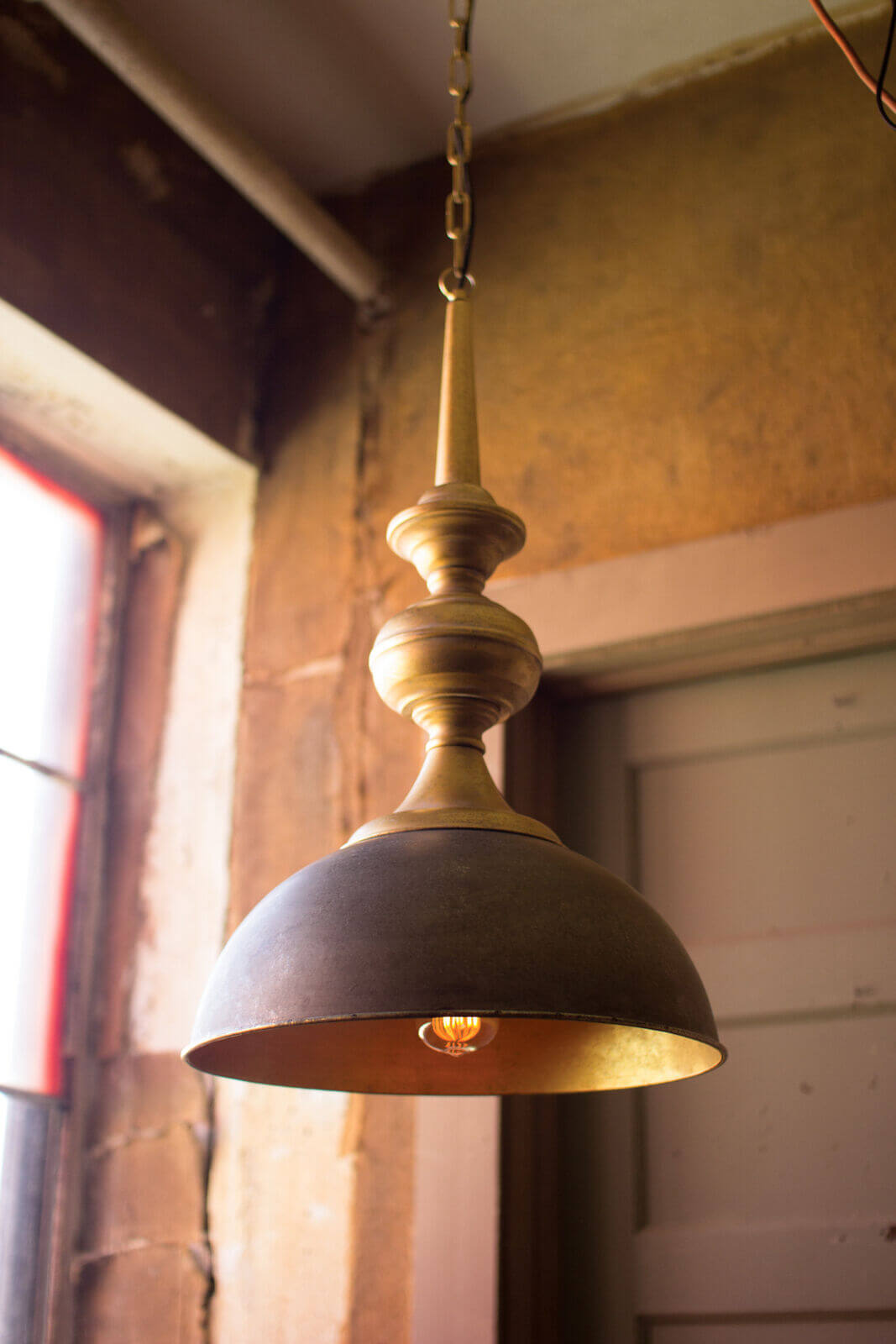 Source: hudsonandvine.com
A throwback to yesteryear, this pendant light showcases the beauty of classic old-world style with its golden antique finish. As it's suspended from the ceiling, the beauty of it comes down in the form of a hand-turned table leg style rod that holds the metal lighting fixture in place. What's not to love about the gorgeous golden accents and the way this light is a perfectly suspended pendant? This creation is a great focal point for a mudroom or above the kitchen island.
22. Galvanized Metal Feeding Trough DIY Overhead Light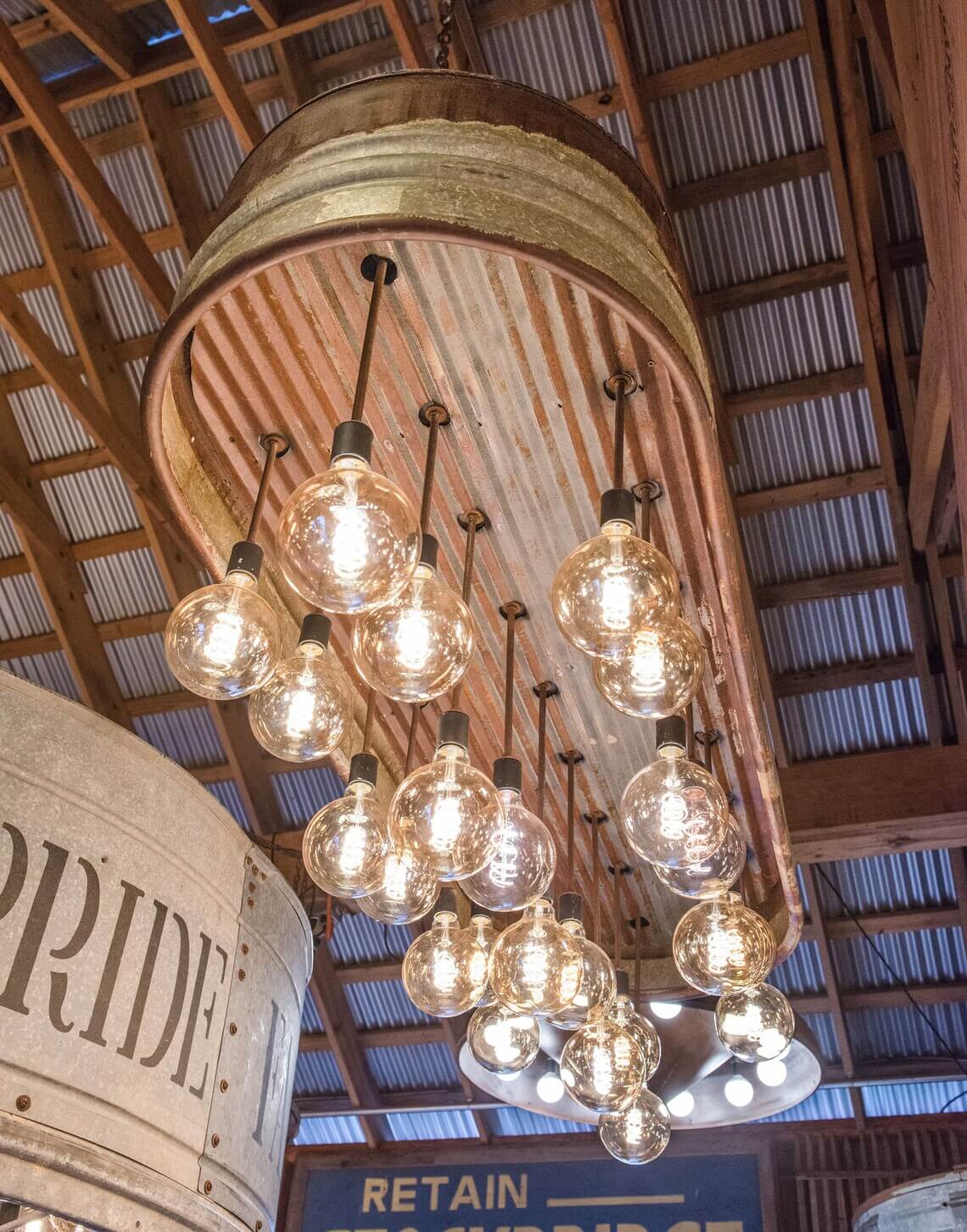 Large kitchens require grand features and that's just what you'll get with this farmhouse find! An animal's feeding trough that's created in galvanized steel is repurposed into a grand lighting feature design. To create a perfectly gorgeous contrast, this rough metal base delicately suspends glass globe lights that give off the ideal ambiance for your next family gathering. Hanging over the kitchen island or main dining table, this focal point is the beginning of your welcoming meal where everyone loves to gather around your table. The style of light bulbs further adds to the appeal of the vintage and farm-loving design of this crafty and creative DIY lighting fixture.
23. Old Fashioned Green and Brass Banker's Light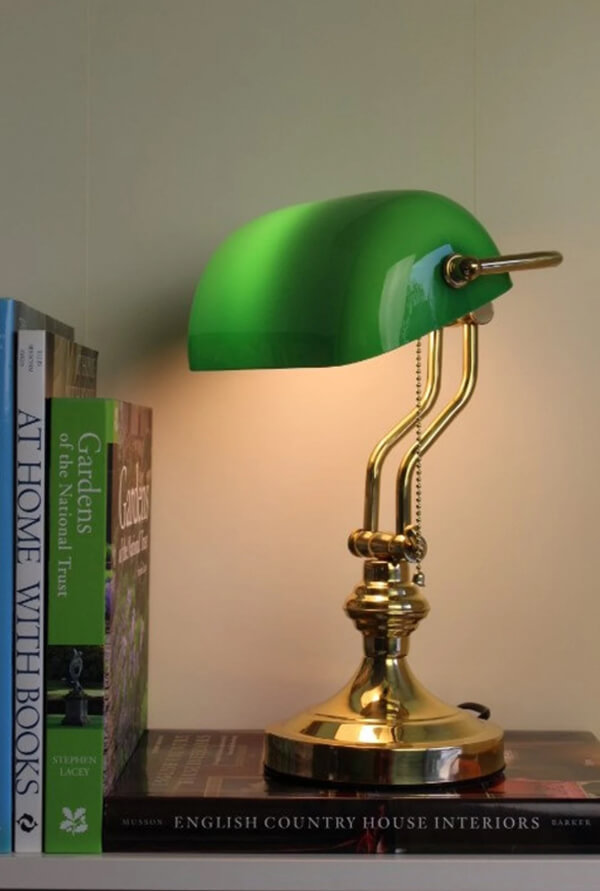 When burning the midnight oil, you might find it a little easier to manage under the glow of a traditional banker's light. This green and brass beauty looks elegant on top of your desk and serves a great purpose for inspiring longer work hours after the sun goes down. With just a quick pull of the chain, you're on your way to a fully lit working space on your desk top to get the job done.
24. Traditional Lamp with Accordion Shade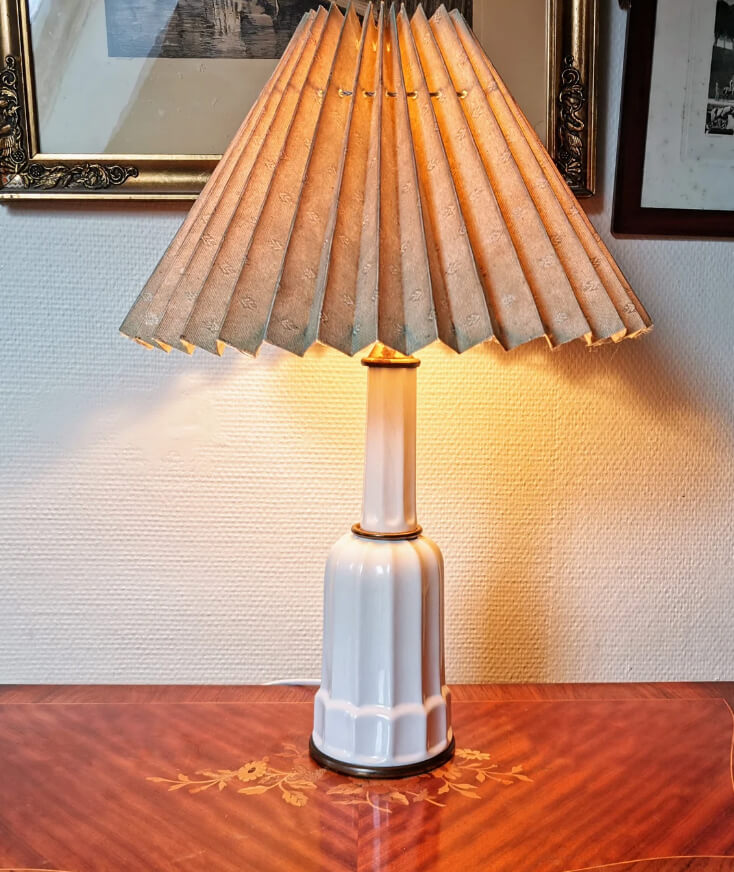 Keep your lighting practical with a traditional accordion lamp shade. While this style might accumulate dust like nobody's business, it also provides a detailed traditional styling that works well in the family den or bedside table for your favorite gentleman. Feature a subtle pattern in the material of the lampshade for an extra textural touch in your decorating arsenal. Perched on the desk of your home office is another great look for this interesting and traditional lighting fixture that's perfect for any home.
25. Amber Striped Vintage Glass Globe Lights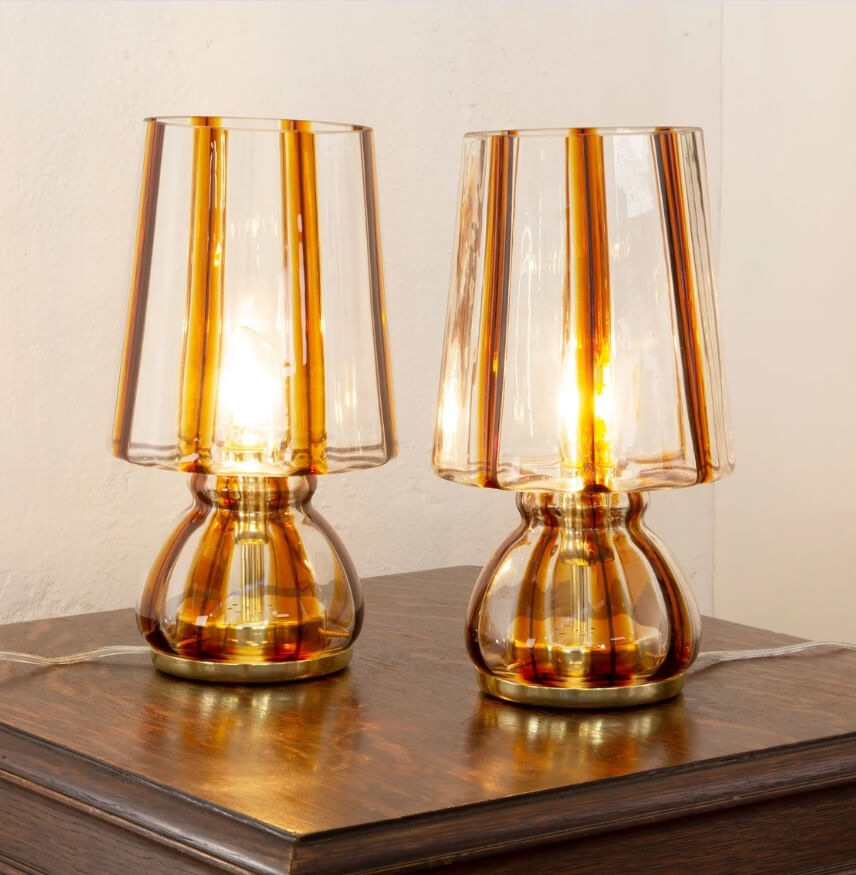 Check out the warm and honey hues of this amber striped glass lantern. The contrast of the clear glass mingled with the amber lines is a match made in heaven. As the light illuminates the globe, the rich orange embers come alive making a cozy and welcoming place to unwind. These glass globes are great for bedside tables in the master or guest bedroom, but they would also make great additions to an inviting entryway. Place one along the hallway for a gentle guide during the wee hours of the night.
Bring Vintage Charm to Your Home with these Lighting Ideas
From farmhouses to old-world retreats, a fresh lighting fixture makes a lasting impression on your home. Galvanized metal works seamlessly with farmhouse motifs while painted glass adds more of a personal touch to old-world decorating schemes. Even the master headboard can gain a boatload of confidence from the use of lighting. A repurposed antique door easily sets the foundation for a useful and stylish headboard, while adding a barn lamp on each end cozies up the room for both husband and wife. This is one way to double as a useful headboard and one awesome vintage lamp ideas together as a creative combination.
Layers are another important aspect of decor and in this instance, they appear as fringes and layers of texture. Creamy tassles of fringe in a tri-level pendant are a wonderful shabby chic and bohemian accent that works in almost any room.
Other vintage lamp ideas are using metal objects from everyday life as well as wooden beads. Reimagine a barn pulley or kitchen colander and you'll create an amazing lighting fixture that's one-of-a-kind. Then, you'll delight in the ease of adding some simple strands of wooden beads for the extra interest for which your plain light yearns. Tripods make great legs for floor lamps and can be customized for traveling fans and theatre lovers alike. Or if the home office is where you spend most of your time, add a fun banker's style lamp for a pop of color.
No matter how you update your home, a retro lighting idea always makes sense. You can choose to add a backdrop for some vintage photo shoots or bring a gentle warm glow to a certain space in your home. Either way, you'll be pleasantly surprised by the new look you quickly and easily achieve with a simple swap of one or more of your home's lighting fixtures.