A giant red emperor caught off Queensland's coast will be studied by scientists and could provide a breakthrough in understanding the species' longevity.
The 22-kilogram fish is caught off Rainbow Beach in Queensland's south-east
It's a record catch for Ed Falconer, who will donate it for scientific study
The fish's age can be determined by counting the rings around a calcified bone inside its skull
Charter operator Ed Falconer hauled in the 22-kilogram, 104-centimetre specimen while fishing off Rainbow Beach in south-east Queensland.
"It's the one that didn't get away," he said.
"I've been fishing these waters for 30 years and the biggest one I've caught before that was about 19kg.
"It's about as big as they get."
Queensland Museum fish expert Jeff Johnson said the red emperor's weight matched that of one whose capture was recorded in a book published in 1962.
"It's an extremely noteworthy capture and a dream of any fisherman," he said.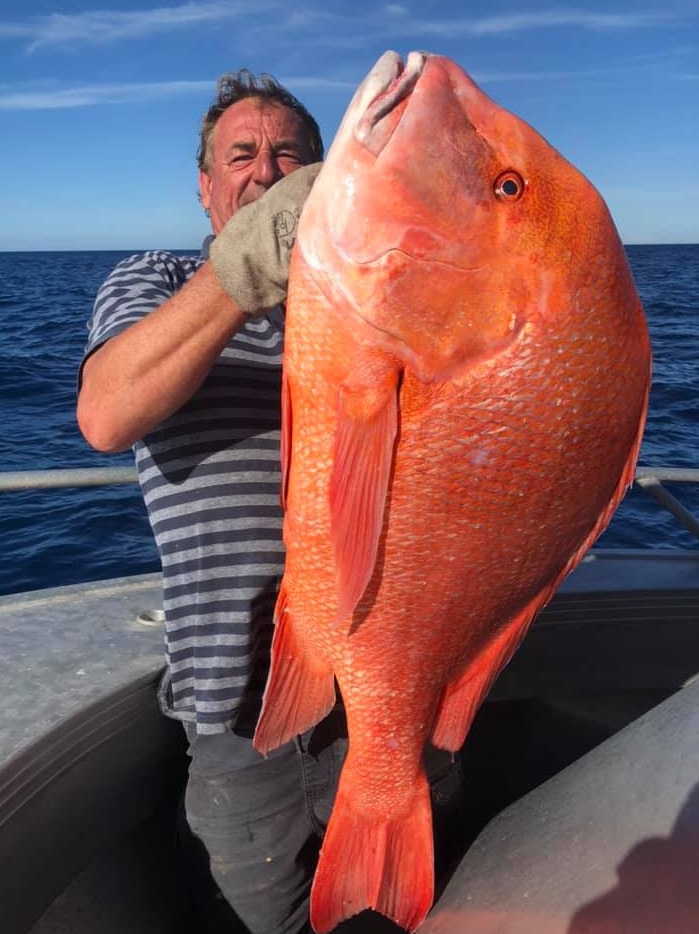 Mr Falconer's business has been closed for three months due to the coronavirus lockdown but he ventured out to keep his vessel operational.
He said his red emperor was more than double the size of the average fish caught on his boat.
"We often get 8kg, 10kg, 12kg … but that one is a definite freak. It's a once-in-a-lifetime thing."
It took about 20 minutes for Mr Falconer to bring in the giant fish using a rod and reel.
"I actually thought it was a big cod instead of a red emperor, the way it was fighting," he said.
"There was more shock than smile when it came over the side."
Donated to science
Mr Falconer said the fish was likely quite old and he planned to donate it to Queensland Fisheries for scientists to study.
"I froze it and rang a taxidermist to get it mounted," he said.
"After we do that we're going to donate it to science, to Fisheries, and they're going to do some research on it.
"They take a certain bone out of its head and they can find out its age and all sorts of things.
'We wouldn't want something like that to go to waste."
Mr Johnson said the fish's age could be determined by counting the rings around a calcified bone inside its skull.
He aid he hoped the catch could shed light on how old red emperors could live.
"Queensland Fisheries [study] certain species and are always on the lookout.
"They would certainly be interested in trying to determine how old that fish was."