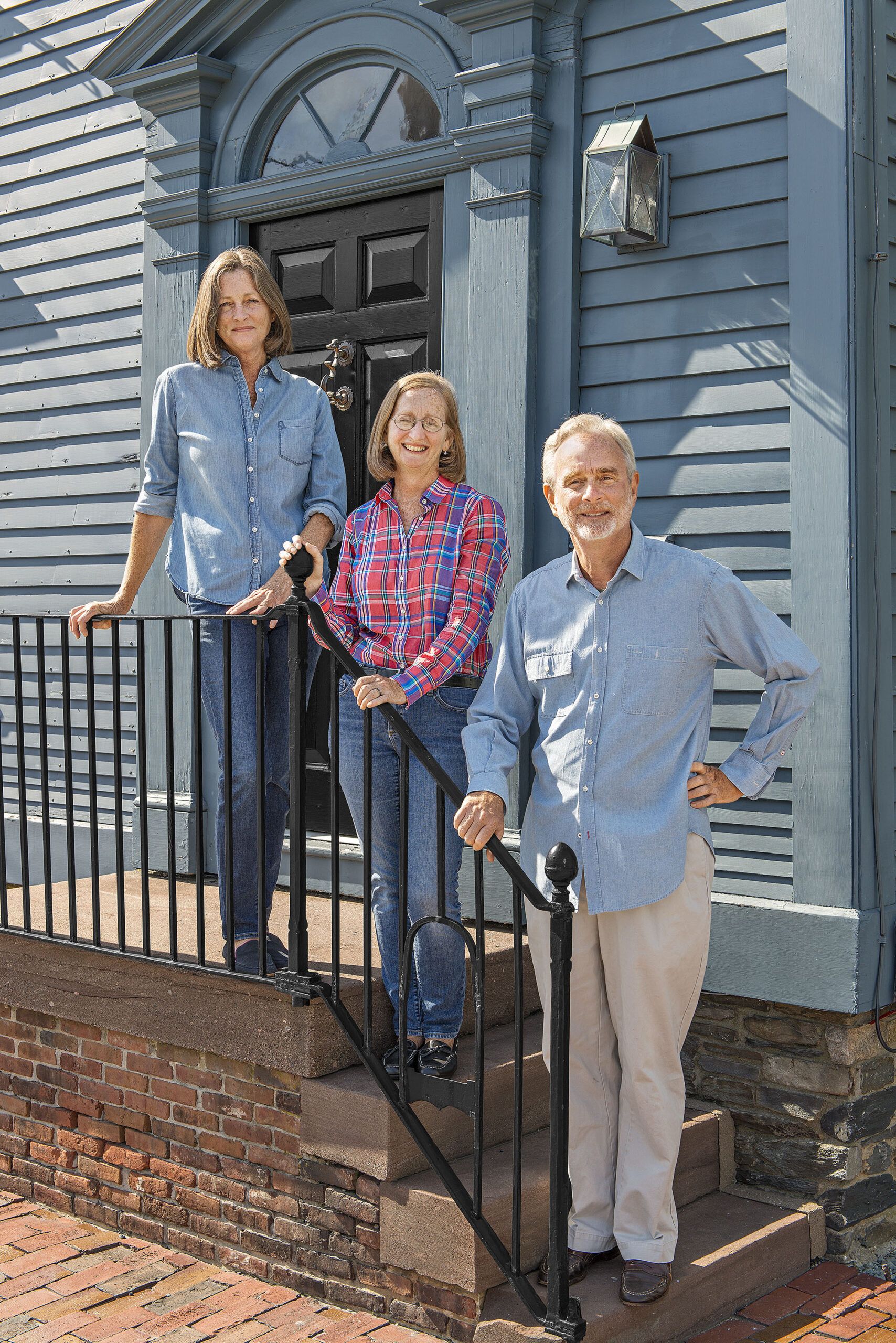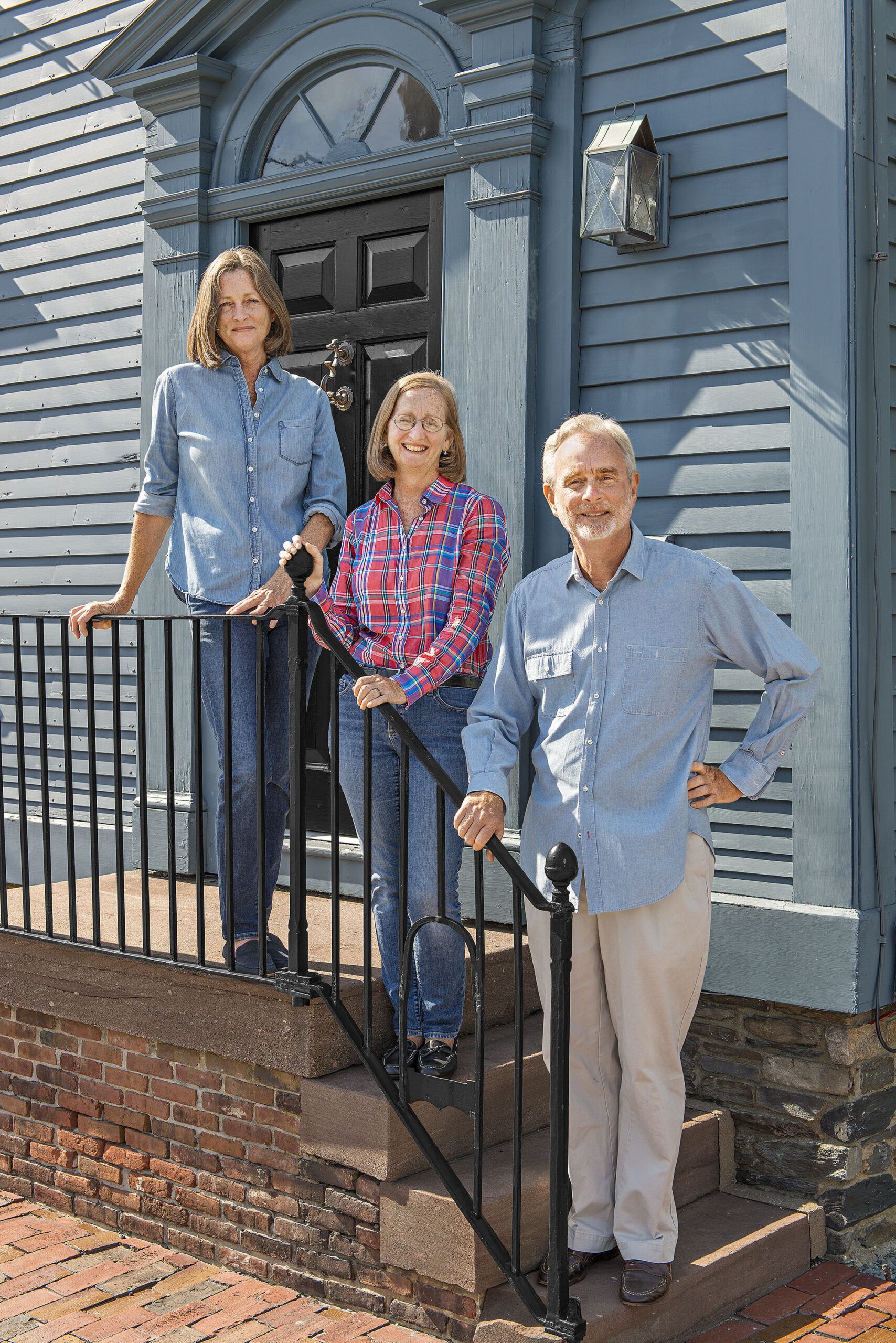 Soon after moving into his circa- 1750 house in Newport, Rhode Island, six autumns ago, John Ward spotted people peering at him over his fence while he read the newspaper in his yard. When they kept looking, and looking, Ward inquired if they needed help.
"They asked me, 'Do people actually live in this house?' " recalls John, 61, with a laugh. "The NRF was gracious enough to raise the fence."
The NRF is the Newport Restoration Foundation, Ward's landlord, which takes care of more than just fences at the 73 colonial-era homes that it owns, preserves, maintains, and leases in the seaside town. Since 1968, the nonprofit organization founded by philanthropist Doris Duke has run a tenant stewardship program that rents its historic homes to people who will watch over their daily existence with care, understanding that "the needs of the house may supersede (their) own," as the written agreement states.
In other words, the structures stay true to their day: no central air-conditioning, no 21st-century paint colors, no triple-track storm windows or other modern fancies. Most of the tenant stewards live in the homes; a few operate commercial businesses out of them. The NRF's collection of 88 buildings in total, including several mansion-turned-museum properties, is one of the largest groups of period architecture owned by a single organization in the United States.
Shown: Siblings Elizabeth O'Shea (left), Kathy Ward and John Ward, who live near each other in three historic houses. The Wards grew up in Larchmont, New York, three blocks from Long Island Sound, in a 6,700-square-foot Colonial Revival built in 1891.
Stewarding the Past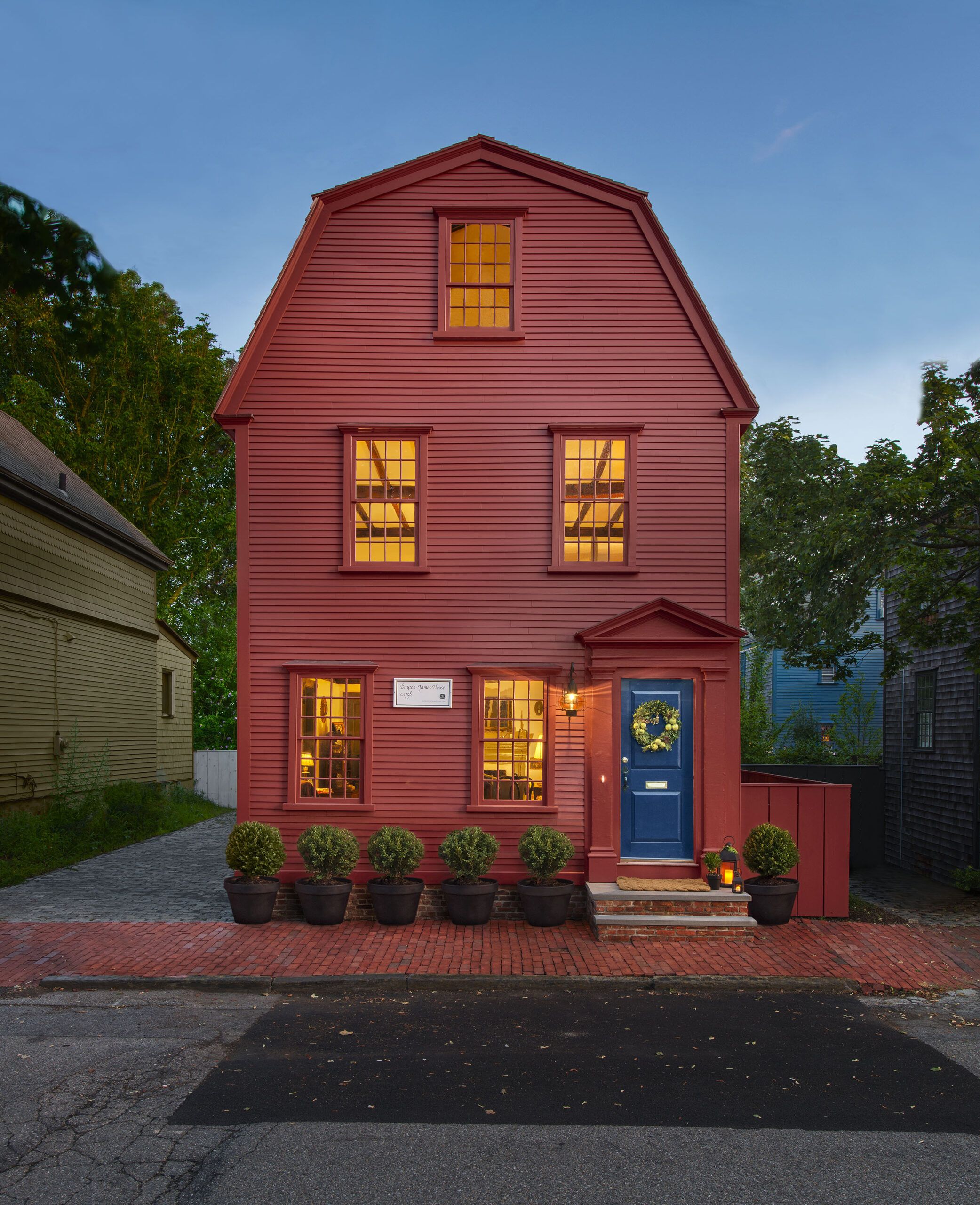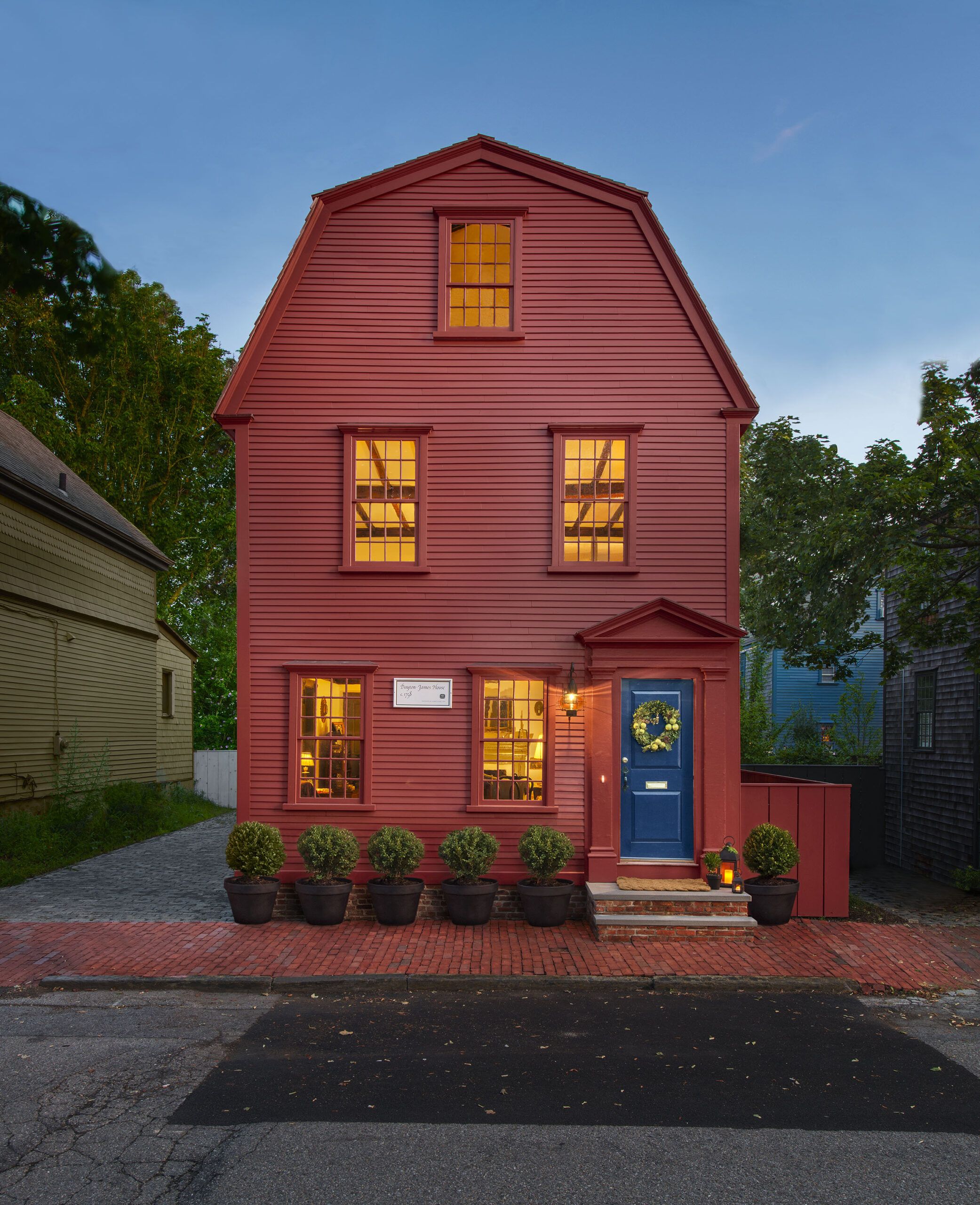 "Doris Duke felt that if she bought these homes, which were in dreadful condition, and just restored and sold them, they'd deteriorate again," says Pieter Roos, who has served as the executive director of the Newport Restoration Foundation for the past 17 years. Another option was to turn the houses into a tourist village, as in Williamsburg, Virginia, or Sturbridge, Massachusetts. "But what she did was quite forward-thinking," says Roos, "keeping them as residences and renting to people who identify with the mission to preserve these houses, their streetscapes, and the city's architectural heritage."
After living for 35 years with views of New York's Chrysler Building, John Ward, a retired administrator for Goldman Sachs, was lured to Newport by his younger sisters, both of whom were leasing NRF houses. Three and a half years after filing his application, he moved with his older sister, who has since passed away, to the Thomas Townsend House on Bridge Street. John's sister Kathy, 57, a weaver, lives and works in the Dayton-James House, at the end of the street. Elizabeth O'Shea, 60, who had a career in retail and sales and is the one Ward child who married, lives with her husband and 18-year-old daughter around the corner on Second Street.
The three siblings are involved in the neighborhood's Point Association and its History and Archives Committee. They share Sunday dinner at the O'Sheas'; John makes the mashed potatoes. They walk to the library together. Kathy and John have gotten to watch their niece grow up.
"The NRF staff calls us 'the Trifecta.' Maybe we are a bit of a throwback," says Elizabeth of the family relationship, one that exists very much in the present but relies deeply on a sense of the past, both personal and historical.
Shown: The gambrel-roofed Dayton-James House, where Kathy Ward lives, was built circa 1758 and is one of the last one-room-wide homes left in Newport. NRF founder Doris Duke, who died in 1993, chose colors for each of the houses herself. This one is painted a colonial brick red, with siding, windows, and casings all washed in the same shade, as was typical of the era. (Candle lanterns, doormat: Terrain.)
Painstakingly Preserved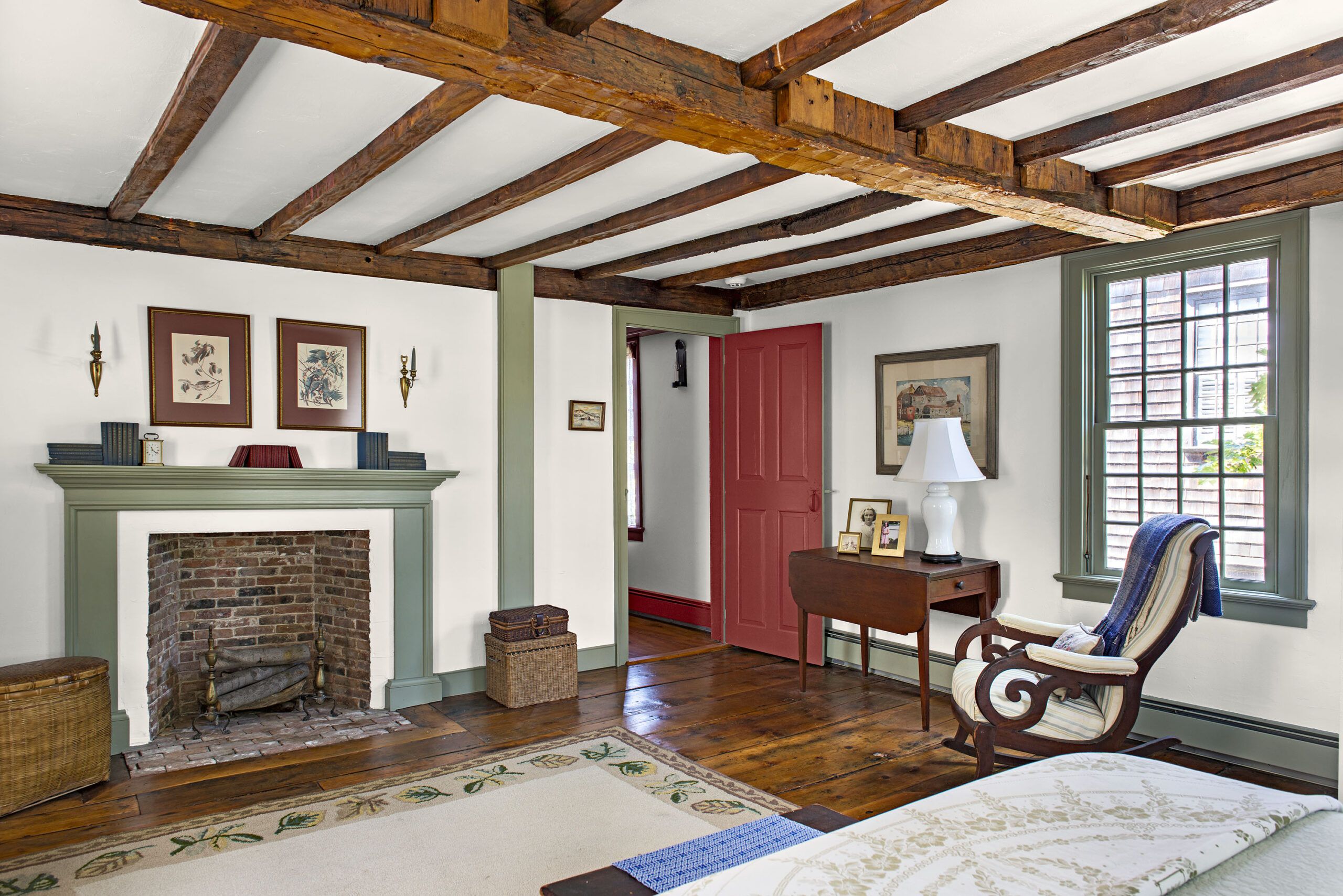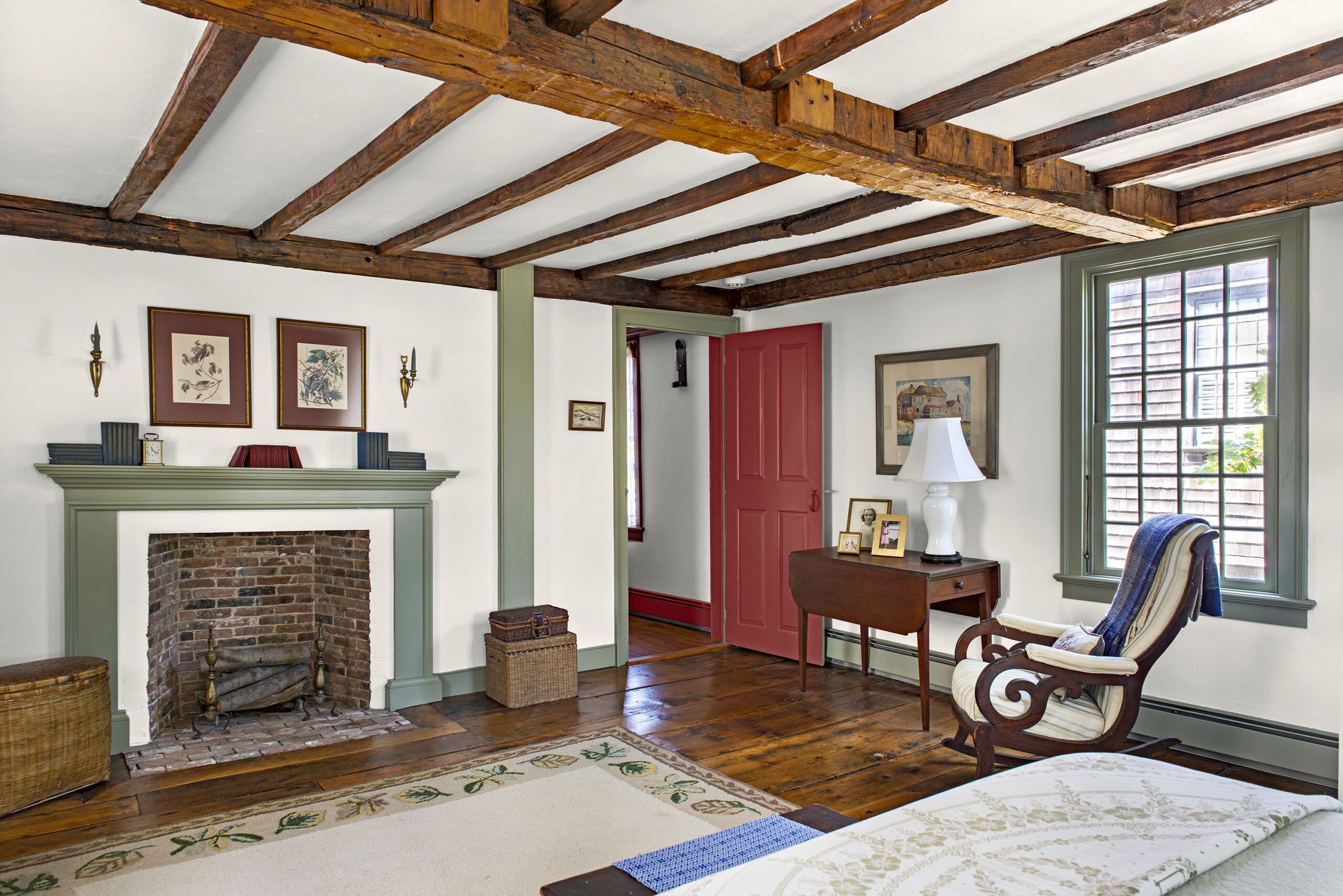 A sense of the past would seem essential for setting up residence in such authentically restored structures. The NRF has returned its homes to their original architectural and decorative conditions, or as close to them as possible. "Here, I like to think that I'm doing something that could have been done in this house centuries ago," Kathy says of the weaving business that she runs at the top of a winding flight to her second floor. "My loom used to be folded up in the corner of my Manhattan apartment."
Shown: The master bedroom of the Dayton-James House. The pine structural beams had been whitewashed and covered over before the NRF exposed and refinished them. As in most rooms in the NRF's houses, the trim is painted a historically accurate color, while the plaster walls remain white.
Kitchen With a Fire—and Room to Spare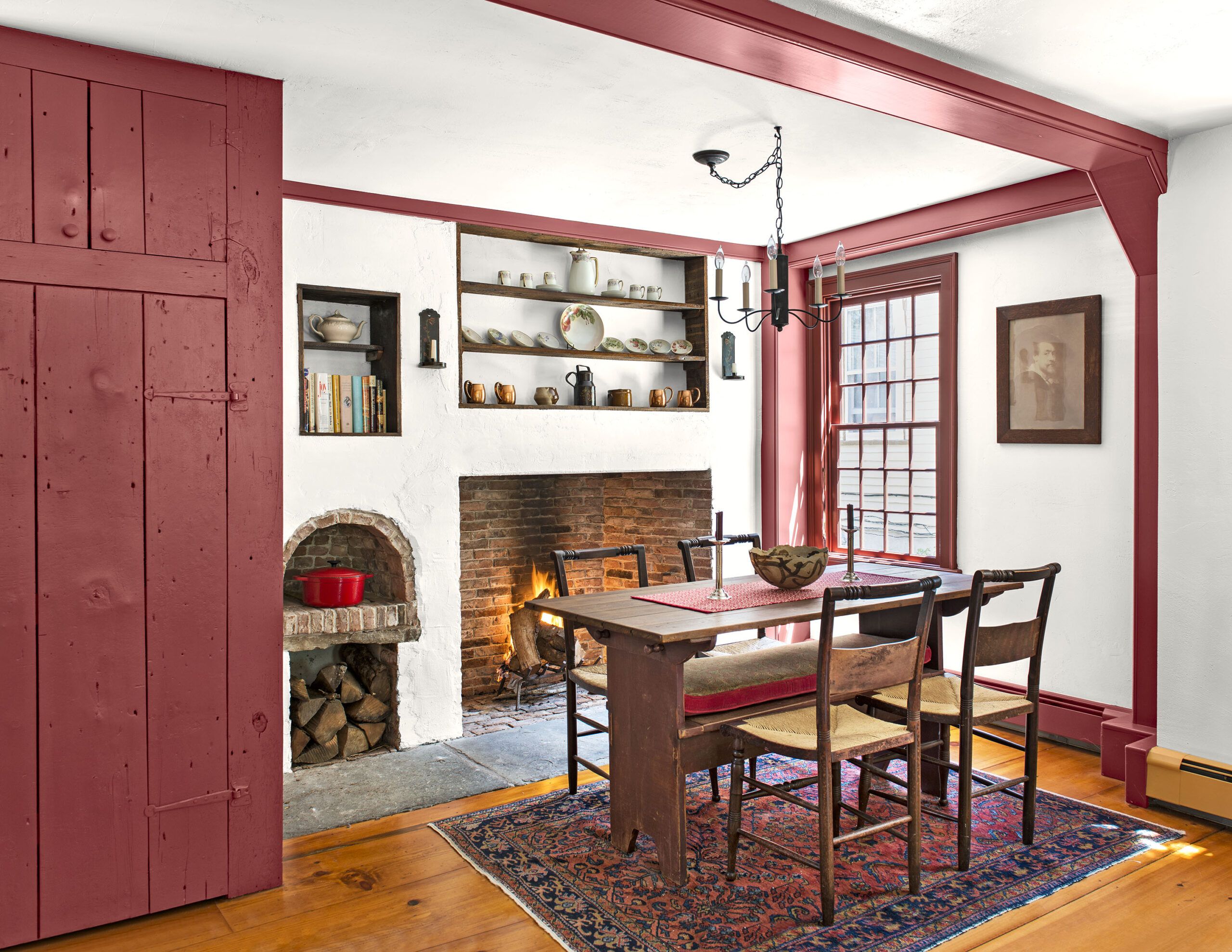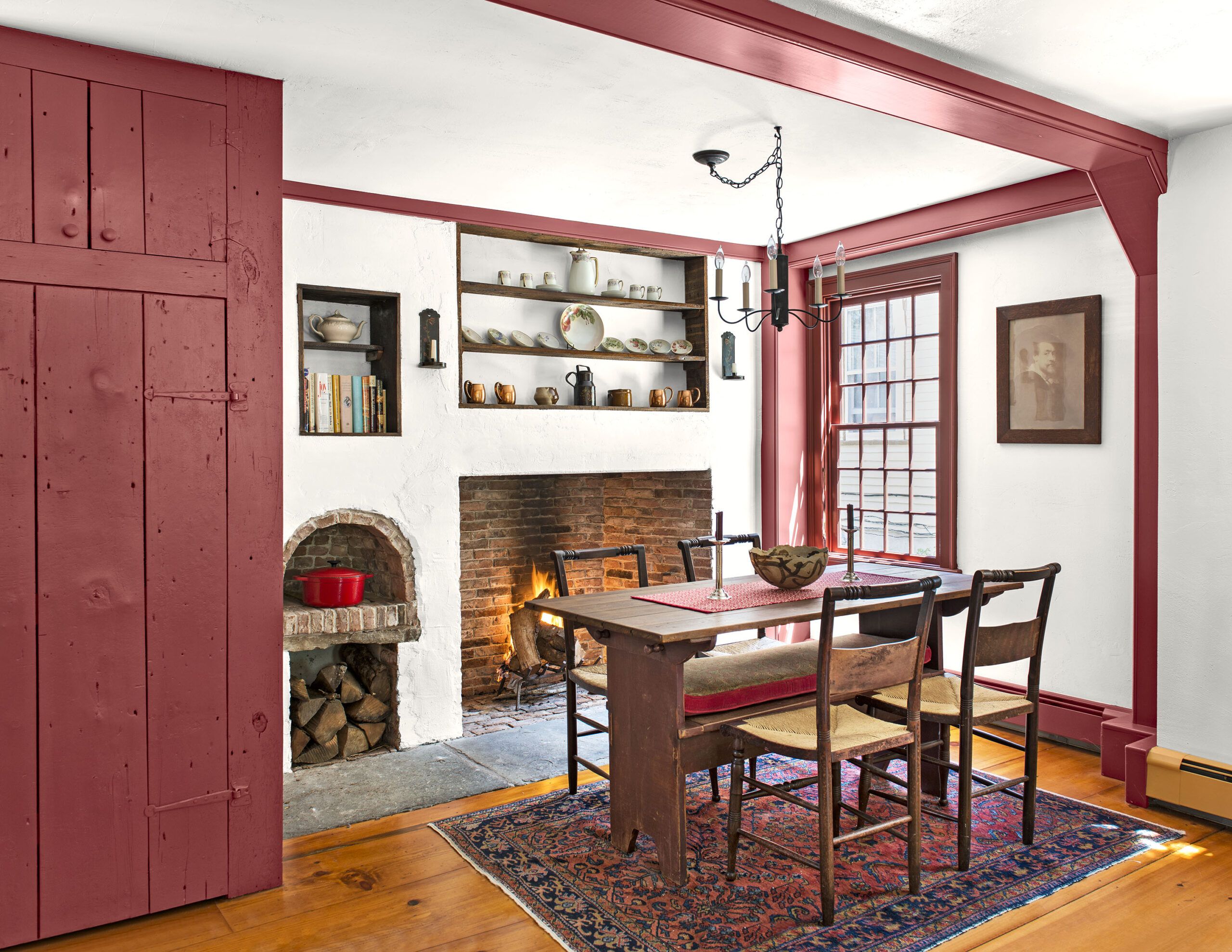 The NRF purchased the Dayton-James House in 2011. The restoration, which took about three years to complete after 150 without any maintenance, included rebuilding foundation walls, replacing some structural timbers, installing new windowsills, and removing a 20th-century modernization—two one-story additions. The attic remains unfinished.
Shown: Interior framing members set off the dining area at the end of the kitchen. The room is kept warm, in part, by a brick-faced fireplace with a trio of inset shelves above it in lieu of a mantel.
Tight Squeeze for Move-in Day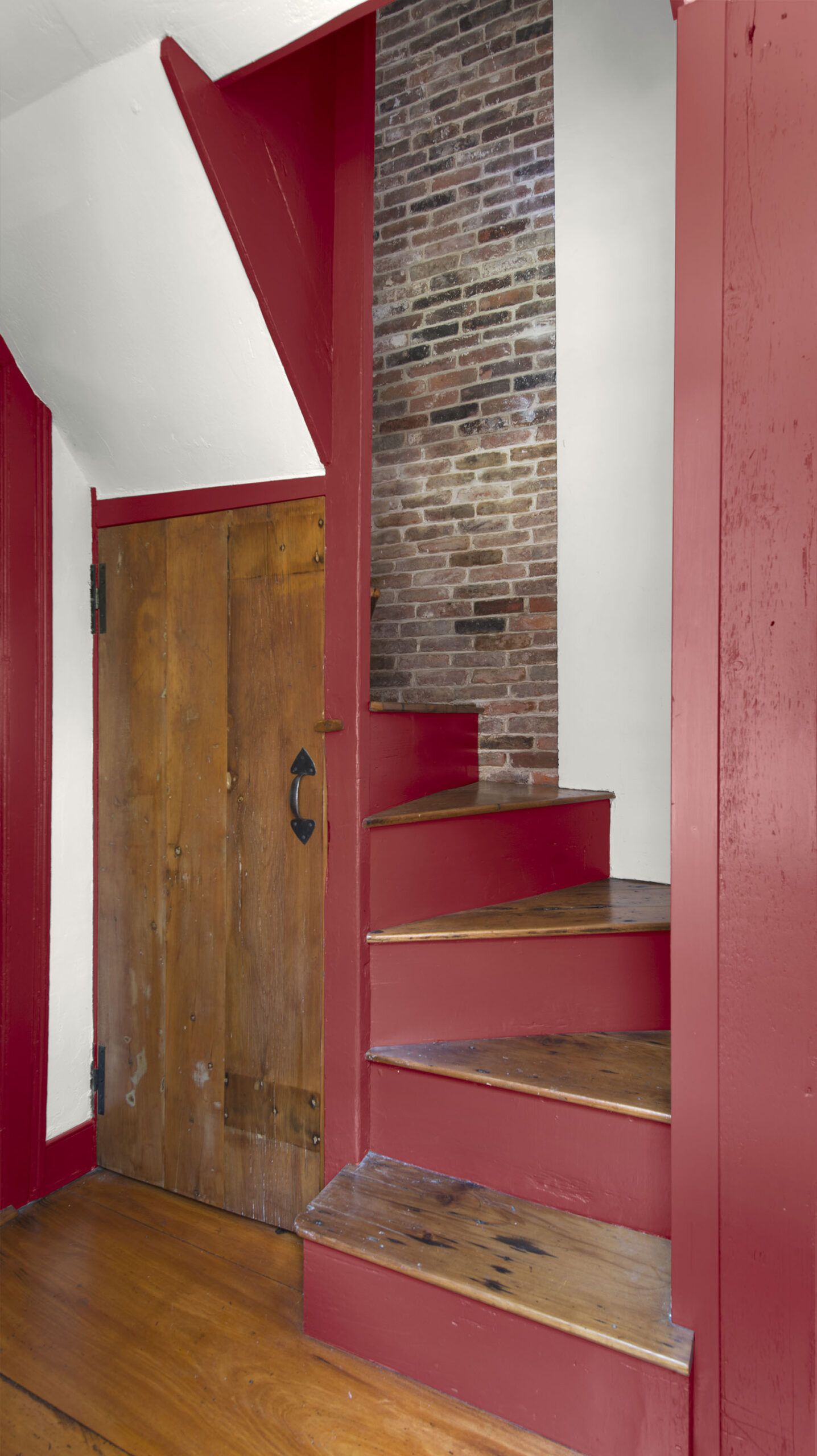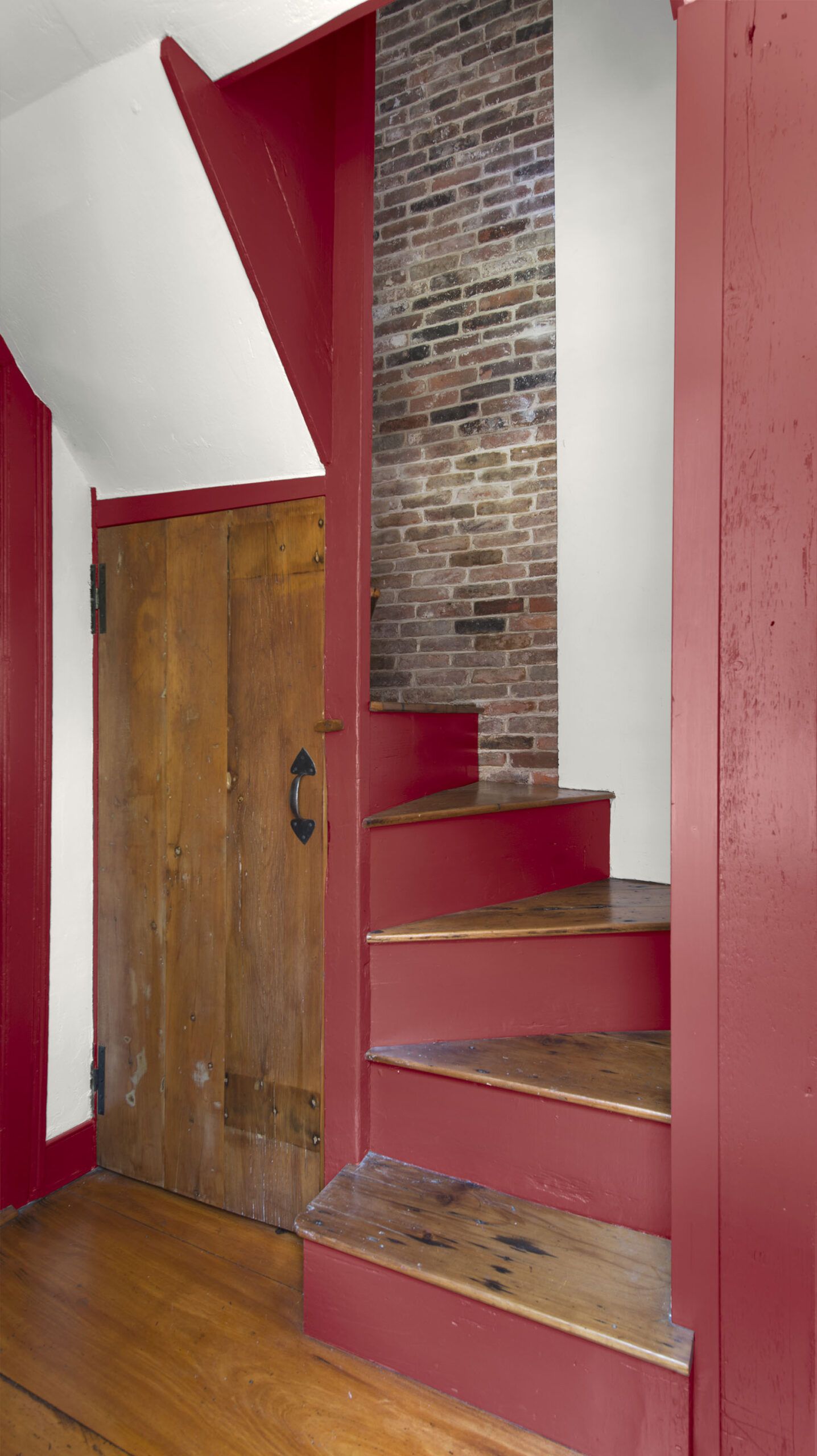 Winding stairs wrap a closet on the way to the second floor. To bypass the sinuous steps on move-in day, a door in the upstairs bath accommodated furniture, as did the windows, which can be removed. "I watched my loom flail in the wind," says Kathy, "but it made it."
A Vision in Colonial Blue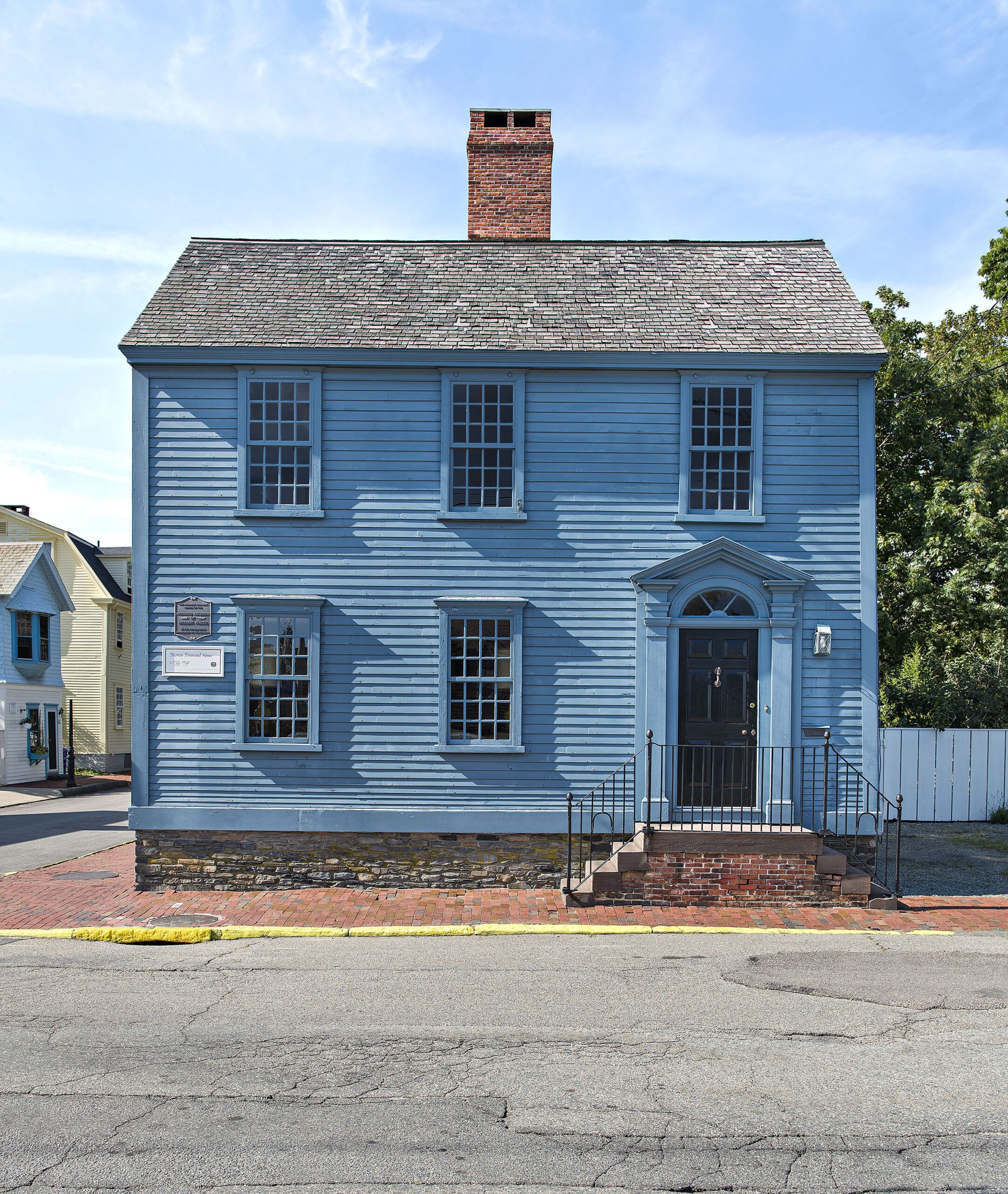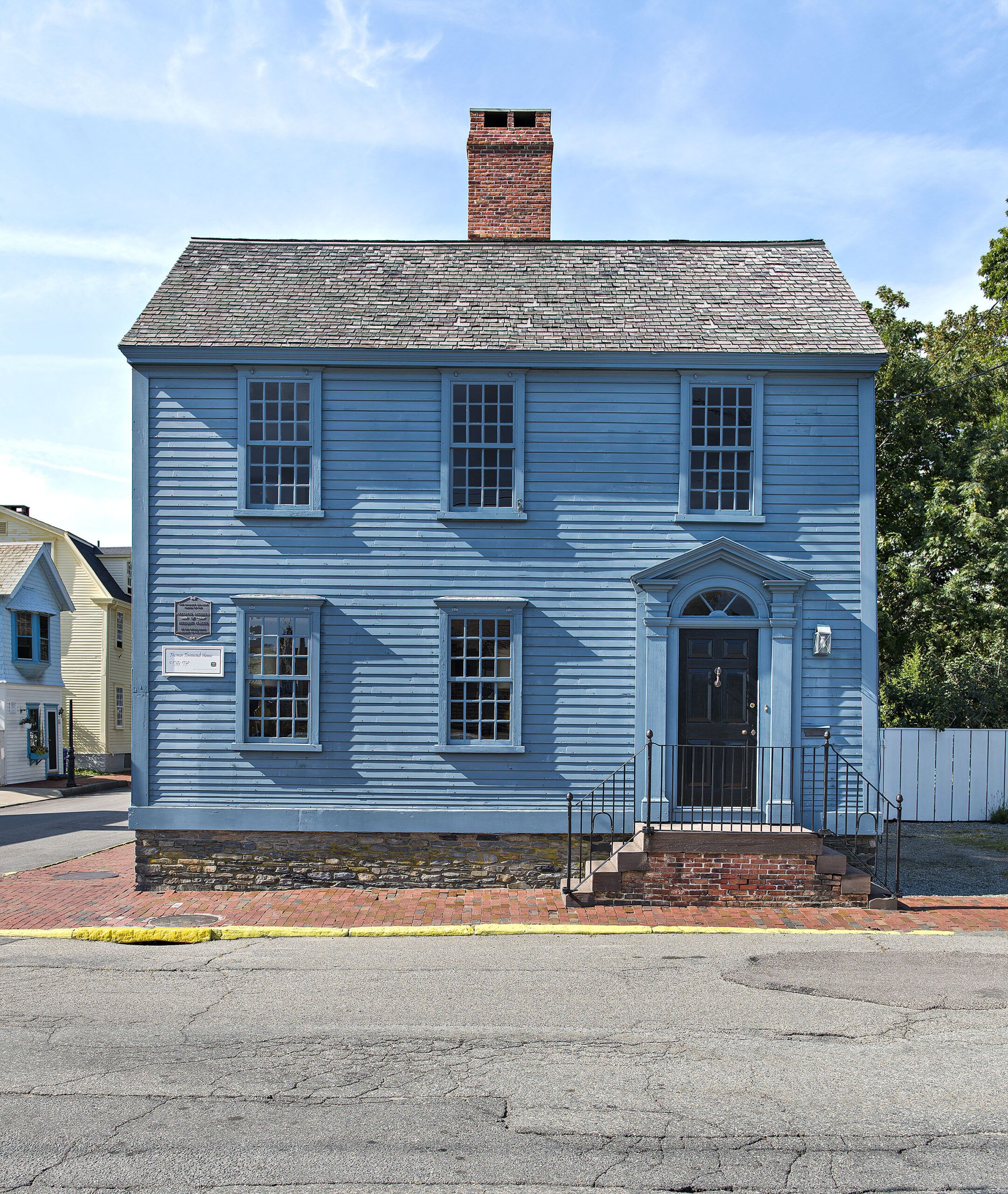 A Federal-style fanlight crowns the door at John Ward's home, the Thomas Townsend House, which is painted a bright colonial blue. Double-sided stairs lend the entrance even more formality, while the railing provides some separation from the sidewalk. The house was one of the first to be purchased by the NRF. Bought in 1968, it wasn't restored until 1974. After Hurricane Sandy flooded the home's basement in 2012, the NRF installed new plumbing and electrical.
Watch Your Head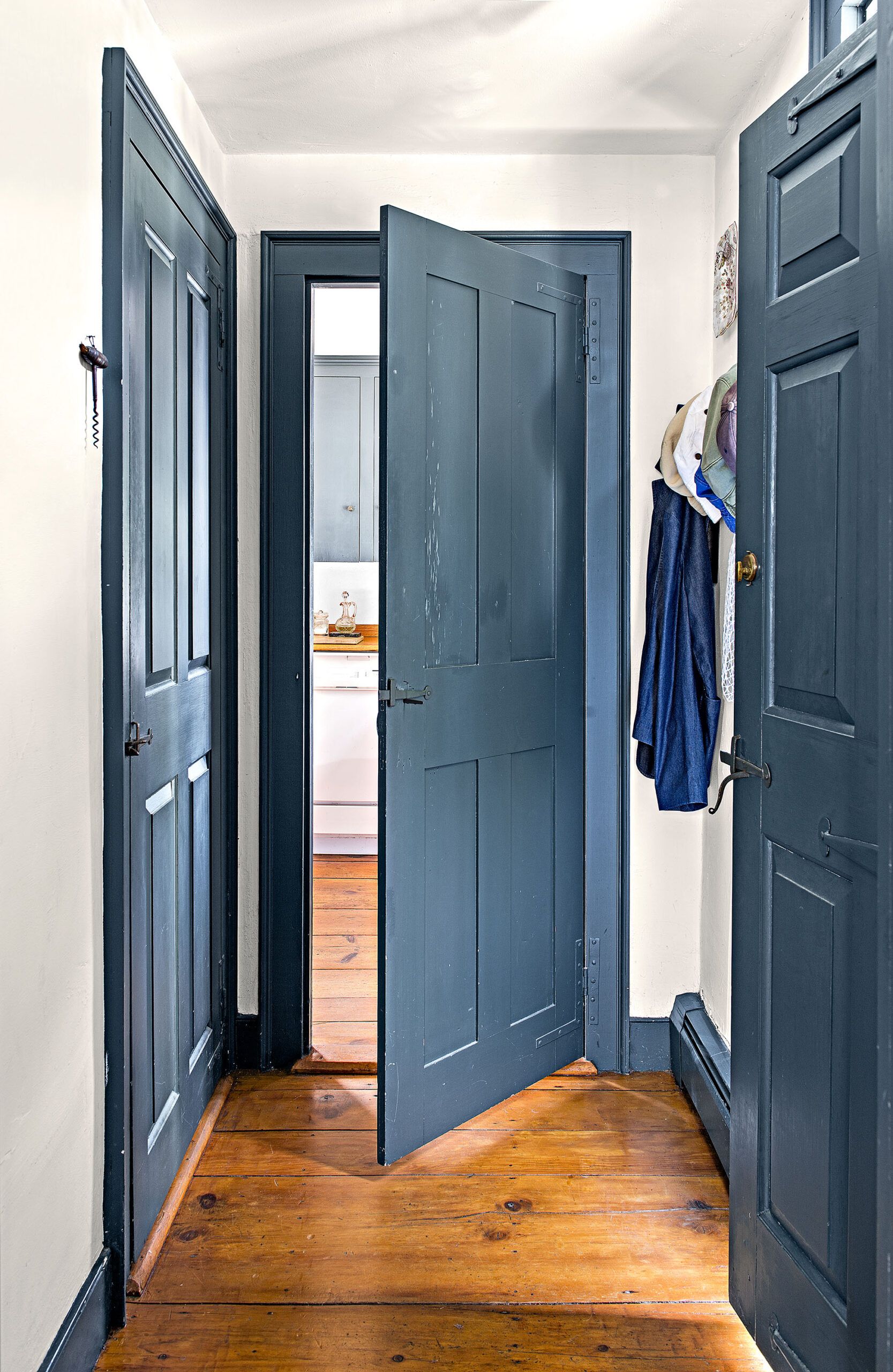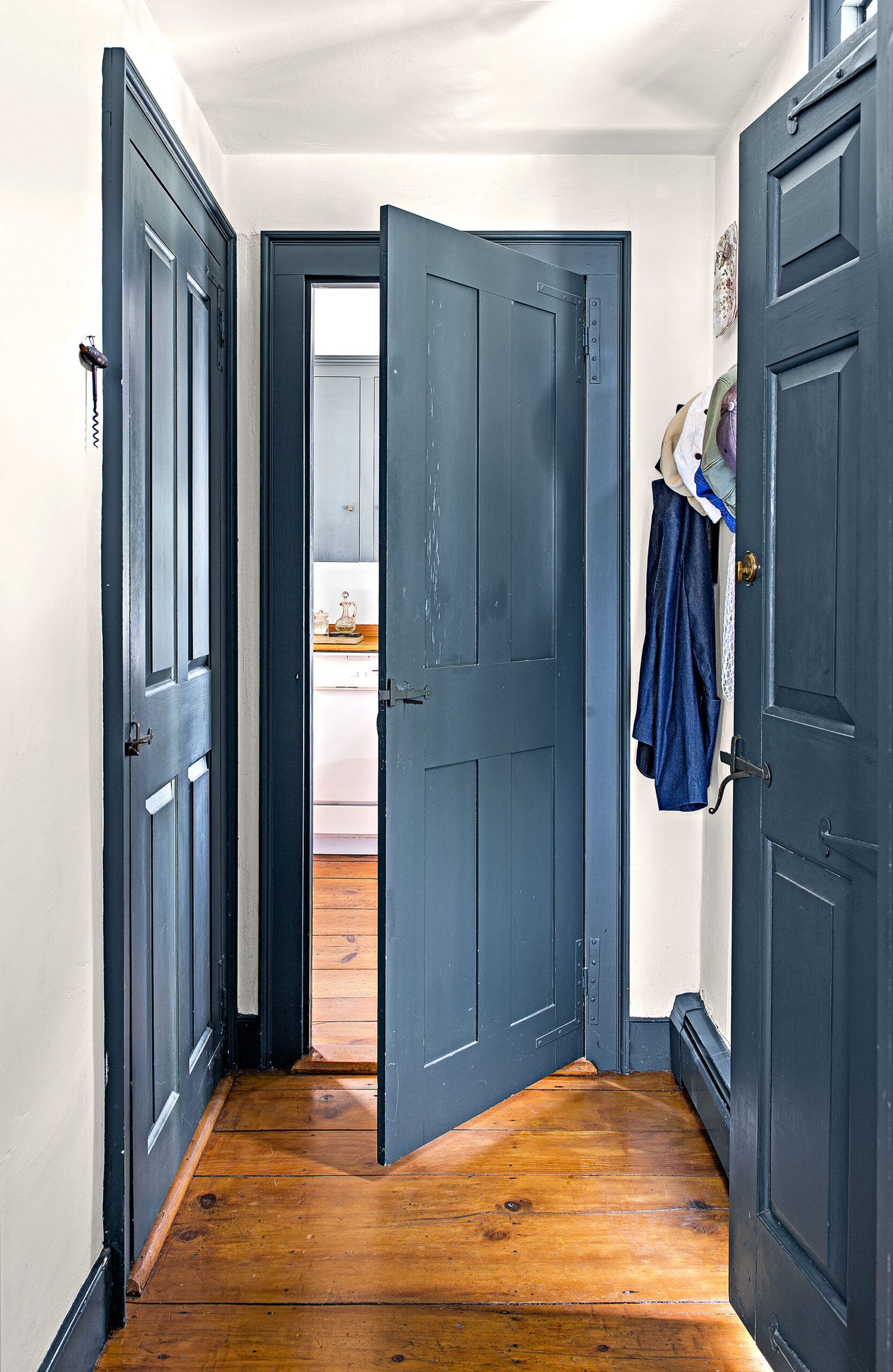 Though John Ward can't envision ever leaving Bridge Street and the proximity to his sisters, something that the three siblings cherish at this point in their adult lives, the early adjustment to the place was a bit dicey. "I'm not abnormally tall, but I kept hitting my head on the doorframes, and my pants got caught on the latches," he says.
Shown: The first-floor hallway at the Thomas Townsend House leads to the kitchen. The pantry door is on the left, the back door on the right.
Learning to Adapt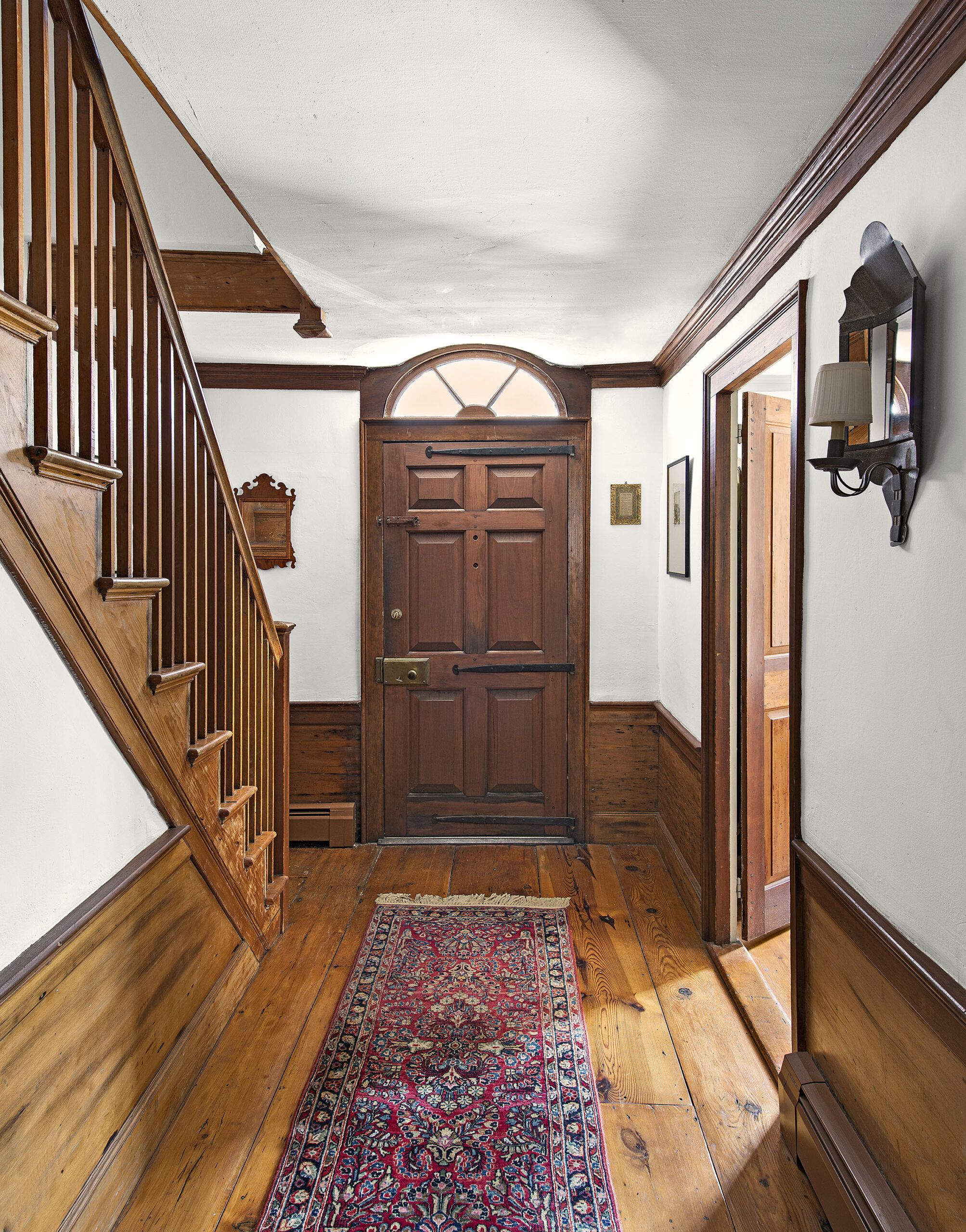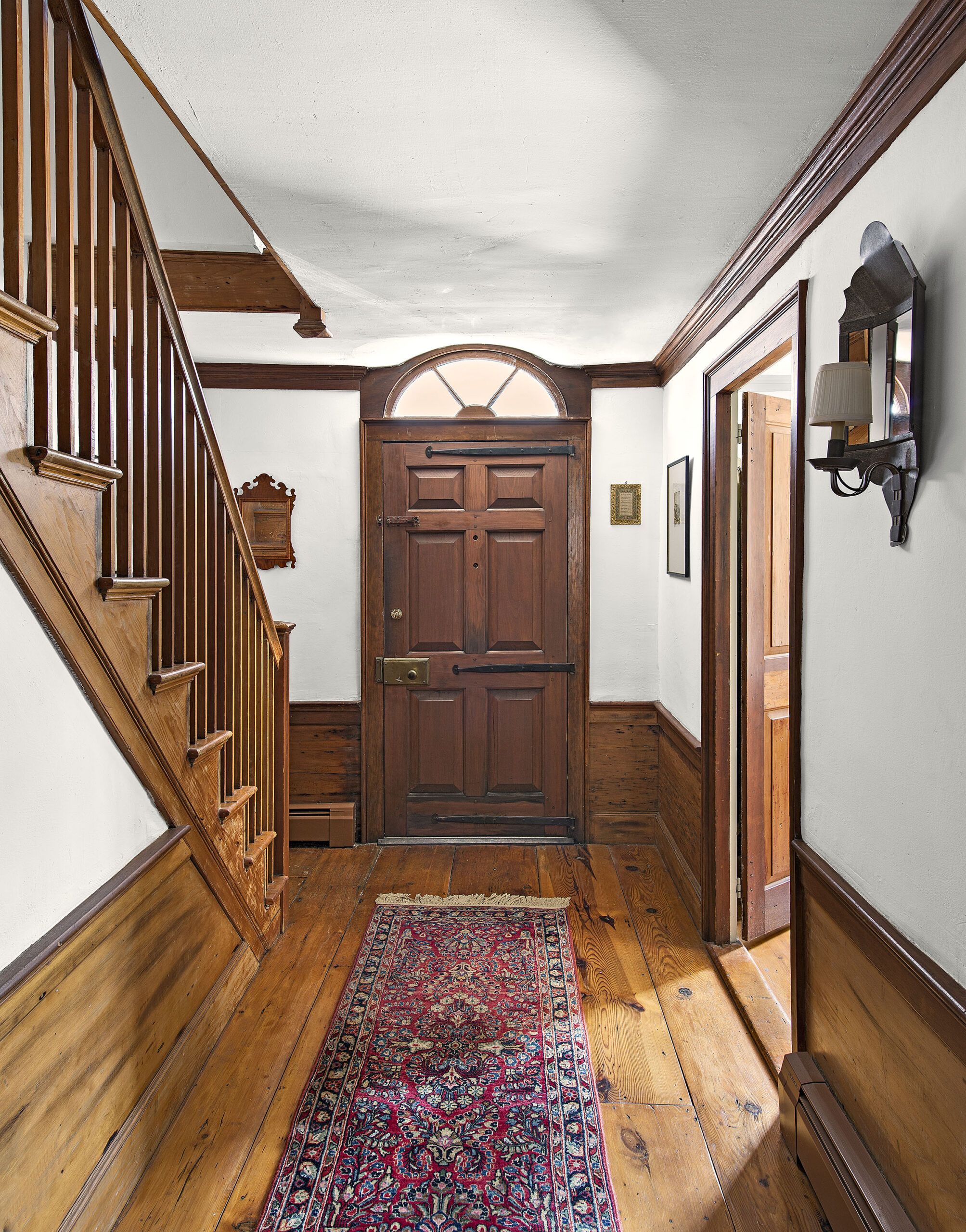 Adaptation is natural for the 125 people currently renting these pre–Revolutionary War homes, says the NRF's Pieter Roos, who adds that some have stayed for 20 to 25 years. Typical tenants are in their 40s, 50s, and 60s, and only two or three are raising children amid the structures' history—not to mention creaky floors, drafty windows, and colonial-scale closet space.
Shown: Pine wainscoting, stair railings, and floors welcome visitors in the entryway to the Thomas Townsend House.
Heirlooms Find a New Home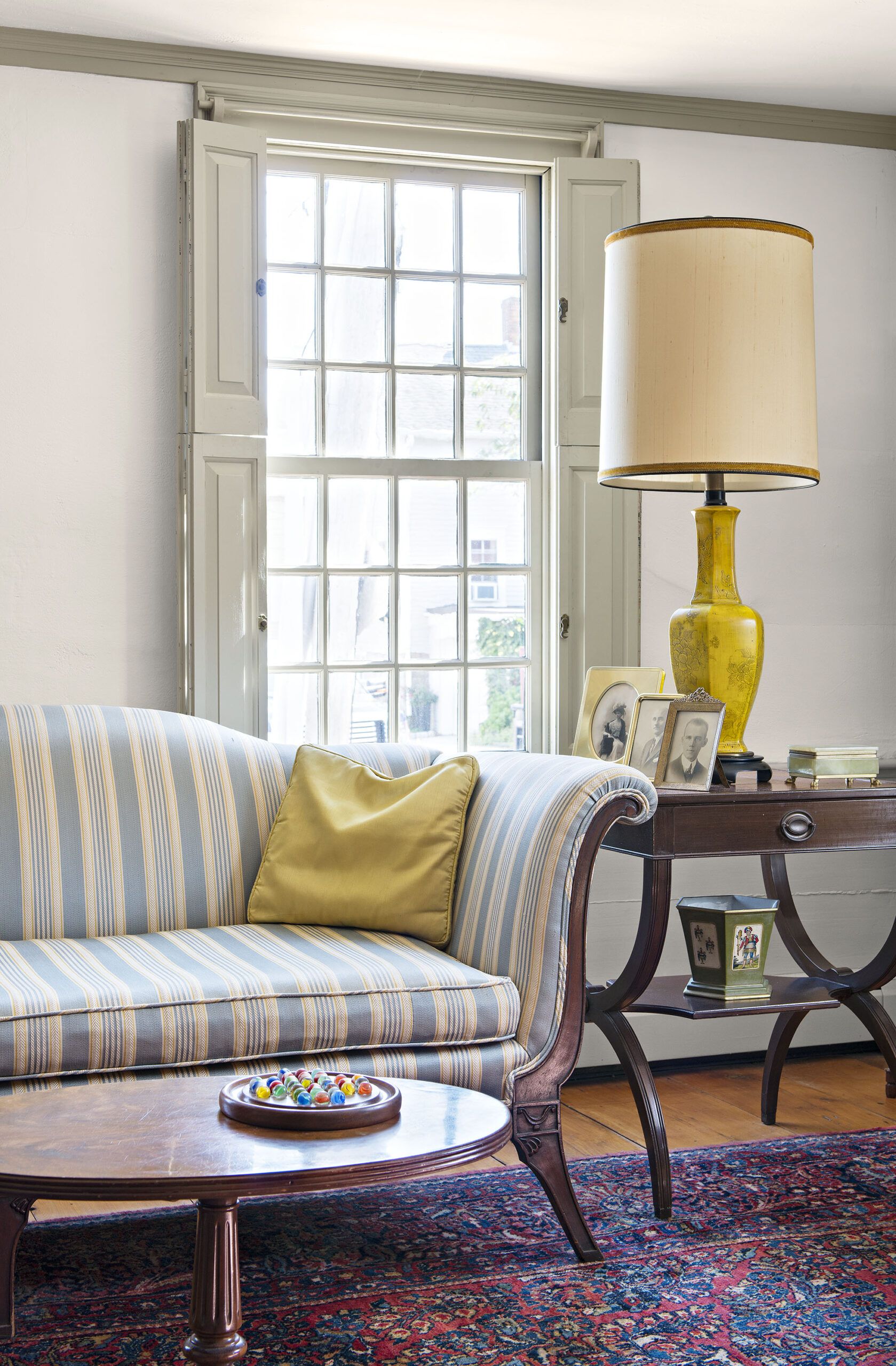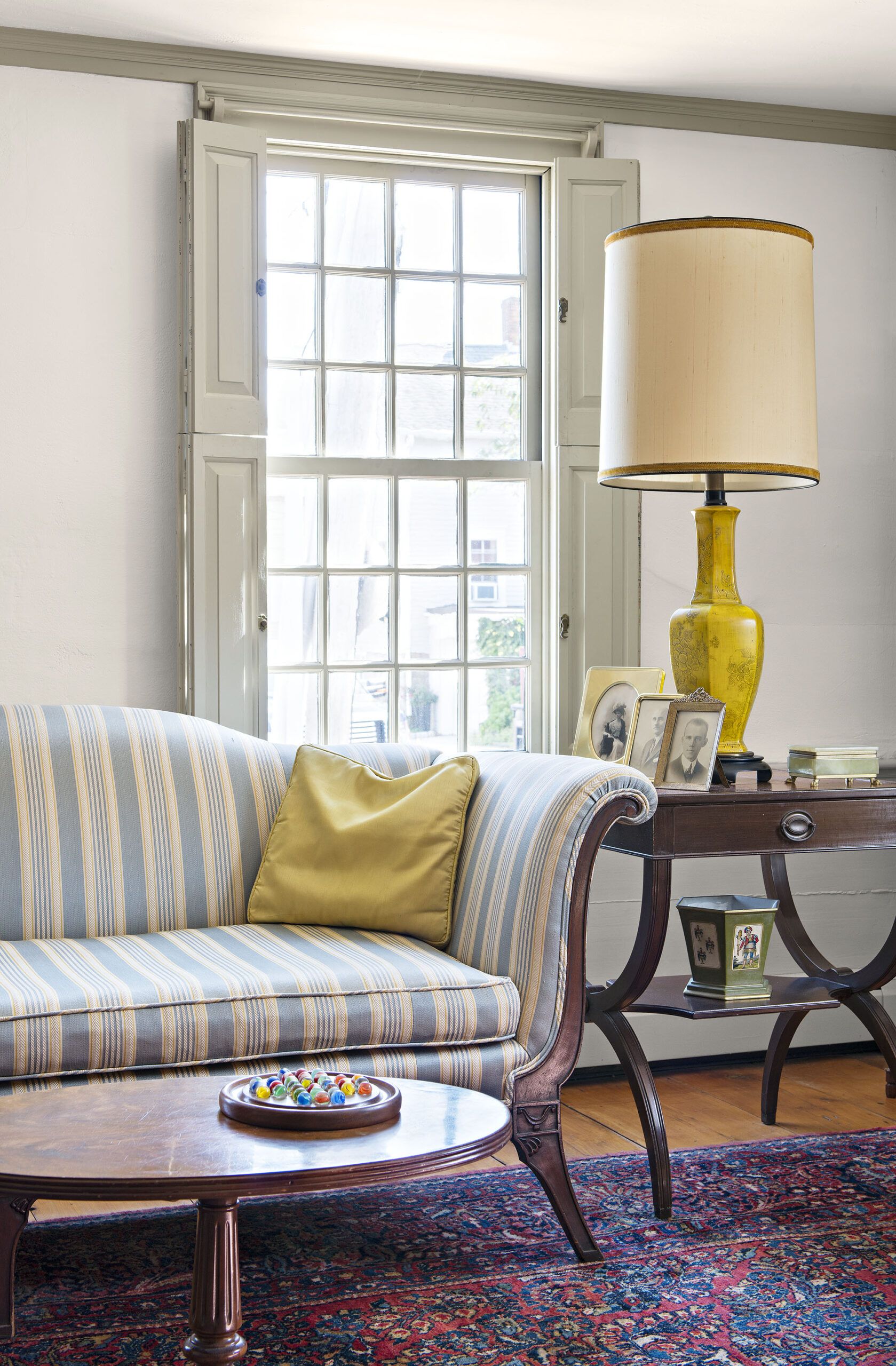 The living room in the Thomas Townsend House. The house has original floors and moldings, three bedrooms, and three and a half baths. In 2010, the Ward siblings inherited their parents' and grandparents' antique furnishings, collectibles, and memorabilia, which now adorn their Newport homes, fittingly. "Our family heirlooms, which spent 100 years in lower Manhattan, now sit here in Newport, perfectly," says John.
Respecting the Heritage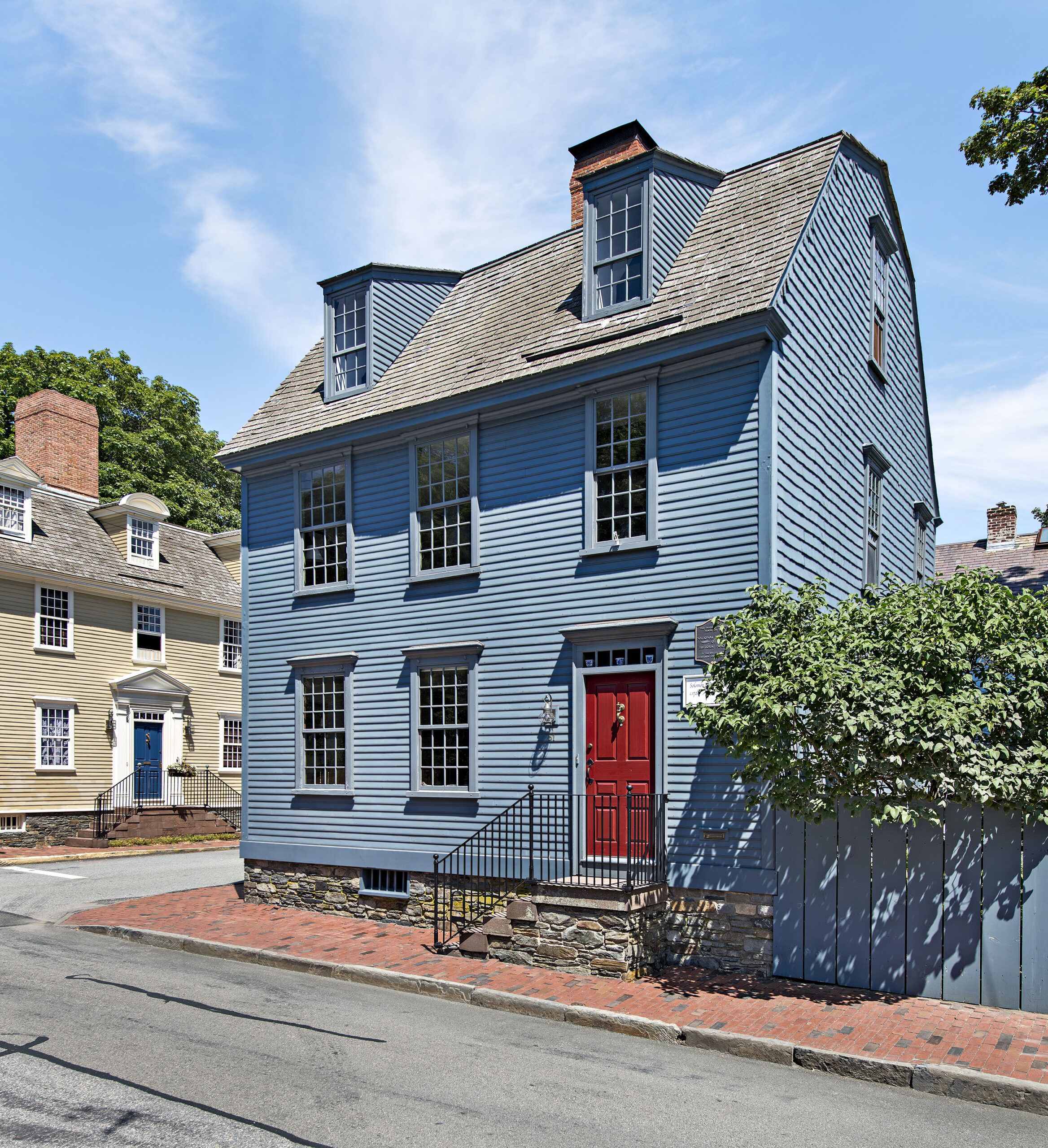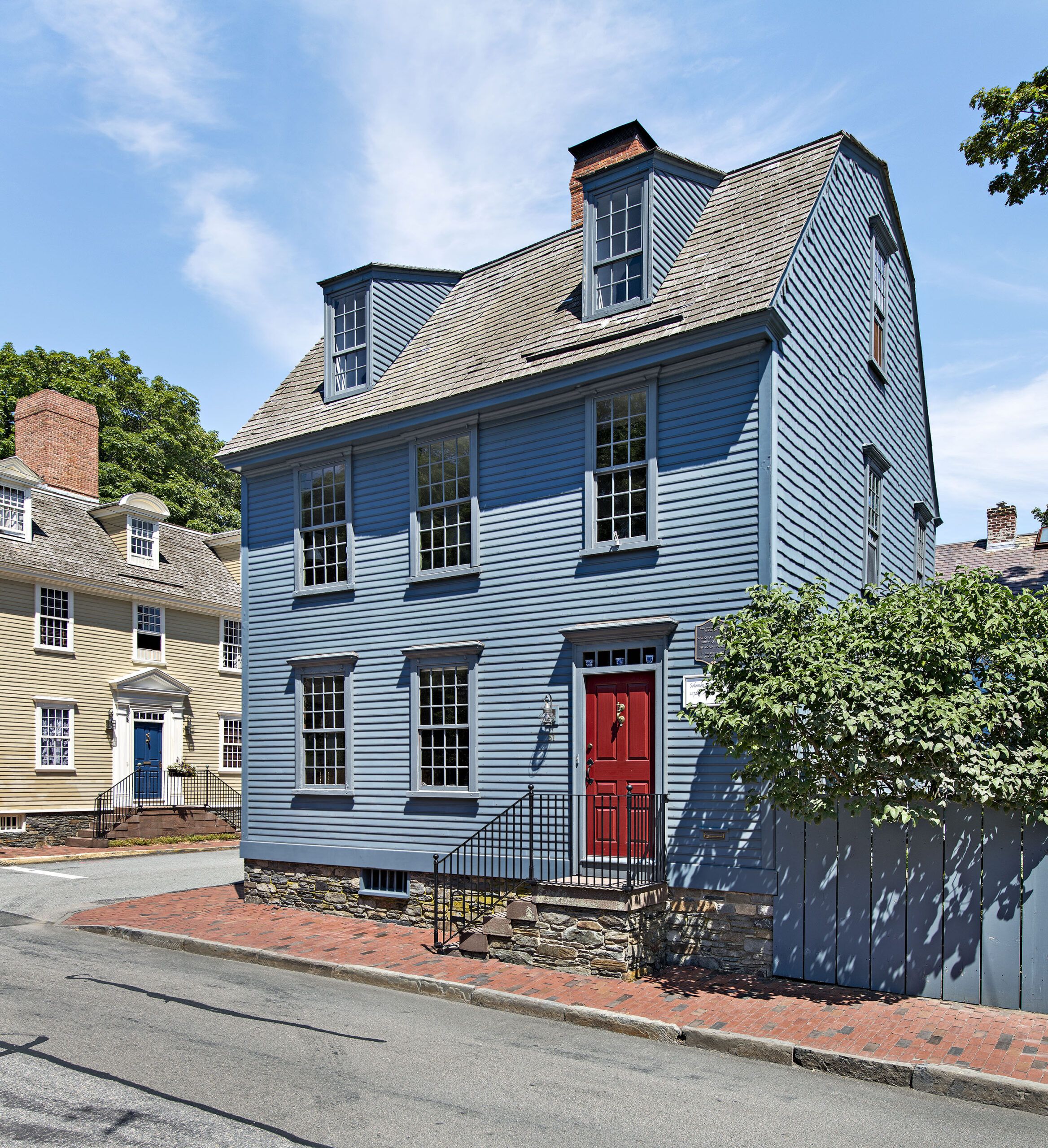 Elizabeth O'Shea's family lives in the Solomon Townsend House on Second Street; it was named for the son of the first prominent cabinetmaker to settle in Newport, in 1709. For Elizabeth and her husband, Tim, head coach of Bryant University's men's basketball team, the experience has been singular. "It's a modern life in old surroundings," says Elizabeth. When they moved here from Ohio, their college-freshman daughter, Madeleine, was only 10. In middle school, Madeleine hung a Justin Bieber poster on her 282-year-old paneled door. "But she knew not to put the tape on the front and put it on the top edge instead," Elizabeth says.
Original Details and Five Fireplaces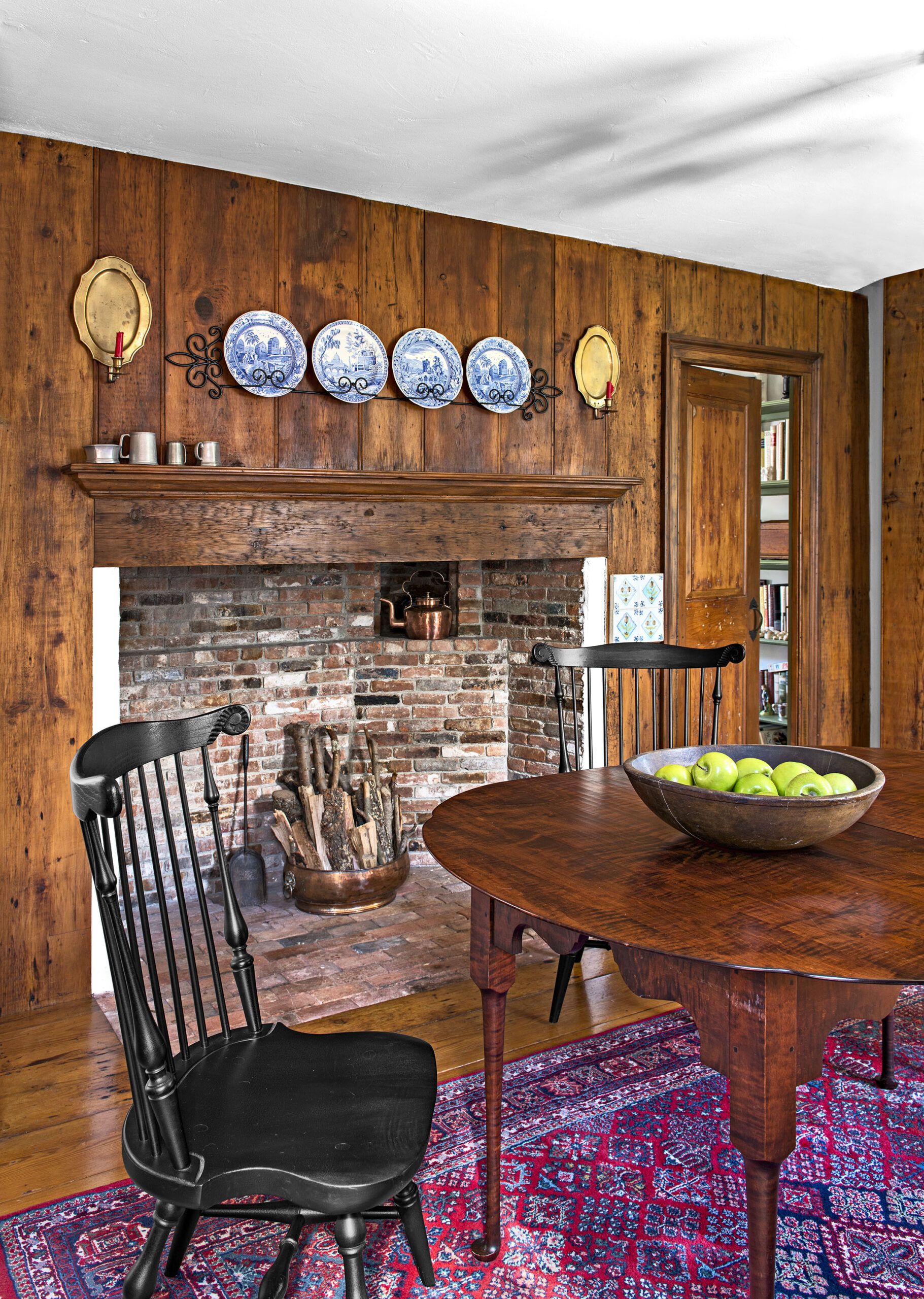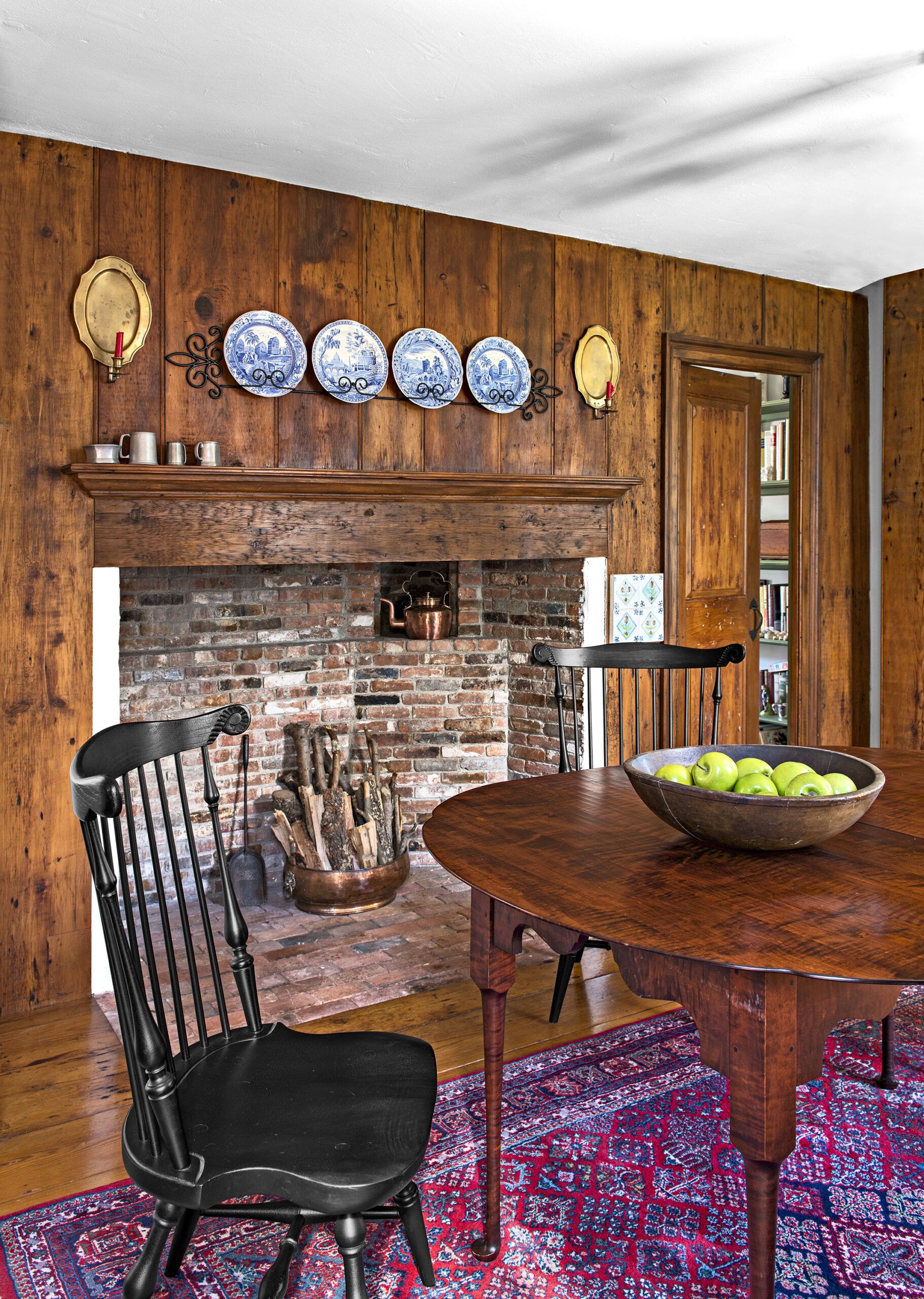 The Solomon Townsend House was well preserved, with its original doors, chair rails, casings, and chimney, when the NRF purchased it in 1973. Though houses in Newport were once commonly moved from one lot to another, it stands on the same spot where it was built.
Shown: The 5-by-4-foot fireplace that dominates the pine-paneled dining room is one of five in the house. It is topped with a late-18th- or early-19th-century mantelpiece. Through the door is a sitting area, with another fireplace at the back side of the original chimney.
A Space-Saving Staircase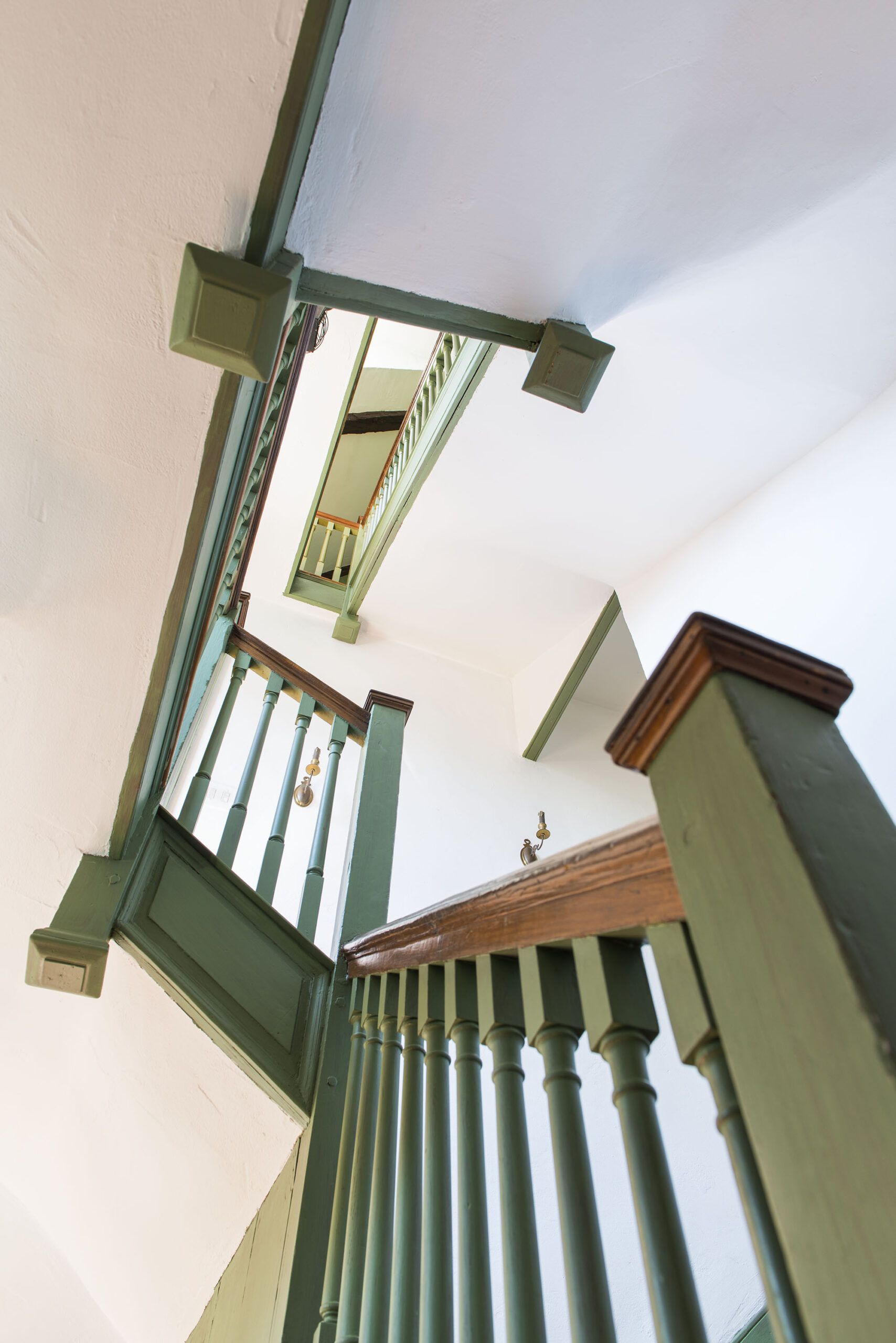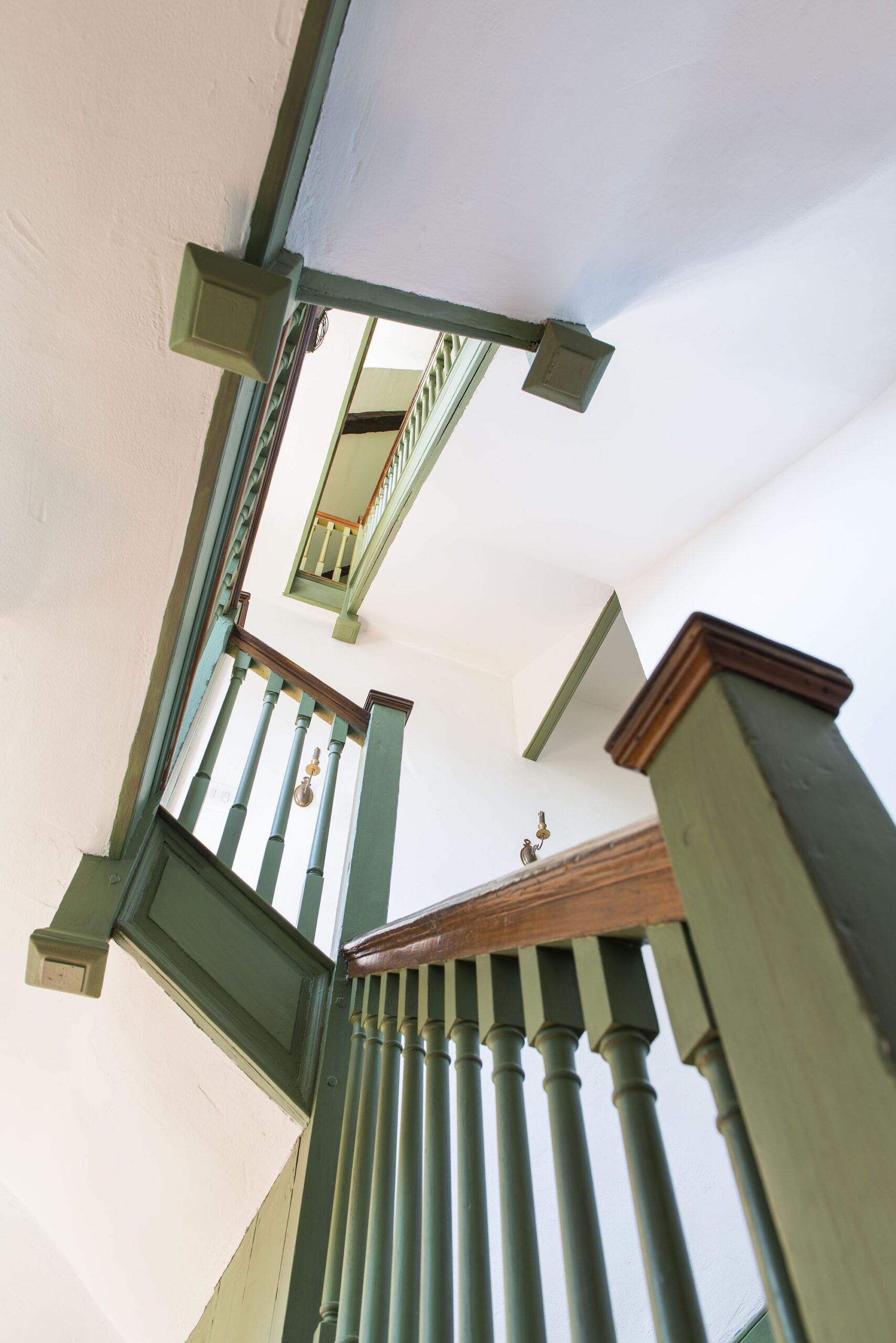 A split staircase leads one way to the front of the house, the other to the back. The third floor holds a bedroom with a fireplace, a sitting room with a harbor view, and a bath. "These houses are still living," Elizabeth says. "I think of Solomon Townsend, who was here in my house before me. I know what the man looked like, what he did. The people were products of their time, just as we are."
Living History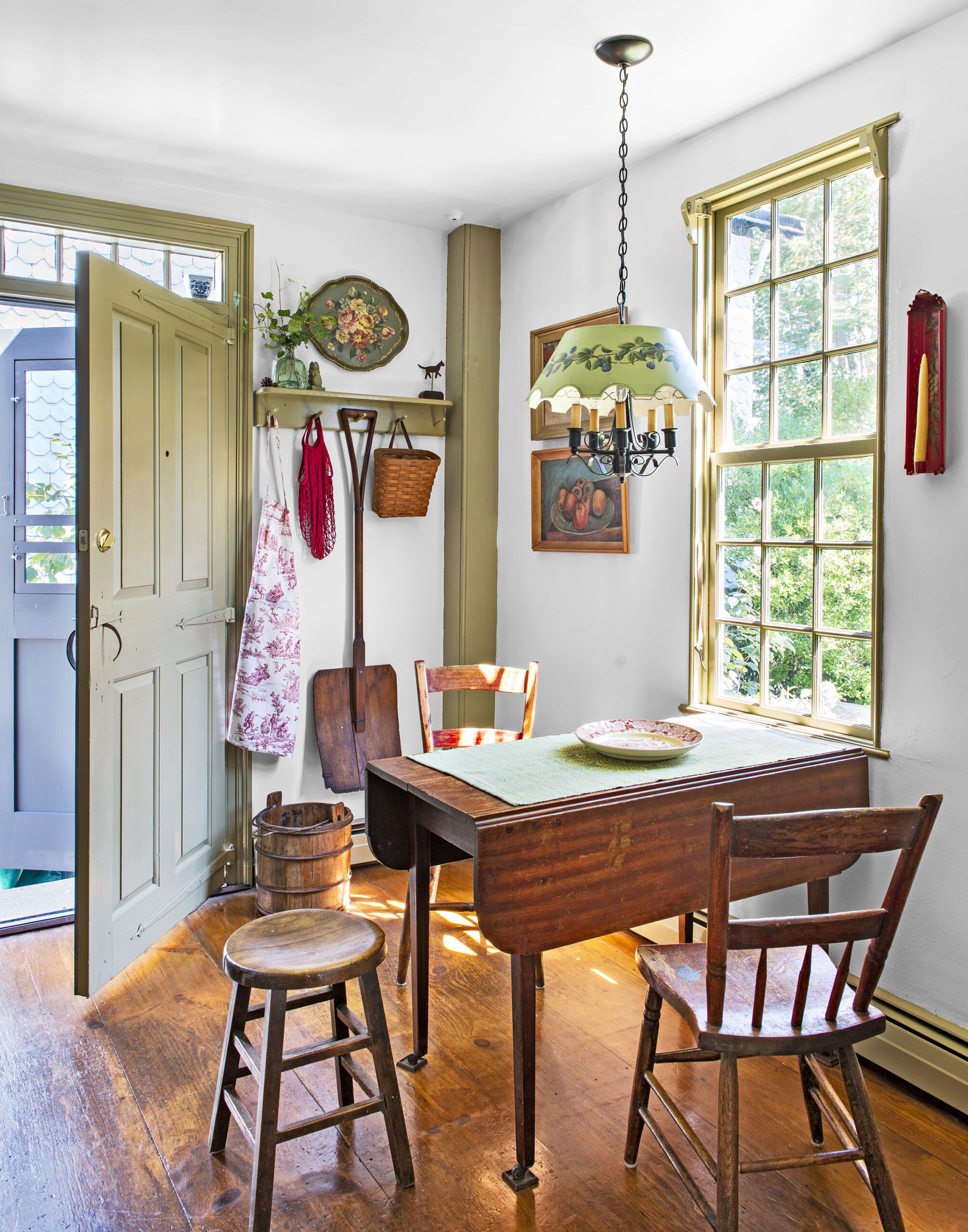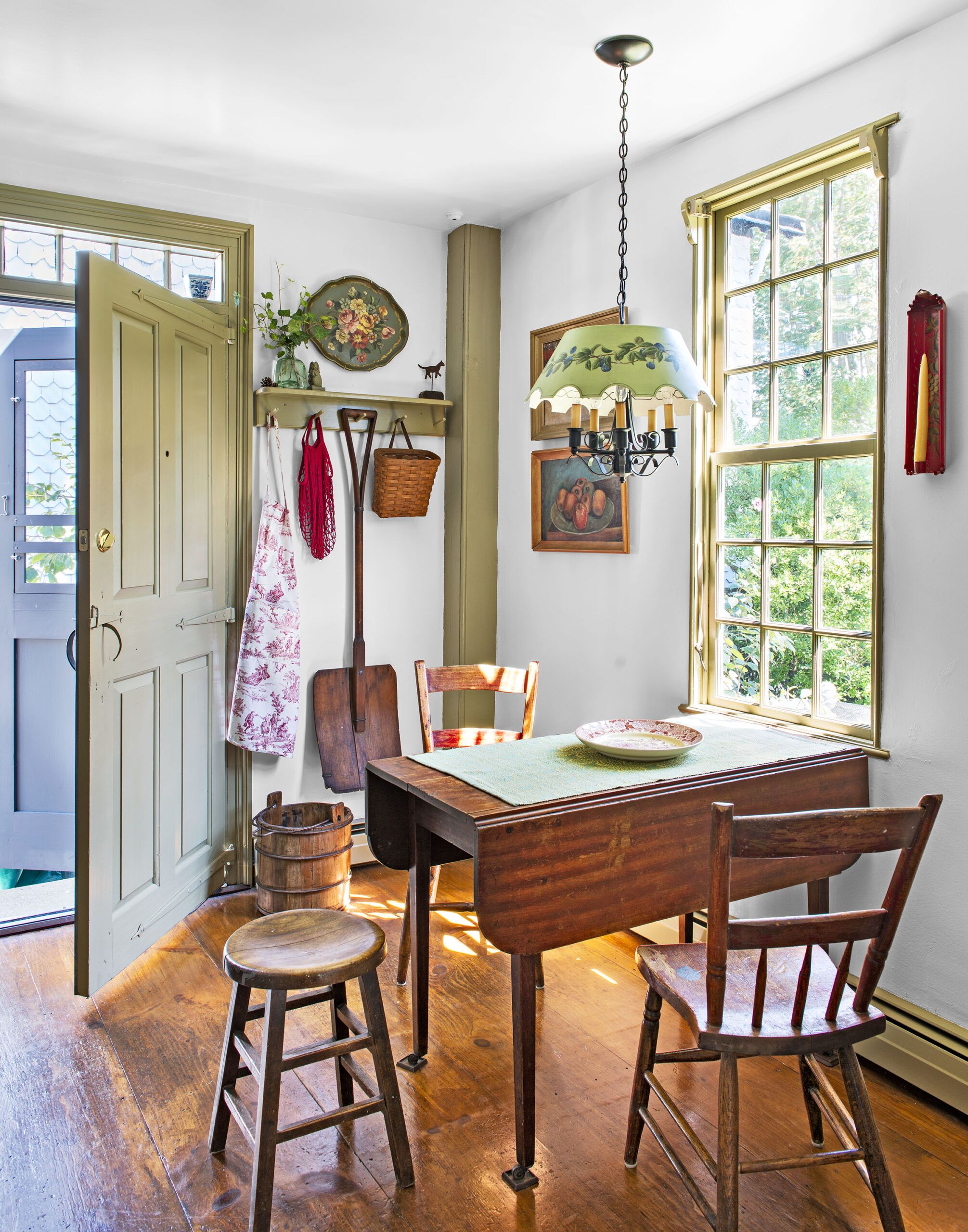 Raising a child in such an environment has given the O'Sheas an opportunity to make the past come alive. "When Madeleine was studying the Battle of Bunker Hill, we could tell her that people were living in this house when they heard about it," says Elizabeth. "We're not churning butter and killing hens outside, but she has an awareness of the history that came before her and will come after. Mainly, though, to her and to us, it's home."
Historic Homes, Tenants Needed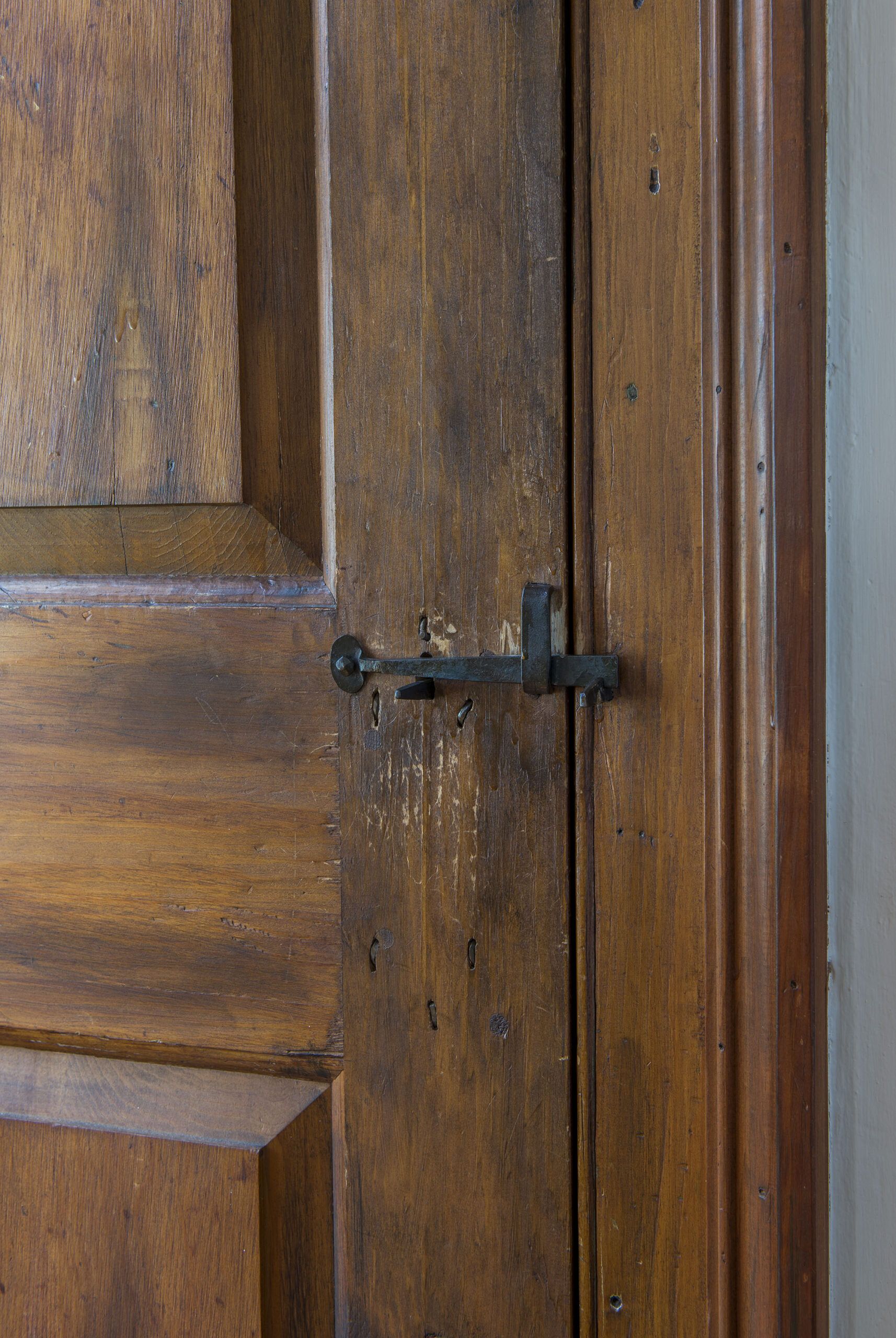 Just as Doris Duke thought to partner with residents in the preservation of Newport's colonial-era houses, some state governments have also turned to citizens for help in protecting hundreds of historic structures on public lands.
Shown: The Newport Restoration Foundation's houses typically have a combination of original and reproduction hardware, custom-made by a local blacksmith to their specifications. Here, a lever on the other side of a wrought-iron thumb latch at the Solomon Townsend House.
The Price of Restoration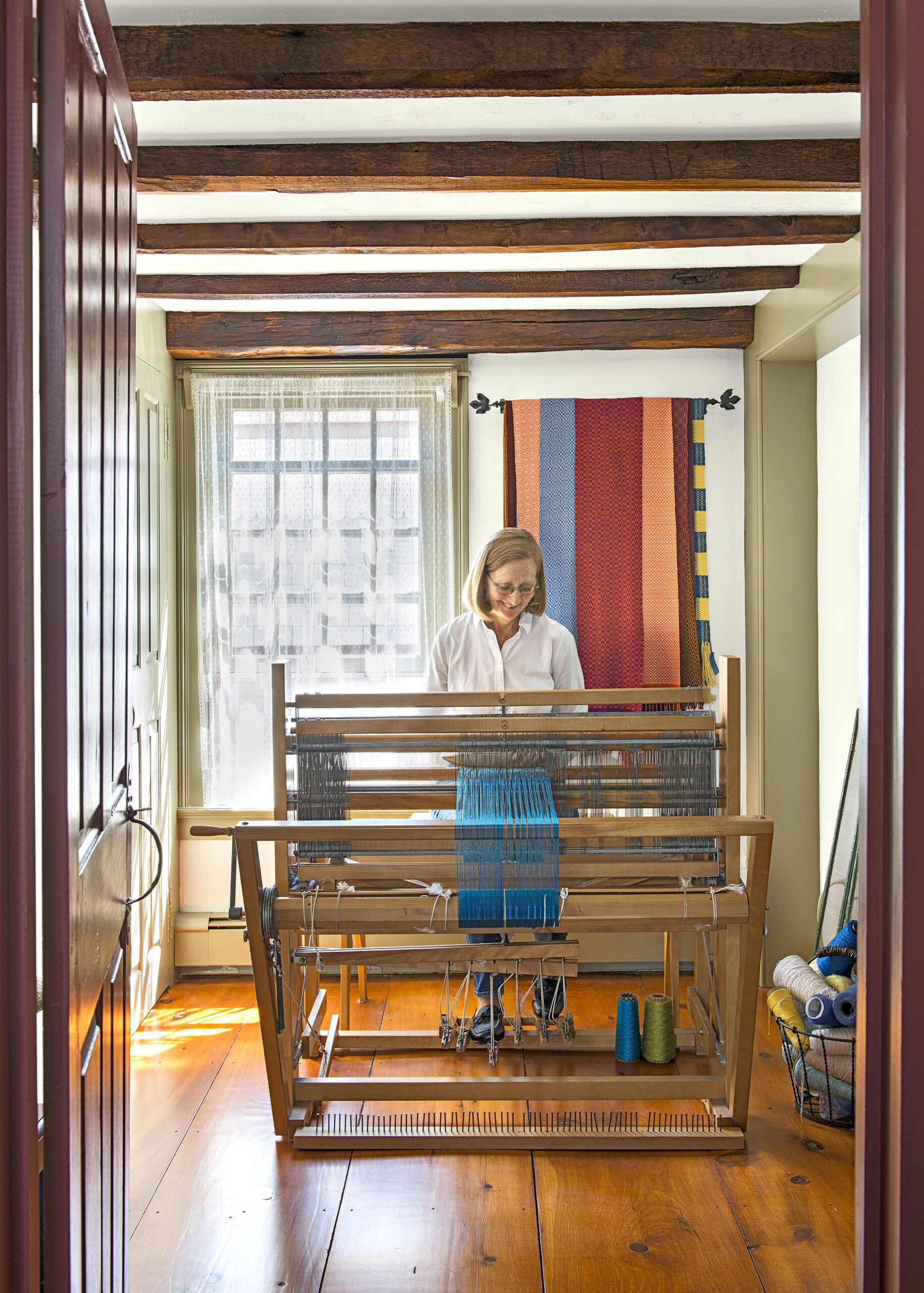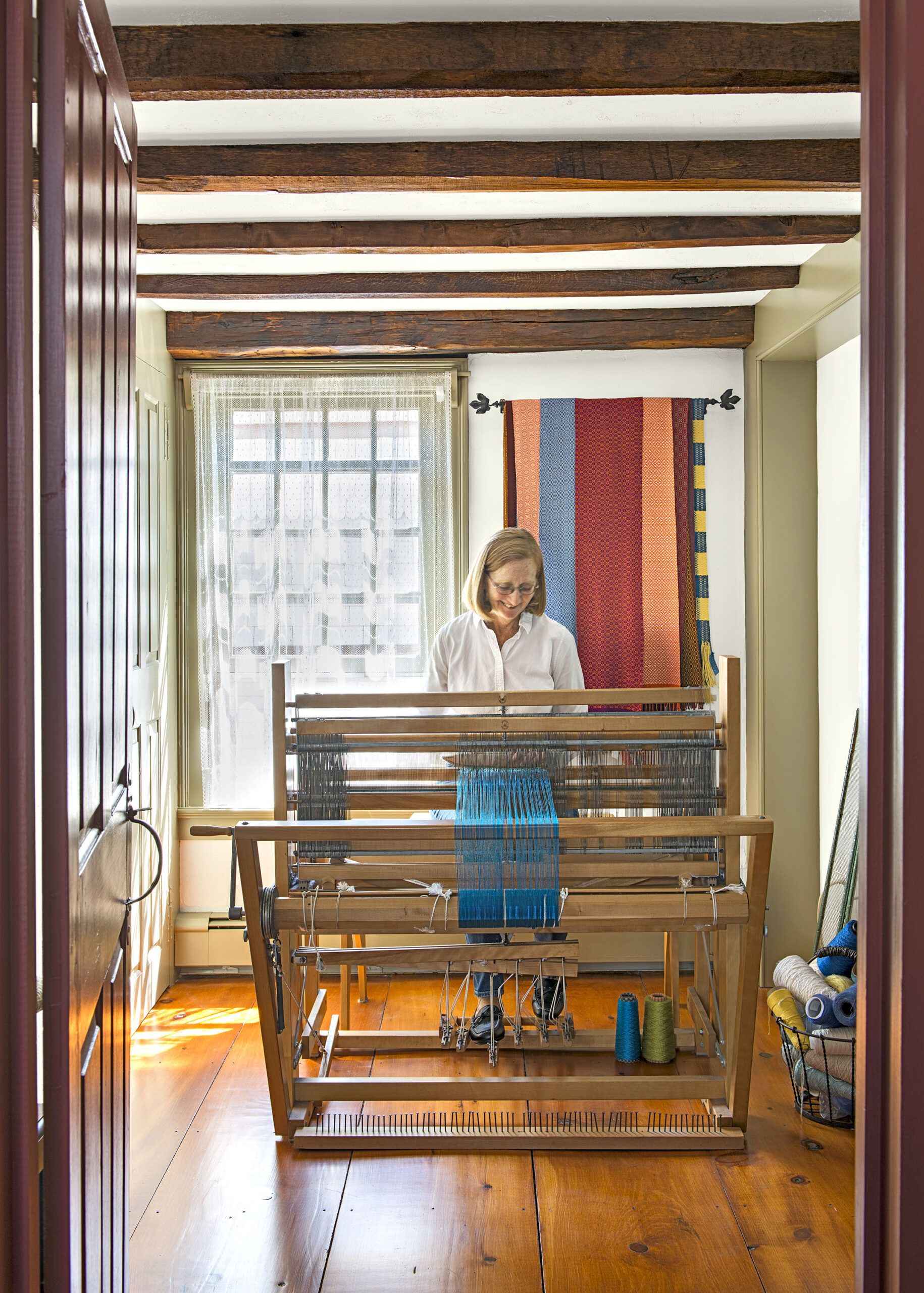 While the Newport Restoration Foundation's "tenant stewards" pay market-rate rent in return for the NRF taking care of all restoration and maintenance work, state-run resident curatorship programs require participants to finance and carry out all necessary construction and upkeep projects. In exchange, "resident curators" can live or operate businesses in these properties rent-free with a lifetime lease. Says Peter Morrill, who manages Maryland's resident curatorship program, "For handy people who have the skill and know-how, the program works well." Typically, residents invest between $150,000 and $300,000 for the initial rehab, says Morrill, and most stay in their houses for 20 to 30 years.
Other states also enlist nonprofit organizations and for-profit businesses to make capital improvements and occupy the buildings, which can range from urban mansions to rural millhouses. The state of Massachusetts, for instance, has a wellness retreat, an artist's studio, and a museum housed in a few of its 21 buildings currently under lease.
Shown: Kathy Ward at her loom in the second bedroom of the Dayton-James House. She creates handwoven shawls, scarves, and home textiles that she sells at crafts fairs and online at Kathy Ward Custom Designed Handweaving.
The Clock is Ticking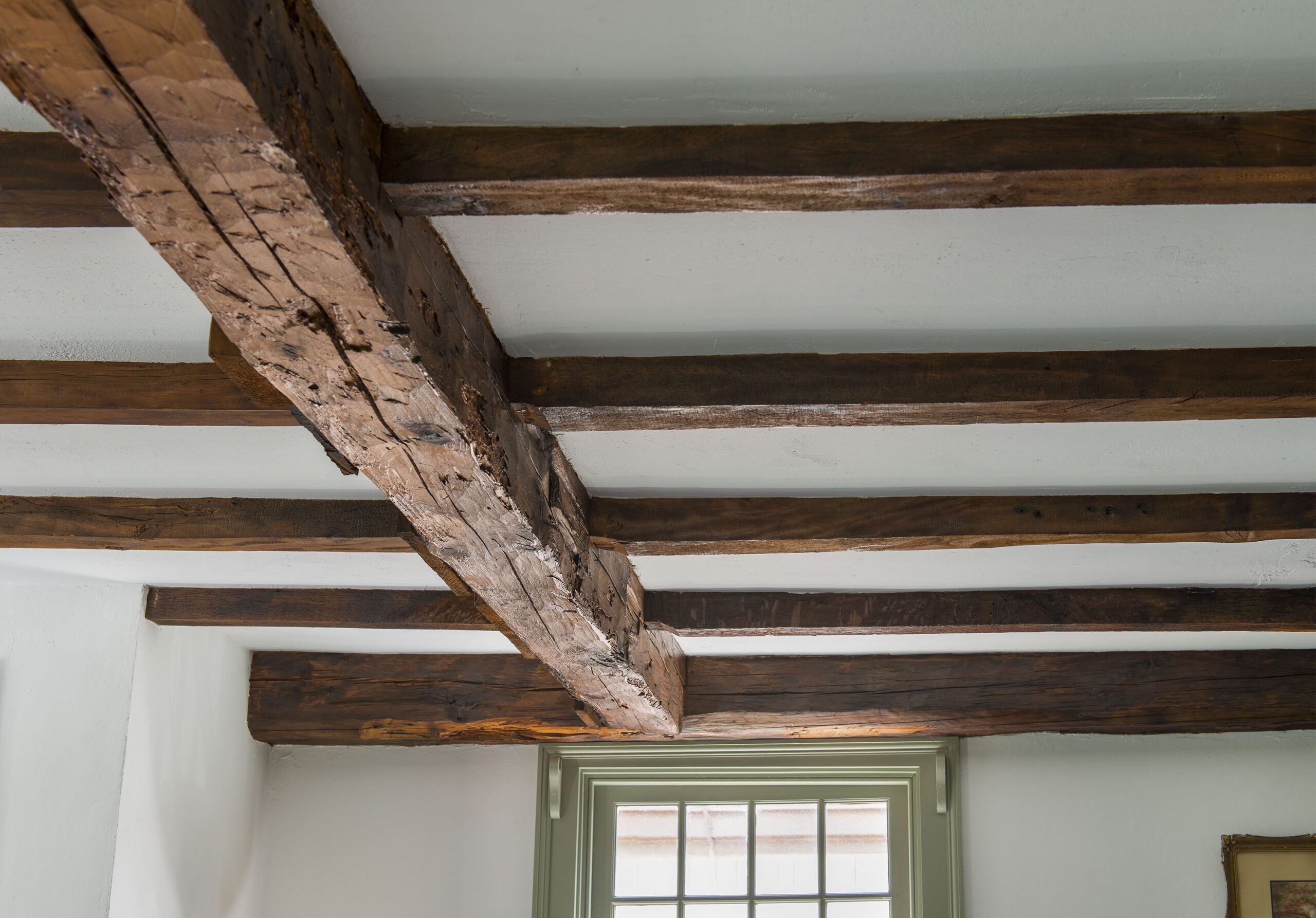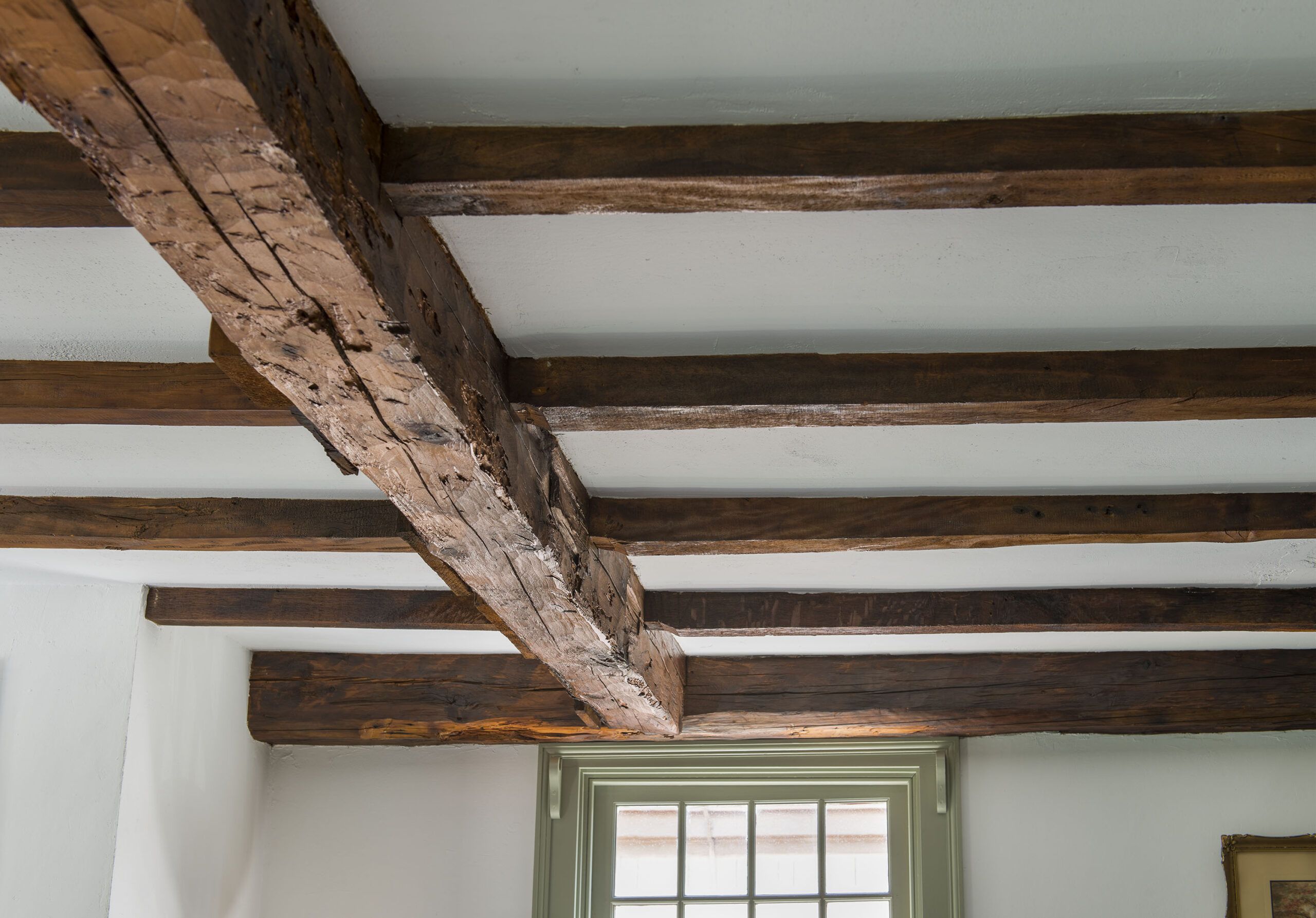 "Our initial priority is making sure the houses are not broken into or burned down," says Kevin Allen, who manages Massachusetts's historic curatorship program. The state has some 300 unused buildings that it cannot maintain. "We keep them on life support," says Allen. "We may repair a porch or fix a foundation to make them marketable, but the clock is always ticking, so we try to get a body in the building."
Shown: A ceiling at the Dayton-James House. When the NRF purchased the building, the structural beams had been painted and covered over. They were returned to their original state during the restoration.
Following the Rules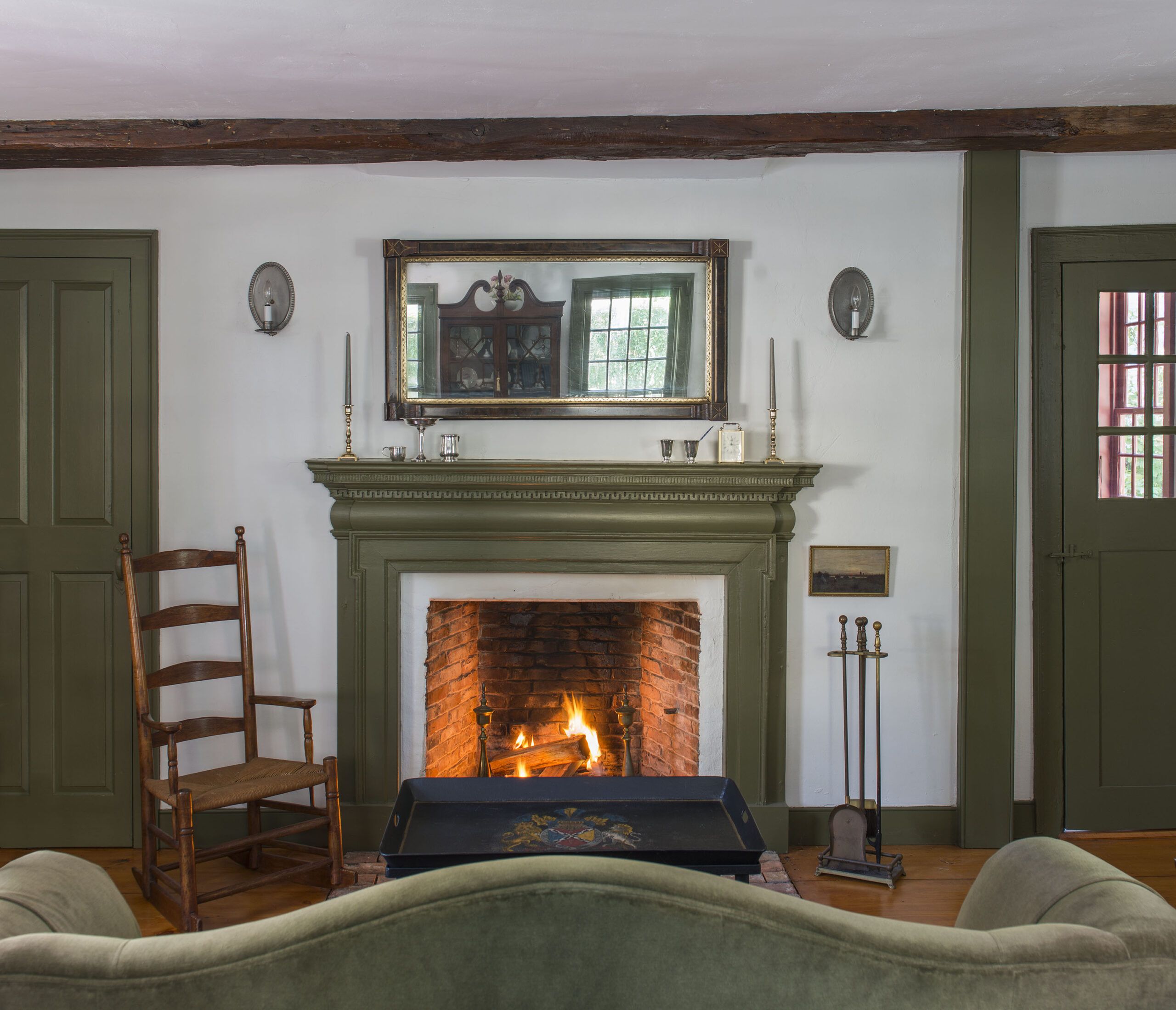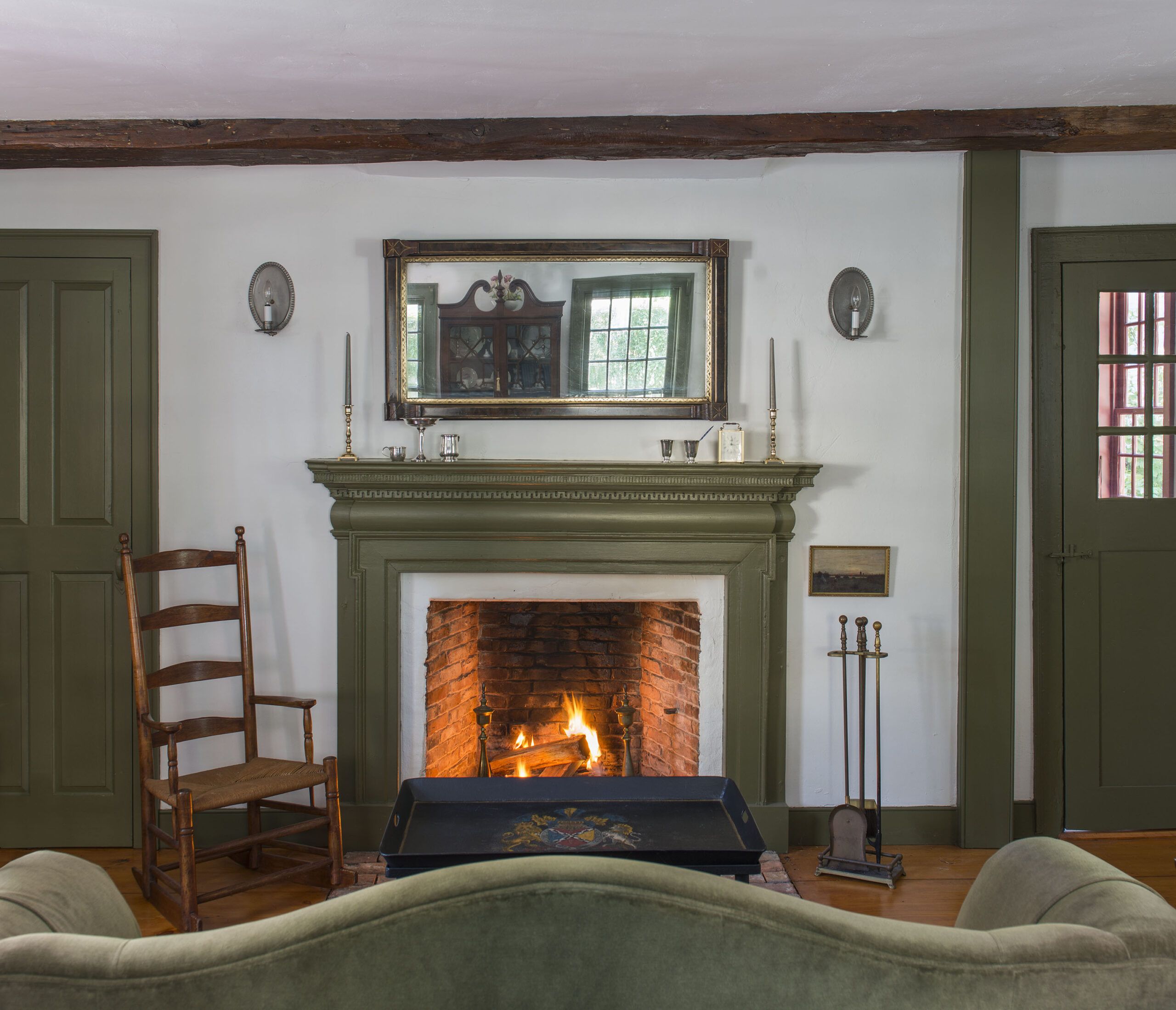 Connecticut, Delaware, Virginia's Fairfax County, New York City, and Philadelphia are among the other states and municipalities—most are in the Northeast—with some sort of curatorship program, some in partnership with a nonprofit preservation trust. Applicants generally submit a proposal outlining how they will renovate and reuse a structure in a manner consistent with environmental conservation and public use, as most properties must be open to tax-paying residents several times a year. (NRF applicants need not present a proposal; they are accepted in the order in which they apply, though available houses are offered to current tenants first. Nor do they have to open their homes to the public.) Says Allen, "Our curators are in a fishbowl, so it's not for everyone. For every fourth property we put up, we get no feasible responses."
Shown: The living room in the Dayton-James House. The room's sage-green trim was carefully chosen for its historical accuracy; the sofa is an uncanny match.