Many homeowners shy away from experimenting with bold colors in their paint and décor. Kimberly McCole is not one of them. In fact, she looks for opportunities to make each interior and exterior space in her 1922 Lakeland, Florida, cottage bungalow come alive with color.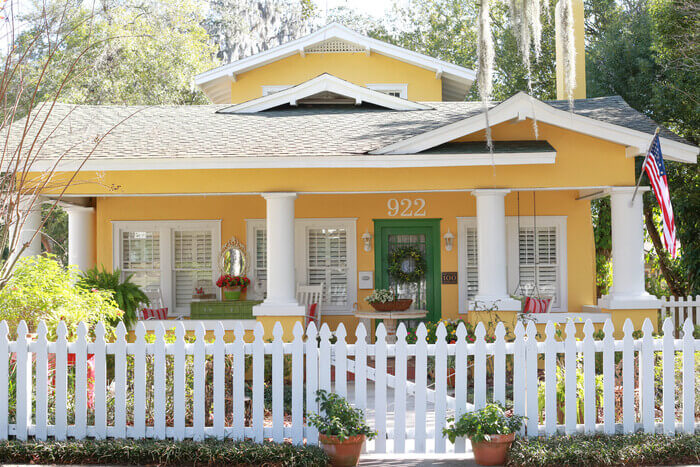 The self-described photographer/artist/writer and homemaker always admired the charming, old cottages she would drive past over the years. Finally, one day, one of them became hers.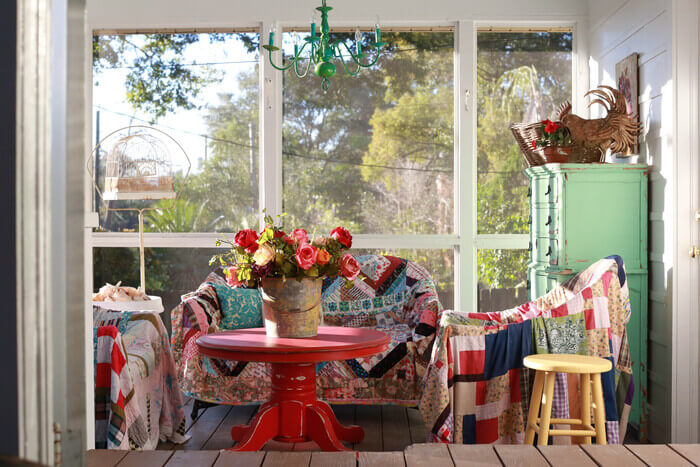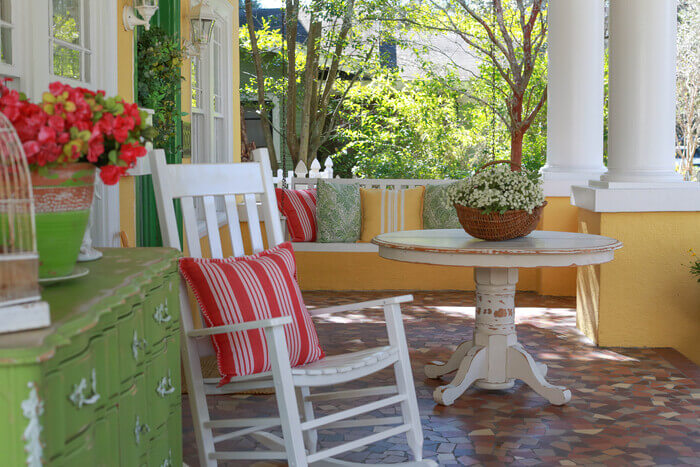 "A 'for sale' sign was planted in the tiny front yard of a faded yellow cottage, and I asked my husband to pull into the driveway. As we got out of the car, our eyes saw a huge front porch with a white swing beckoning us to try it out. We did, and that was all it took for my heart to fall in love with it. I had been living in a house just like this one, but only in my dreams."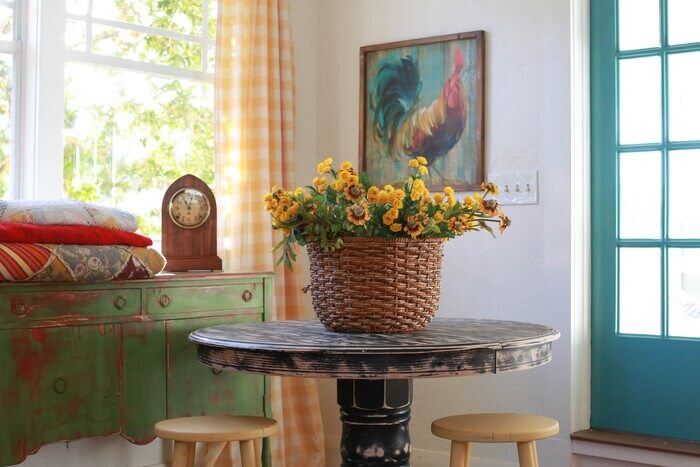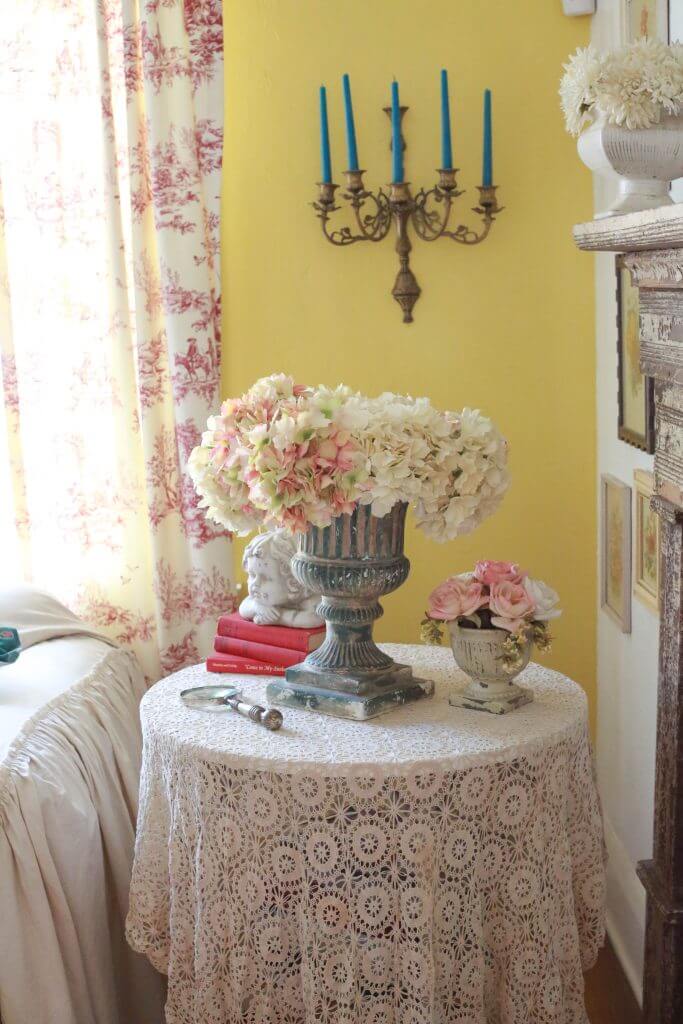 As soon as she and her husband, Kevin, and all their pets moved in, Kimberly couldn't wait to pull out her palettes and express both herself and her home's character with color.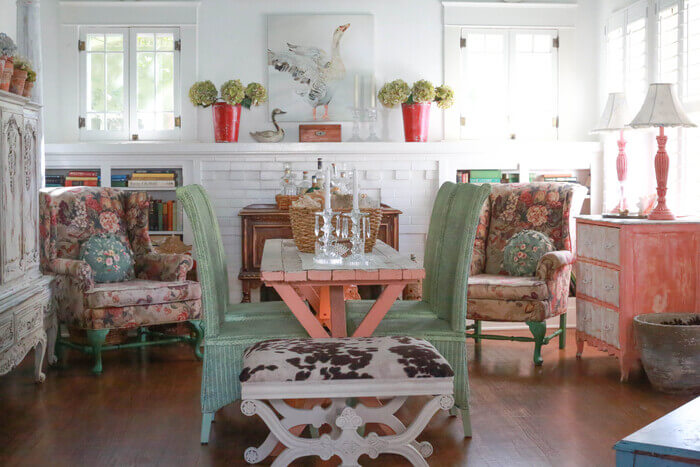 "When I first saw the house, I knew the exterior would truly shine in a bold yellow," she says. "Its architecture is bold, and I felt it could handle that and be at home in the Florida sunshine! I adore color and nature—I have to have both in my life—and while I have changed colorful walls to a soothing white in the past few years, I still dot lots of color and odes to nature all around my rooms with painted furniture, colorful fabrics, florals (real and faux) and art. If they go together in nature, they can go together in your home."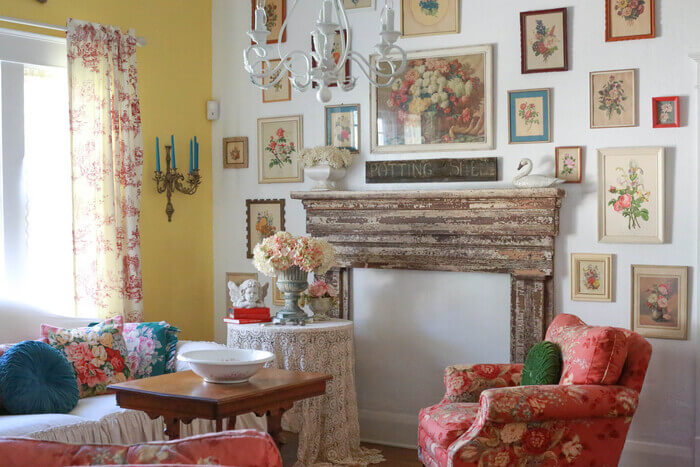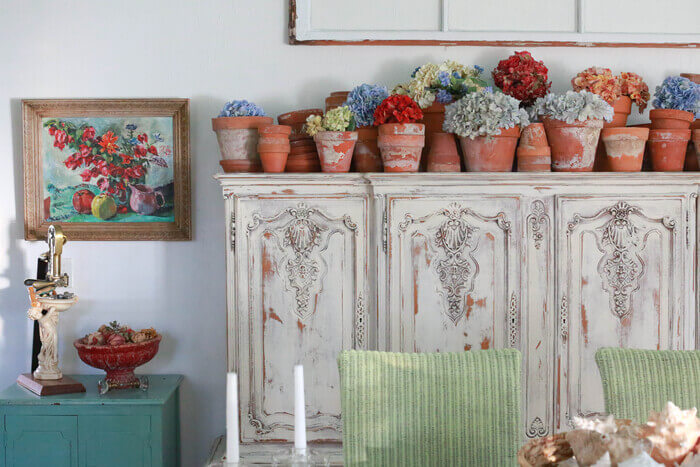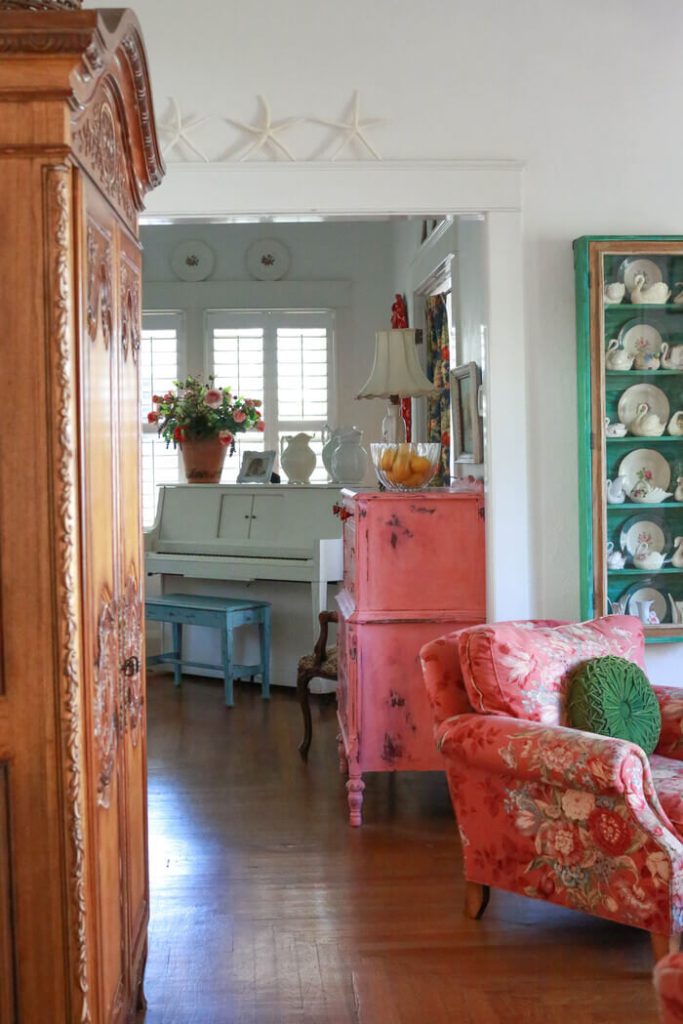 Seasonal Style
Kimberly always loved cottage style and carries that theme throughout the rooms.
"I seek and gather treasures with that aesthetic in mind and let them play together pretty much organically, with things changing quite often to fit the mood and seasons of the calendar and life. Each room has evolved over the 17 years that we have lived here, but I do stay true to cottage style—and color will always be in play," she explains.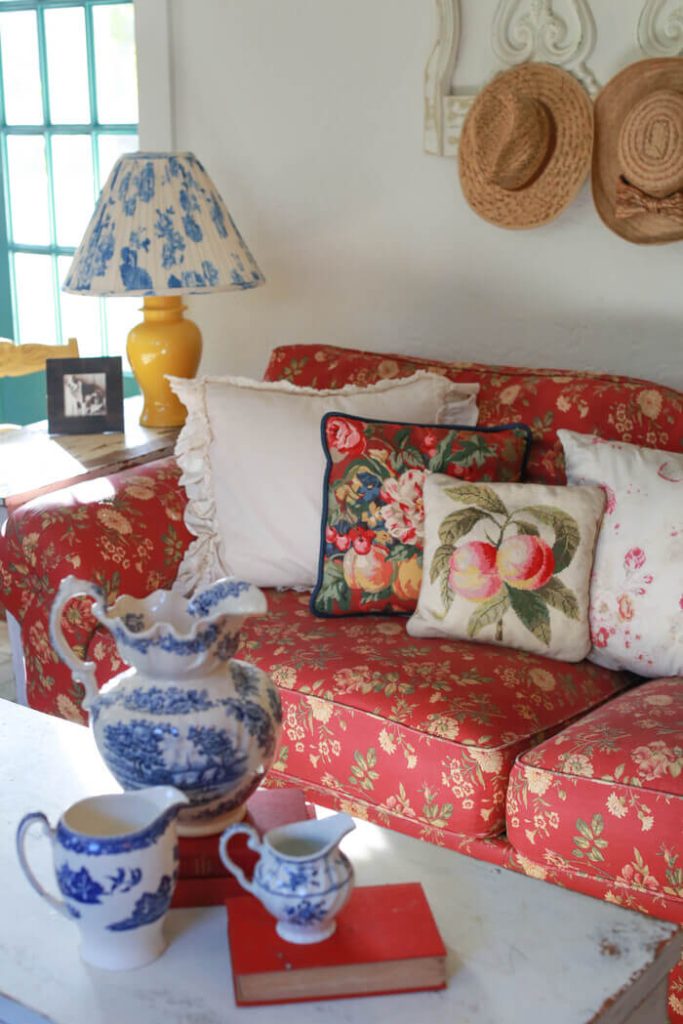 The home's décor reflects Kimberly's bright personality and lifestyle.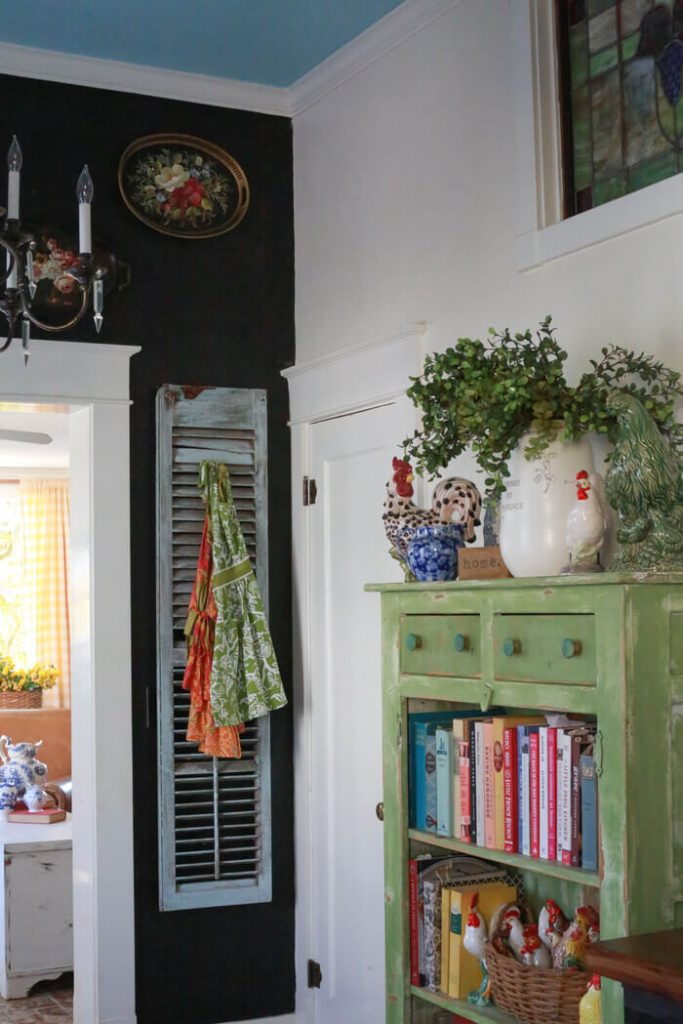 "It's important to me for my home to feel warm and welcoming and for everything to be comfortable while, at the same time, pretty and charming," she says. "I choose family-/pet-friendly furnishings and antique pieces that are not too precious but can be enjoyed the same as thrift store painted ones" (for instance, ceramic roosters perch on kitchen cabinets, vintage curtains hang in sun-drenched windows, and cherished collections fill the rooms).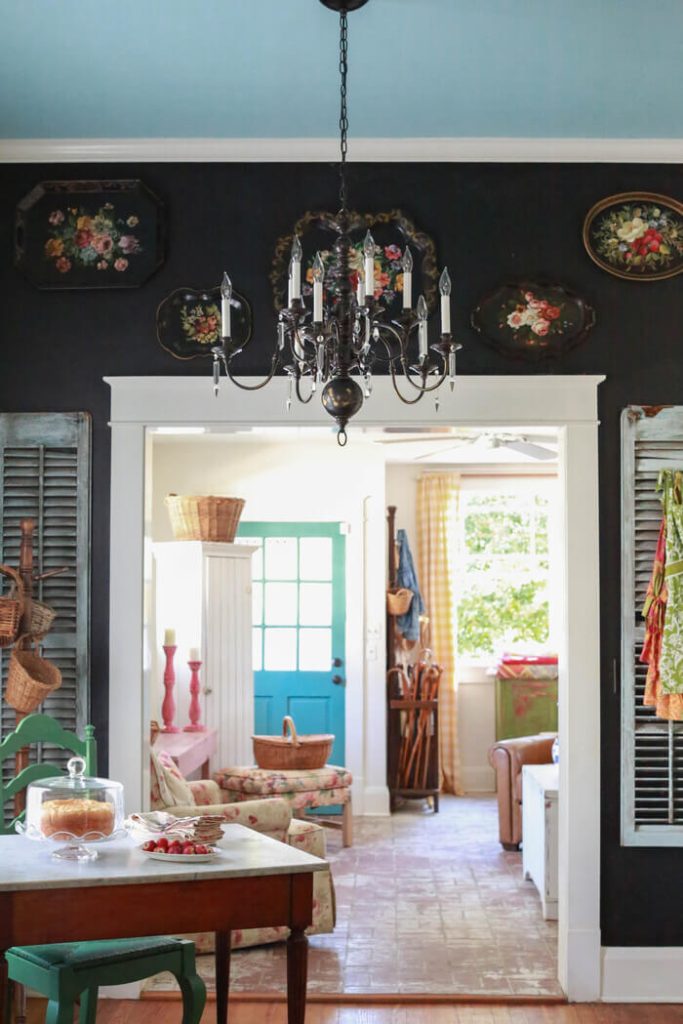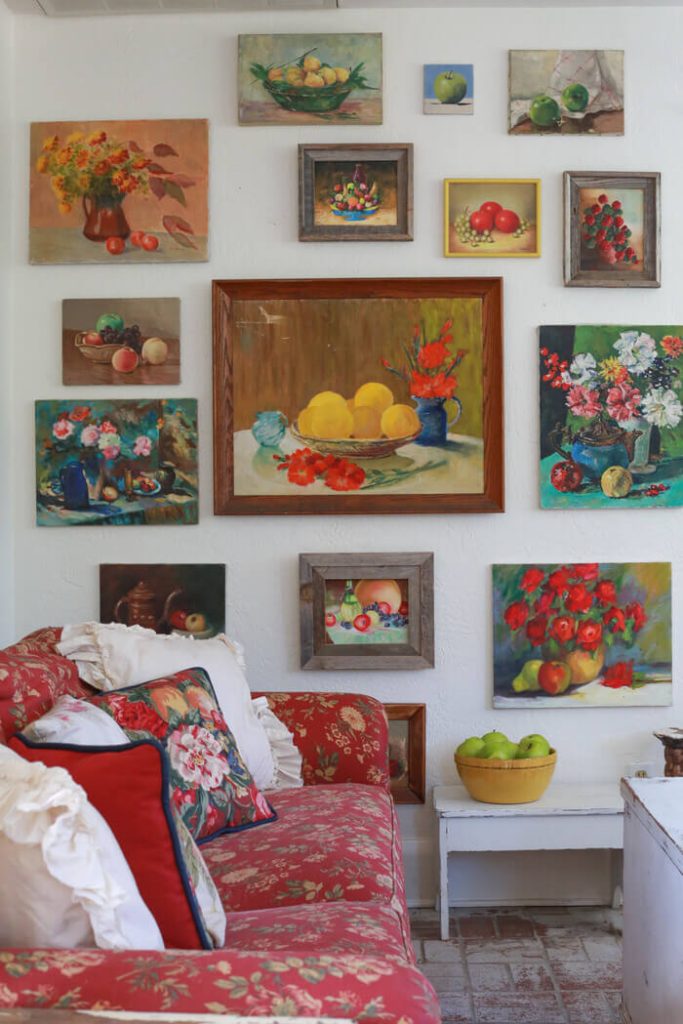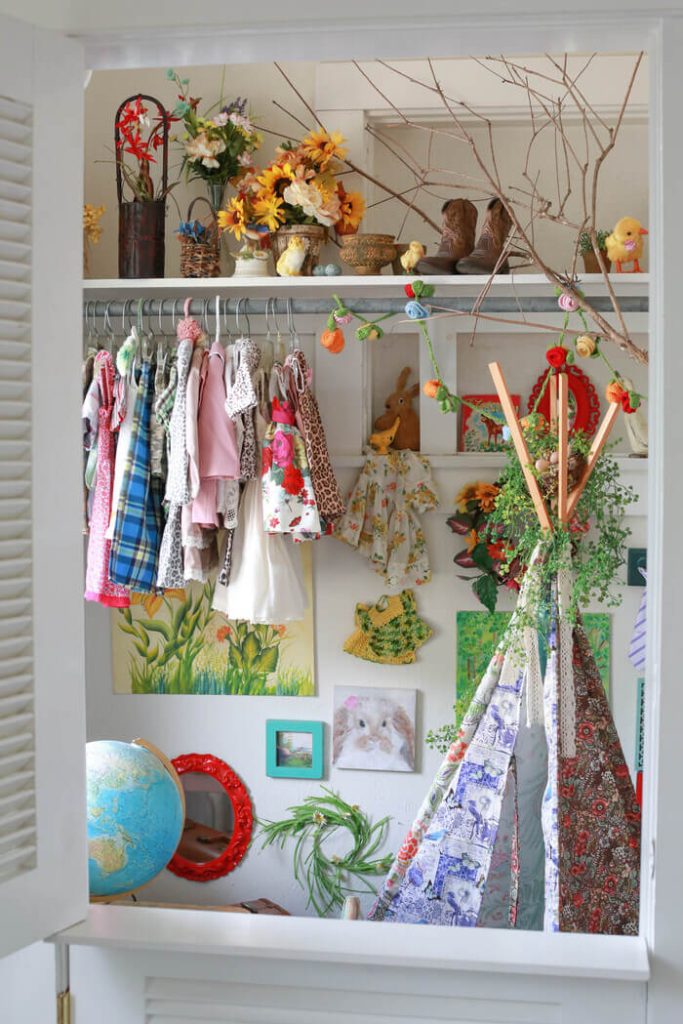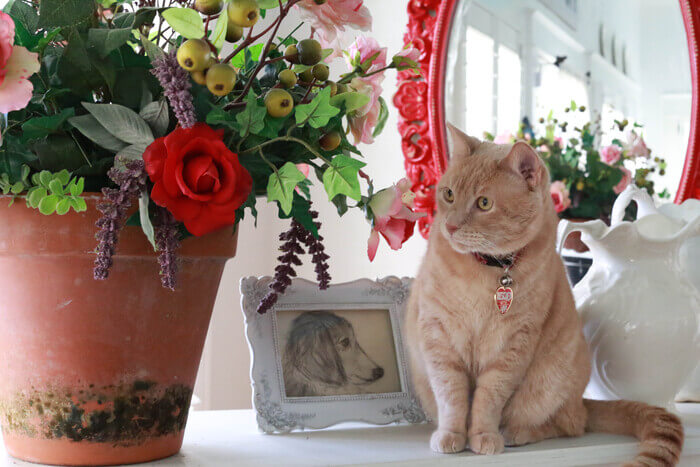 Worn to Perfection
The kitchen displays many of Kimberly's cottage décor philosophies: "We wanted to give the stock kitchen cabinets a warmer, more custom feel and did so simply by painting them black and white to mirror the backsplash tiles and adding molding to the top," she points out. "We added the butcher block countertops last year and chose a rich, dark stain for added warmth.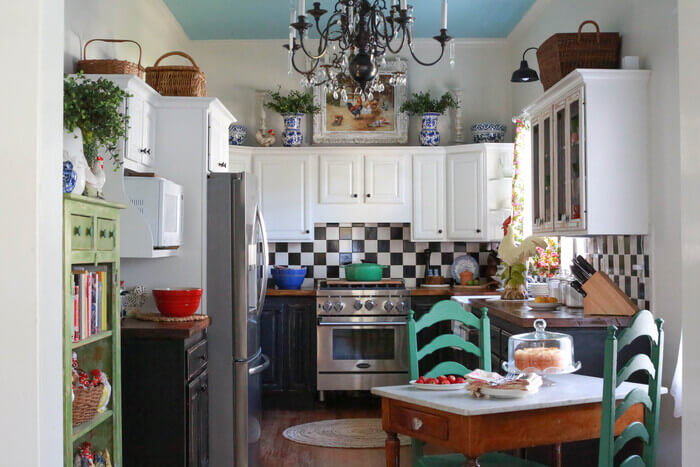 "Florals come out to play in the kitchen, showing up in the vintage curtains hung in the window and on the antique tole trays hung on the chalkboard wall. The ceiling was painted blue, as in the dining room, as a nod to nature. I love collecting chickens and cookbooks, and having the open cupboard to store and display them makes that fun, especially when they're painted green!
"I wanted the kitchen to feel like home and welcoming to all. Dishes and coffee cups are at the ready, and an old marble table on wheels can be used for an island or meals and conversation. The floors are original 1922 heart-pine floors and are precious to me—worn to perfection, I would say!"
Heaven on Earth
The rest of the home showcases Kimberly's penchant for infusing every space with color, character and charm.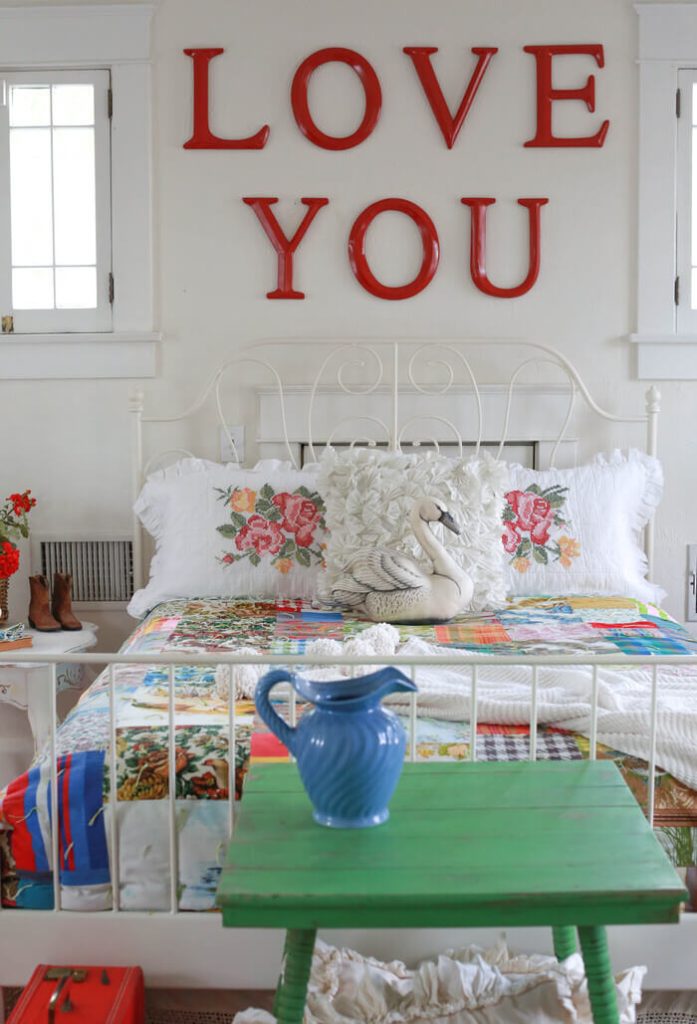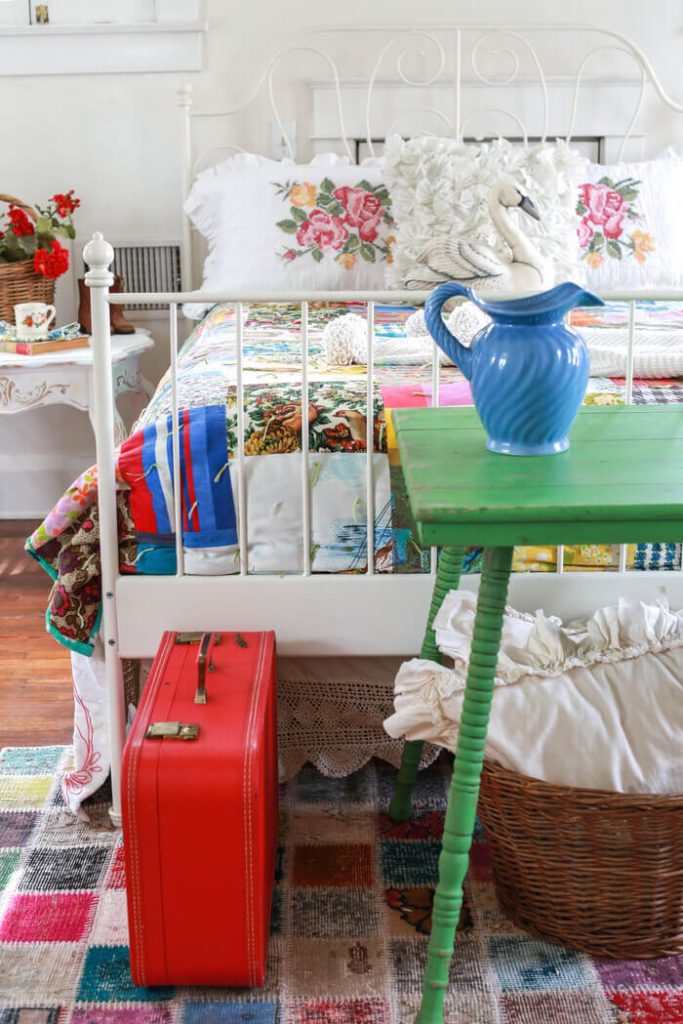 "I used the same favorite things in all the rooms—flowers, pillows, candles, books, linens, painted furniture, antique pieces, and art and figurines (such as swans), which are meaningful to me, mixing them without overthinking it," she explains.
One of Kimberly's favorite places to spend time at home is on the front porch.
"We chose the boldest, happiest yellow paint for the outside of Daisy Cottage and planted lots of Gerber daisies," she says. "Two white rocking chairs don our front porch and provide the perfect place to sit for quiet evening chats and watching the neighbors pass by, the birds bathing in the bird bath and squirrels frolicking in the trees. It's like heaven, and life is good."